Wabi and Sabi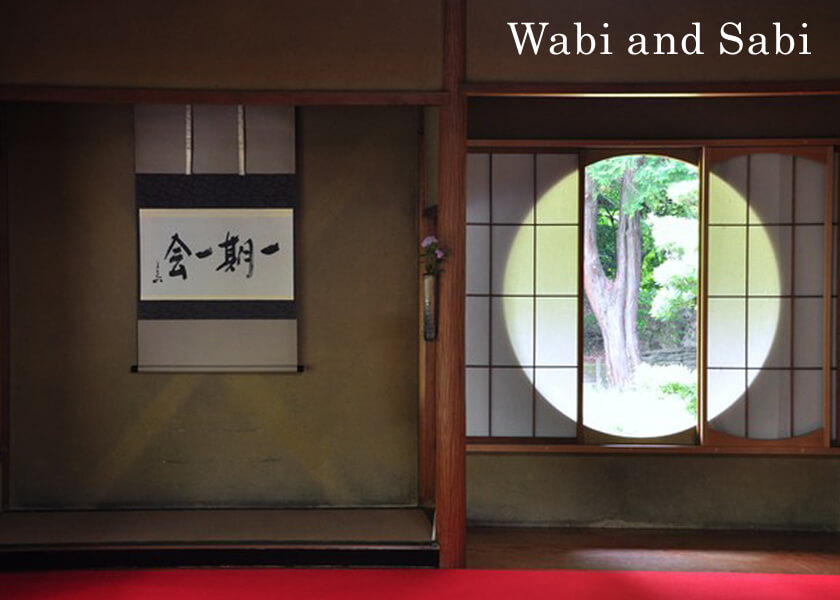 Wabi and Sabi are very difficult concepts to understand for not only people from other countries but also the Japanese people. This video shows it very well. I hope this video will help you understand Wabi and Sabi.
Wabi
"Wabi" and "Sabi" are terms describing the sense of beauty in Japan. In general, they refer to simplicity and serenity. Originally, Wabi and Sabi were two different concepts. Wabi and Sabi comprise a sensibility heavily influenced by Zen Buddhism. They are essentials which we must understand to achieve enlightment. Enlightenment in Zen means "all living things realize the inherent buddha nature they possess." "Buddha nature" is a sacred nature which forms the basis for becoming buddhas. In Zen philosophy there are seven aesthetic principles, as below, for achieving Wabi and Sabi.
01 Fukinsei: asymmetry, irregularity, imperfection
It is thought in Zen that symmetry, regularity, or perfection has an end, while asymmetry, irregularity, or imperfection has no end. Zen dislikes satisfaction, so Zen values fukinsei.

02 Kanso: simplicity
Zen has no taste for superficial complexities of life. Life itself is simple enough, but when it is analyzed by the intellect, it presents unparalleled intricacies. Therefore, Zen values simplicity.

03 Kokō: wizened austerity
Zen values beauty which emanates from the inside of something old, and doesn't relate to the exterior.

04 Shizen: naturalness
Zen values the quality of being natural, or being based on natural principles, and of innocent naivete.

05 Yūgen: subtly profound grace, not obvious
For further details, see "Yūgen."

06 Datsuzoku: the condition of being free from worldly desires
The Zen sect tends to dislike metaphysical questions, such as what the Zen sect is. This is because the answer to such a question should be to be aware, by oneself individually, through enlightenment reached by mediation. What is taught by others goes against the true intention of the Zen sect, to return to the inner nature, since one's consciousness has already faced outside instead of inside. The other reason is that the Zen sect avoids establishing general ideas or judgements because it regards these as "biased views" or "obsessions" based on our self-serving interpretations. The Zen sect encourages us to make judgements only after reaching a free mental state, liberated from biased views through mediation. These will be non-biased judgements.

07 Seijaku: tranquility
It is thought in Zen that a tranquil, passive, mind is needed to accept whatever is given.
The meaning of Wabi, the noun form of the verb "wabu," is better understood from its adjective form "Wabishii" (wretched); that is, it means "an inferior state as opposed to splendor." In other words, it means a "humble like state" or a "simple look" nowadays. In the extreme, it may mean a "poor look" or "poverty." Originally it was not a good concept. However, through the influence of the Zen sect, it became to be regarded favorably and to be taken as having a form of beauty.
"Wabi" really means "poverty," or, negatively," not to be in the fashionable society." To be poor, that is, not to be dependent on worldly things ―wealth, power, and reputation― and yet to feel inwardly the presence of something of the highest value, above time and social position: this is what essentially constitutes Wabi.
Wabi now connotes rustic simplicity, freshness or quietness, and can be applied to both natural and human-made objects, or understated elegance.
Sabi
Sabi is the noun form of the verb "sabu," and originally means the state of deterioration over the passage of time (secular distortion). Now, it means "a quiet and tranquil condition." Originally it was not a favorable concept; however, in "Tsurezuregusa" (Essays in Idleness), there was a description of Sabi, meaning to deeply appreciate an antique book, and it has been verified that, around this time, the meaning of discovering the beauty of an antiquated state arose. During the Muromachi period, Sabi became treasured as important, especially in the world of haikai (seventeen-syllable verse), and was incorporated into the Nou music, and was systematized into theory. In haiku, since Matsuo Bashō, it has become the central sense of beauty; however, seldom did MATSUO himself talk or write directly about the elegant simplicity of Sabi. The elegant simplicity of Sabi in haikai is a common characteristic, especially among old things and elderly persons, it emanates from the inside of something old, and is an internal beauty. A typical example is a stone upon which moss grows. Stones that no one moves grow moss on the surface, and become green in the humid climate of Japan. The Japanese people used Sabi to resemble something coming out from the inside of the stone. Sabi is deeply related to antiquarianism (taste for collecting items), because it is an attitude of seeking beauty from an antiquated state. For instance, while there are different features seen in British antiques, there are also some things in common. While the elegant simplicity of Sabi places more emphasis on the action of nature, antiques in the West emphasize their historical aespects.
The meaning of Sabi also includes tranquility. It is thought in Japan that a tranquil, passive, mind is needed to accept whatever is given. It is a state of mind known as "munen" or "musō," no-thought or no-reflection. This does not mean, however, merely to be without thoughts, ideas, feelings, etc. It means to let our natural faculties act in a consciousness free from thoughts, reflections, or affections of any kind. This state of mind is also known as egolessness ("muga" or non-atman), in which you cherish no egoistic thoughts, no consciousness of your own attainments. It is thought that, if we have this mind, we can attain spiritual enlightenment. As mentioned above, tranquility is a very important factor in Sabi (the sense of beauty in Japan).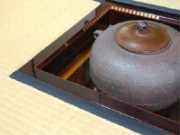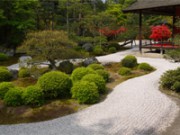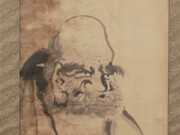 Reference Book

Contents Text Link