Iki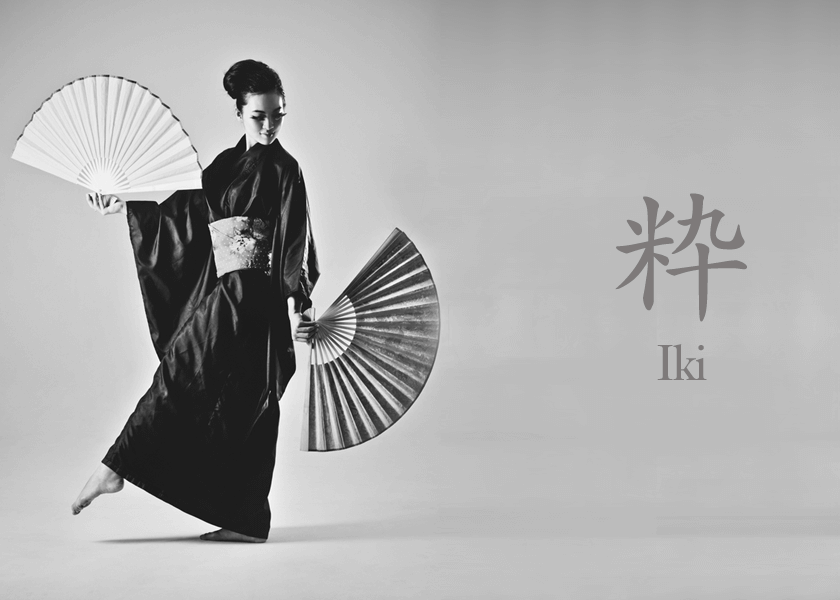 Iki
"Iki" is a Japanese aesthetic sense (aesthetic concept), which was born in Edo period. The word "iki" began to be used to express Tatsumi geisha professional female entertainers, who were particularly popular in Fukagawa in Edo (present-day Fukagawa, Tokyo) around the Edo period. "Iki" is defined as being refined in dress and manners, and it is considered good-looking. It also means "being humane, knowing how to have a good time, etc."
In the Meireki era, Fukagawa flourished as a commercial harbor mainly for the distribution of lumber, having a massive red-light district. Geisha (both male and female) were in great demand for a gathering of merchants or entertaining business contracts, so naturally, such Geisha who had run away from their hometown settled in Fukagawa. Most of the regular customers of Tatsumi Geisha were heartful and fashionable artisans who were typical in Fukagawa, so their tastes affected the style and manner of Tatsumi Geisha. Tatsumi Geisha preferred light makeup, dressed in plain grayish color with bare feet without wearing tabi (split-toe socks) even in winter; they tossed on Haori which was for men at that time and entertained guests with mannish speaking. The good-natured and heartful Tatsumi Geisha, who were proud of selling not their bodies but their skills, were immensely popular as a symbol of "the spirit of Edo" while Maiko (apprentice geisha) and Geigi (geisha) as "the flower of Kyoto."
Iki is generally written with the character "

," but in specialist works it is written phonetically as "

" (iki) in order to distinguish it from "

" (sui), which is the aesthetic sense of Kamigata (the Kyoto-Osaka district). While the "sui" of Kamigata refers to the cultural pattern that crystallizes after love, decorations, and so on have been thoroughly thought through (resulting in things such as a lovers' suicide or a luxurious kimono) and is literally the 'sui' of junsui (purity), the 'iki' of Edo is said to be the result of constantly getting closer, without becoming detached or attached, in order to keep the above-described sexual tension alive.
The basis of iki is thought to have formed among the urbane mercantile class (Chounin) in Edo in the Tokugawa period (1603-1868). Therefore, the essence of iki is also heavily colored by the moral ideal of the Edo people, and is summarized in "ikuji" (guts), one of the components of iki. This shows in the so-called "yasegaman" (fake stoicism) and "hankotsu-seishin" (a spirit of defiance). The spirit and pride embodied in the proverb, "do not keep one's earnings overnight," are also considered "iki" (stylish).
Iki shares characteristics such as an orientation toward simple beauty in common with other Japanese aesthetic concepts like wabi (a state of calm, quiet subtlety which avoids being gaudy or showy) and sabi (austere elegance which reflects simplicity and loneliness). Overseas, wabi and sabi have, until now, been perceived of as representing Japanese aesthetics. However, being related to religious concepts like mujō (transience), wabi and sabi are considered difficult to understand. It is not easy even for Japanese people to explain these concepts. Also, wabi and sabi are becoming rather remote from the present daily life of Japanese people. In comparison, "iki" may also mean "sappari" (neat, frank, and plain) and "sukkiri" (neat and clear) when used as an adjective, and it is more friendly and has a broader meaning than before. Even today it is widely and routinely used in Japan.
Reference Book

Contents Text Link