Mujō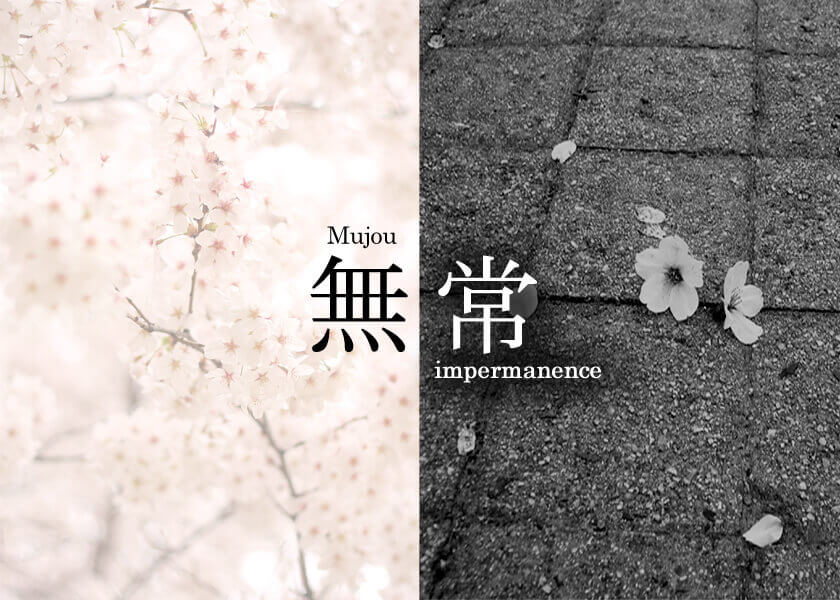 Mujō
The word "mujō" expresses the idea that all beings in the phenomenal world do not abide, but disintegrate and are in constant transition. The Japanese people love cherry blossoms because they are not permanent and give a feeling of mujō (transience). While Westerners seek beauty in "eternal beings," many Japanese have a strong tendency to seek beauty in phenomena that is constantly transforming. Mujō can be regarded as unique characteristics of the Japanese concept of beauty that has been growing since the medieval era.
Mujō is considered to be a fundamental concept of Buddhism. Why was this concept accepted in Japan? It is because there are four seasons in Japan. The concept of mujō (the constantly transforming aspect of the natural world) is bound up with the constantly transforming seasons. As a result, ideas such as nature not being an object opposed to humans to be overcome but an object to which a human adapts himself; familiarity with the repeating cycle of birth, death, and rebirth; not considering death an object to hate; and sympathy for a declining object formed the keynote of Japanese aesthetics. It came to be considered beautiful to accept things as they are and to let nature take its course.
Various aspects of Japanese aesthetics (mostly) come from the concept of mujō, so no one can understand Japanese aesthetics without understanding this concept.
Reference Book

Contents Text Link