Harmony and Omotenashi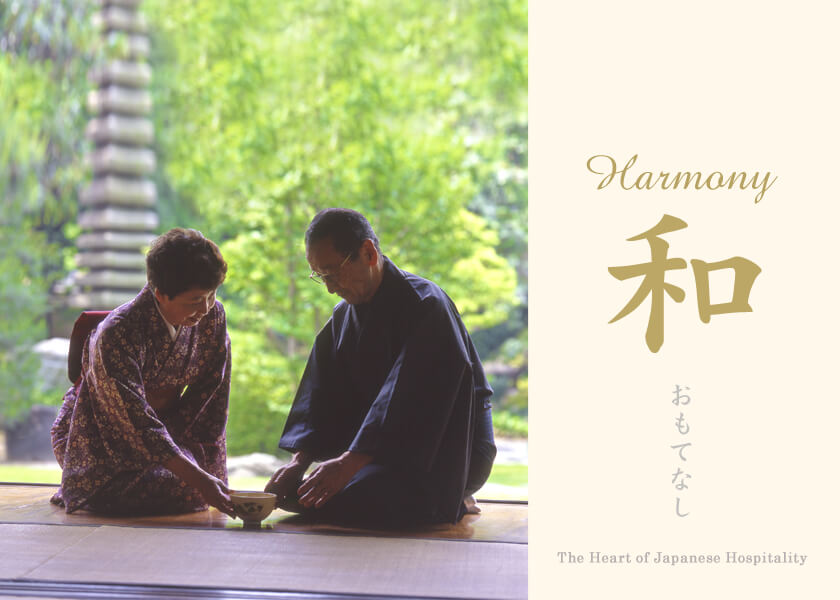 Harmony
In Japan, social harmony is maintained through consideration for others. In monotheistic societies, God was considered the absolute being, and the source for harmony between people. However, there exists no "absolute being" in Japan's polytheistic society. Instead, people found their gods in objects, nature, and so on. The Japanese people thought that everything should be in a proper relationship with them in order to exist together in harmony. As a result, consideration for others developed. These relationships also led to the idea of "ma," which means a spatial relationship, time interval, or atmosphere. Ma is a very important element to understand in Japanese aesthetics because the idea of ma is seldom seen in monotheistic societies. That is to say, ma is a standard used to measure the relationship between one thing and another. The Japanese people have a superior sense of balance through the idea of ma, and they attach importance to the sense.
Omotenashi
"Omotenashi" means the heart of Japanese hospitality. Christel Takigawa introduced this word in her presentation to the International Olympic Committee (IOC) in Buenos Aires in 2013, so it became famous worldwide recently. This heart is the very Japanese aesthetic sense that is developed by the consideration for others.
Ryokan - Japanese Inns -

You can feel "Harmony" and "Omotenashi" more through this video.
Reference Book

Contents Text Link