Best Kakejiku Shop in Japan | Hanging Scroll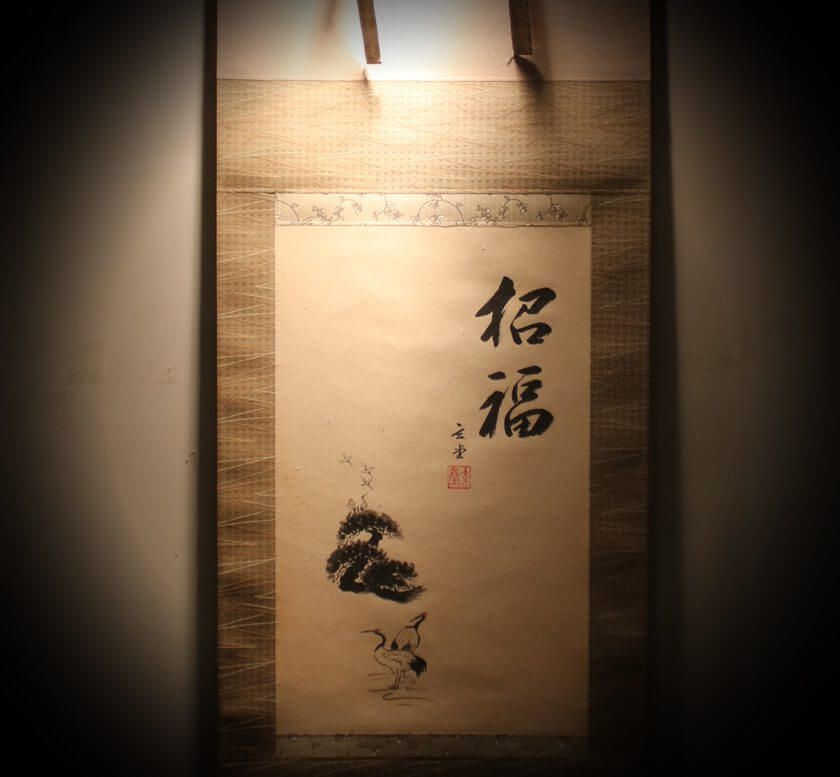 I suppose that there are many people from other countries, who are interested in Japanese culture. They will go to some sightseeing spots, and some of them will go art museums if they are concerned with Japanese art. It is good to appreciate traditional Japanese art works in the museums, but there is a more interesting and convenient place. You can see there many traditional Japanese art works as close as you want, because there is no show window, and you can touch them. You can listen explanation about the Japanese art works. Of course, entrance fee and lecture's fee are free for charge. If there are some works, which you like, you can purchase and take them back to home on the spot.
This interesting place is ART NOMURA, our company.
Kakejiku Is Japanese Hanging Scroll. ART NOMURA Is the Best Kakejiku Shop.

スライドショーには JavaScript が必要です。
ART NOMURA is located at Tarumi-ku ward, Kobe city. The company has produced kakejiku for over 45 years. Although our company is a manufacturing wholesaler, it also sells retail because we have our own gallery; ART NOMURA is a kakejiku shop.
The kakejiku is traditional Japanese art. The kakejiku has long been used in traditional Japanese events, daily life and so on since ancient times. As a result, there are various customs of kakejiku in Japan; kakejiku and the life of the Japanese are closely related. We can see Japanese values through kakejiku.
Although the kakejiku world is very interesting and profound, many people from other countries don't know. We think it is important for them to know about and have interest in the kakejiku, so we will do our best for them to enjoy the kakejiku as much as they can.
We are grateful that many international visitors have taken time to come and visit us. It is very fun for us to meet them, talk with them, and show them our scrolls.
Channa-san's Comment
tripadvisor reviews
Our Gallery
The kakejiku is normally displayed from earlier than its best season, and we are looking forward to coming the best season. This is a basic rule for enjoying the kakejiku. We change our gallery's kakejiku depending on occasions, guests, and seasons.
Let's dive into the fascinating kakejiku world together.
We have a whole lot of kinds of kakejiku. If you want to appreciate all of them, you surely have to stay for a while. If you determine to stay up all night, we will happily go along with you.
If you ever visit Japan, especially Kansai area, we'd be happy if you could add ART NOMURA as your tourist spot. Let's enjoy hanging scrolls together!
ART NOMURA
-Kakejiku Shop in Kobe-

---

Address
7-23 Babadōri, Tarumi-ku, Kōbe-shi, Hyōgo-ken 655-0021, Japan

---

Business Hour
10:00 AM to 19:00 PM

---

Holiday
Saturday (2th and 4th), National Holiday and Sunday
How to Get to ART NOMURA
About 15 minutes walk from JR Tarumi Station. Also, you can get a taxi in front of JR Tarumi Station.
What Is the Kakejiku?
The "kakejiku" is a Japanese hanging scroll; it is a work of painting or calligraphy, which is usually mounted with silk fabric edges on flexible backings. The kakejiku can be rolled for storage.
When compared to the "makimono," which is meant to be unrolled laterally on a flat surface, the kakejiku is intended to be hung against a wall as part of the interior decoration of a room. It is traditionally displayed in the "tokonoma" alcove of a room, which is especially designed to exhibit prized objects. It can also be displayed in the most important room of the house, where a tea ceremony, or other traditional activities are performed. The kakejiku is also often hung in martial arts rooms called "doujou" (training rooms). Near the kakejiku, there are often other objects ("okimono"), such as swords ("katana"), dolls, "bonsai," or flower arrangements ("ikebana").
An essential aspect of the kakejiku is that it is not intended to be hung permanently; making it versatile in its placement. This means that it can be changed at frequent intervals. One of the pleasures of the kakejiku lies in selecting a suitable one, depending on occasions, guests, and seasons.
In contrast to the "byoubu" (folding screen), "shouhekiga" (wall paintings), or "tsuitate" (screen), the kakejiku can be easily and quickly changed to match the season or occasion.
Makimono
Byoubu
Fusuma
Tsuitate
History of the Kakejiku
The "kakejiku" (hanging scroll) was introduced to Japan during the Heian period (794-1185), primarily for displaying Buddhist images for religious worship, or as a way to display calligraphy or poetry.
The original architecture of Japanese housing had developed considerably since the Muromachi period (1336-1573). In this newly developed architectural style, the Japanese-style room (called "washitsu") became a room on whose floor tatami mats are laid, and it contains one special space that is called the "tokonoma" alcove. The most important feature of the tokonoma is the display of kakejiku. The tokonoma was regarded as a space which connects art and daily life; so landscapes, paintings of flowers and birds, portraits, and poetry became favorite themes.
During the Momoyama period (1573-1600) two great sovereigns were represented: Oda Nobunaga, and Toyotomi Hideyoshi. They liked "chanoyu" (tea ceremonies) very much. Tea ceremonies were usually performed in the room with the tokonoma alcove. A tokonoma architectural style was developed and established in this period. Accompanied with the development of tokonoma style, the techniques of painting and mounting were also developed, because the kakejiku was always displayed in the tokonoma. Moreover, when Sen no Rikyuu mentioned the importance of the kakejiku, the kakejiku became extremely popular among people who were fascinated with tea ceremonies.
Washitsu
Tokonoma
Chanoyu
There were only a few big wars during the Edo period (1603-1868) in Japan. The peacefulness of the Edo period allowed Japanese culture to reach full maturity. Many famous painters flourished and competed with each other. The kakejiku also became popular among the public.
After the Meiji period (1868-), many more painters competed with each other with their techniques, because people became absolutely free to choose their own occupations during this period. Before World War 2, and for a while after that war, most Japanese-style paintings were designed to be decorated on kakejiku.
Why Is the Kakejiku Replaced?
Why is the "kakejiku" (hanging scroll) replaced? The spirit of the tea ceremony, a traditional Japanese art, affects this Japanese custom deeply. There is a heart of hospitality called "omotenashi" in a tea ceremony. When Japanese people think about the mood of a tea ceremony, they take a lot into consideration. More specifically, they think about the various techniques they could use to make the mood the best. The kakejiku is displayed to express respect for guests indirectly, and is considered the most important tool in a tea ceremony. Therefore, the kakejiku is replaced depending on the occasions or seasons. The omotenashi heart makes them change the kakejiku.
The kakejiku developed during the Muromachi era (1336-1573) along with the development of tea ceremonies. As a result, people began to think that it was important to express the formality of the occasions to guests by displaying various kinds of kakejiku. Many customs of the kakejiku were derived from this type of thought in Japan.
Of course, many owners have their kakejiku for the purpose of enjoying themselves, and it is also part of fun to show their lovable kakejiku to their guests.
Functionality of the Kakejiku
There is a "tokonoma" alcove in a "washitsu" (traditional Japanese-style room), where a "kakejiku" (hanging scroll) is displayed. However there is very little furniture inside the room other than the kakejiku. The Japanese people don't have a custom of hanging many paintings on the walls inside the room; they usually display a kakejiku only in the tokonoma, and replace it by another depending on the occasions, guests, and seasons.
It is said that this style of display contrasts with the Western style. Many paintings are often displayed on the walls of Western buildings, such as old European buildings or palaces. For example, if there are 100 paintings, it would be the Western style to display all 100 paintings on the walls. However, the Japanese people put all 100 paintings in a closet, and choose only one to display for a short term in its fixed place (tokonoma). Therefore, there is a clear difference in functions demanded from a painting between the West and Japan. In the West, painting needs a frame for durability because it is displayed for a long time. In Japan, however, a painting does not need so much protection because it is displayed only for a short time. Handiness and convenience are very important elements for a painting, because the Japanese people will change it frequently. It is also necessary not to take up the storage space. That is to say, the style, which satisfies the above conditions, is a kakejiku-style.
The kakejiku is rolled up when putting it away, and is opened while displaying it. As a result, flexibility and strength are needed to endure the process of displaying and putting it away. Therefore, the "honshi" (main work) is reinforced by backing it with another piece of paper, and cloths are attached around the honshi, and they are combined. This is a rough mounting process for the kakejiku. If the kakejiku is rolled up, this style prevents the honshi from creasing, tearing, and getting dirty. Even if the honshi is damaged or becomes dirty, the lifetime of the honshi and its aesthetic value can be kept for several hundred years by remounting the kakejiku.
The kakejiku is an ideal style; it enables the Japanese people to enjoy their paintings at their best.