Kakejiku (Hanging Scrolls) that Brighten up the Tsuyu Rainy Season.

Hello. I'm Yuuichi Nomura, managing director of ART NOMURA.
There is a rainy season called "Tsuyu" in Japan between spring and summer. It feels like Tsuyu every day now. You never know when it starts to rain so don't forget to take an umbrella with you when you are traveling to Japan this season.
Perhaps, most travelers avoid coming to Japan during mid-June to mid-July due to uncomfortable weather conditions, which is very hot and humid. Just because it rains a lot does not mean it rains all day and every single day. You will still get blue skies along with the added bonus of lower prices and fewer tourists.
Today, we are introducing some ways to enjoy this rainy season Tsuyu in Kansai, Japan, together with scrolls recommendation for now.
Gion Matsuri(祇園祭り)
One of the most famous festivals in Japan takes place annually over the entire month of July. You can experience traditional Kyoto.
Explore Great Museums
How about spending a day in museums on a rainy day? We have picked out some interesting exhibitions that are open now and you might be interested in.
Brighten Up Your Mood and Home with the Rainy Season Scrolls
Selecting hanging scrolls for each month is tough but fun. We picked up some of our favorite "Tsuyu" hanging scrolls.
Hydrangea Flowers
---
Hydrangea Flowers (Ajisai in Japanese) bloom beautifully in the rainy season. They look even gorgeous when in the rain. They make a fantastic show of colors so often chosen as an art motif.

Ajisai Viewing in Kansai
It's the best time for Hydrangea flowers. Hydrangea in a park or temple will make a good day trip.
Koi Fish (Carp) Shooting up a Waterfall
---
Next is a scroll of Koi Fish (Carp) Shooting up a Waterfall. It is often chosen for boys' festival in May but also displayed until summer is over because it looks like it will keep you cool.
Waterfall Painting
---
This is a Waterfall painting. A hanging scroll has been traditionally displayed at a tokonoma alcove in a Japanese room. Adjusting to a tokonoma alcove space, a hanging scroll and a painting were naturally designed vertically long. We think waterfall takes great advantage of the vertical format. Very relaxing and soothing.

Do not miss out Nunobiki Waterfalls in Kobe.
The Oirase stream
---
Lastly, we would like to show you The Oirase stream. The Oirase stream in Aomori prefecture is representative of the scenic beauty of Japan. The landscape looks especially alluring with the budding greens of Spring, and during Autumn when the leaves turn to red, and a lot of tourists visit during these times.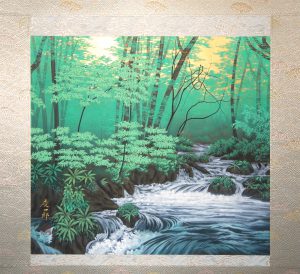 Let's Enjoy the Tsuyu Season through Kakejiku together!
Well, we have lots and lots more scrolls to talk about and scrolls that we would like you to see in person here at ART NOMURA.
We are grateful that many international visitors have taken time to come and visit us. It is fun to meet you, talk with you, and show you our scrolls. If you ever visit Japan, especially Kansai area, we'd be happy if you could add ART NOMURA as your tourist spot. Let's enjoy hanging scrolls together!
On hot and humid days, we will be preparing nice and cold Japanese tea and are looking forward to seeing you.
スライドショーには JavaScript が必要です。