Kakejiku of the Month / Sep. 2017 – Art Motifs for Fall / Autumn –
It is the end of summer in Japan now. The buzz of cicadas stopped and we often see red dragonflies lately. It is still hot but the cool wind has begun to blow a couple of days ago in the mornings and evenings. We sense the approach of autumn.
Out of all the seasons, spring is favored by most of Japanese people but I also hear many people say that the fall is their favorite season, because in fall, people enjoy viewing the gorgeous deep scarlet leaves of Maple.
There is a saying in Japan that goes: "fall is the best season for arts. "
This refers to many art and music events that occur during the fall. There are various opinions about why the fall is best for arts, but I think this is because the weather is perfect for any activity. The food is amazing, there are many beautiful plants ― many things inspire artists.
We have updated our gallery display for September.
This time, I will introduce some art motifs for fall through kakejiku in our gallery.

Art motifs for fall / autumn:
Rabbit and the Moon
First, this is a kakejiku with a painting of a rabbit and the moon.
On the night of the full moon in mid-September, we hold "Otsukimi" (moon viewing), in appreciation of good harvest. There is an old Japanese tale of the moon rabbit that there is the rabbit living in the moon. Japanese people see the shape of lunar craters as the rabbit pounding rice cake. This is why the rabbits are often depicted together with the moon.
In this work, the rabbit is crossing the sea. Notice the beautiful blue colours.
"Why is the rabbit crossing the sea?"
This is because a rabbit crossed the sea in a Japanese myth called "Inaba no Shirousagi (a white rabbit of Inaba)". The story is set in Tottori prefecture where white rabbits are worshipped as gods of marriage. If you want more information about this story, please look it up on Wikipedia.
Persimmons
Next is persimmons.
In Japan, we can see persimmons everywhere during fall season. Persimmon fruits are not only delicious, but also very nutritious, so they are very popular. Japanese persimmons "kaki", were exported to Europe and the United States long ago and they are also very popular there today. The term "kaki" is used all over the world just as it is.
Brightly colored fruit have been loved among Japanese painters so kakis are often depicted as a Japanese art motif for fall.
In this work, they are depicted with some old Japanese thatched houses. Persimmons were often planted in rural gardens in the old days so they make Japanese people feel nostalgic.
Fall Plants
Next is fall plants.
In Japan, not only maple but also many other colorful plants are beautiful to look at during the fall. We can almost understand why there is a saying of: "fall is the best season for arts" in Japan.
In the piece of artwork shown, light yellow Japanese pampas grass, golden lace (patrinia), blue balloon flowers and purplish-red bush clovers are depicted. They are all so beautiful. The arrangement of the flowers' vivid colors gives rhythm to this work. Taking a closer look at this work, you can see a grasshopper depicted on the bush clovers. Adding only one living thing among the plants makes this work more enjoyable.
---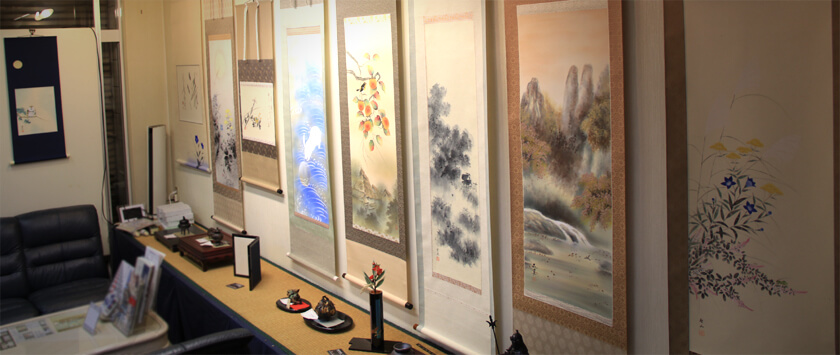 Please come over and enjoy early autumn at ART NOMURA.