Souvenir / Lovely Guests from Australia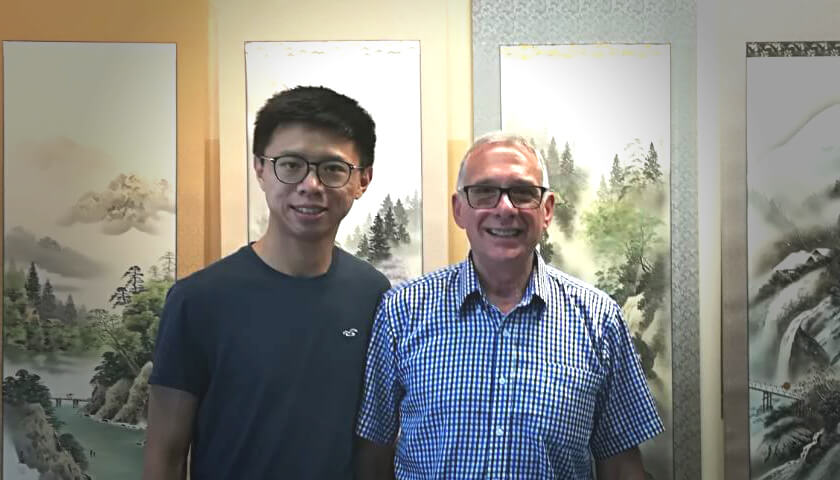 We had lovely guests from Australia at the end of last month, July 2017. They are John-san and Shawn-san. (Sorry if the spelling is wrong.) They chose our hanging scrolls (kakejiku) as a Japanese souvenir.
It is the second time for John-san to come to Japan. This time, he first arrived in Tokyo and headed to Kyoto and Osaka, then stopped by Kobe for us!
It was very hot and humid on this day so he took a taxi from the nearest station. (JR Tarumi St.) It is best to take a taxi from east exit of JR Tarumi Sta. because it's nearer and cheaper. (Approx. JPY 680 for 5 minutes ride) Please tell a taxi driver to go to "Nomura Bijutsu" (bijutsu means art in Japanese).
John-san generally likes Japanese art crafts. He often visits an art gallery in Melbourne that handles Japanese arts and crafts. He enjoys collecting "sake" cups. We must visit the gallery if we ever visit Melbourne!
John-san requested us for some landscape painting. We first started with some scrolls that have a taste of summer. Eventually, we showed him "Four Seasons". This is a set of landscape scroll paintings with all seasons. Cherry blossoms for the spring, fresh green for the summer, maple for the autumn and snow for the winter.
In Japan, generally, we replace the hanging scroll with a different one when the seasons change or when we have guests. So this set was produced for people who want to enjoy landscape all year round. John-san, we hope you enjoy the change of the Japanese seasons in your house.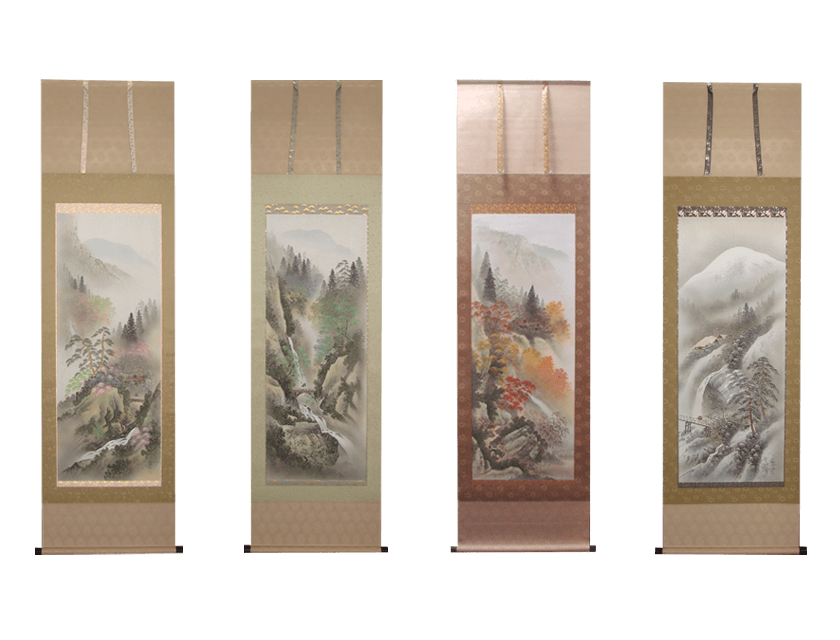 John-san also picked one from Zen art & calligraphy. (The right one in the above picture)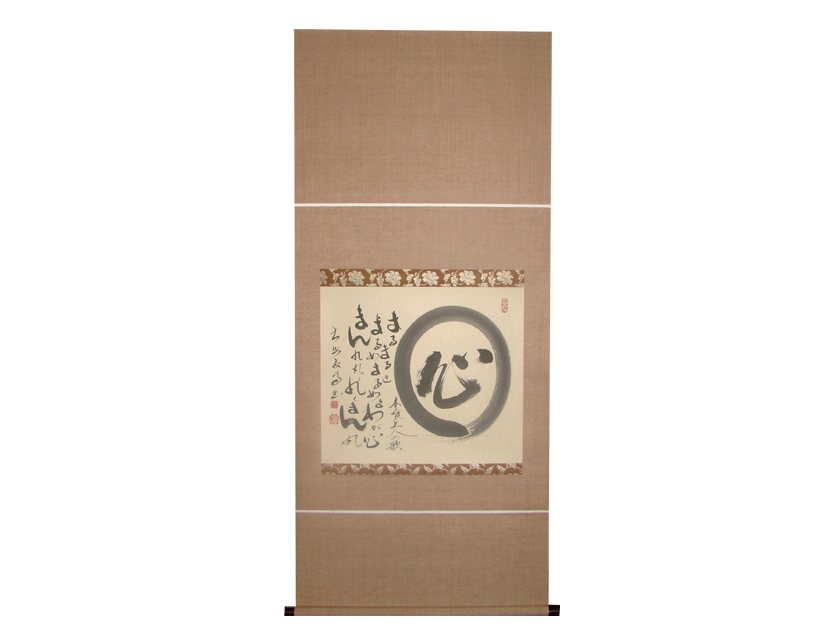 This is a beautiful Zen circle with calligraphy by Yuhou Takahashi, who is a Zen priest and well known for his good & skillful calligraphy writing.
John-san likes to visit temples and shrines so this one is perfect for him.

Yuhou Takahashi (Mr.)

Yuhou is a famous Zen priest for his sermon, which is simple, fun and unique so that people can easily understand. Serves as the chief priest at 2 Zen temples, Daianzen-ji temple and Housyou-ji temple. He has been passionate about introducing Zen meditation, Bokuseki (calligraphy, especially of Zen priests) and Zen art. Held exhibitions many times, both domestically and internationally. He has lots of funs for his calligraphy and Zen art.

---
We sent out the scrolls to Australia afterwards.
While walking them to the station, our staff had so much fun talking with them since she has stayed in Australia for a year as an exchange student.
Thank you for the wonderful time. We all hope to see you again.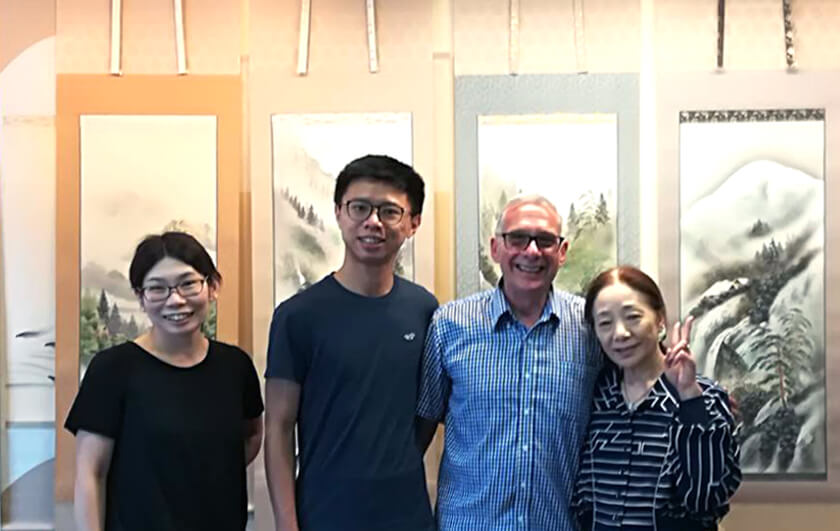 ---
We received a heart-warming e-mail and a review on TripAdvisor page from John-san. Thank you so much!!
The scrolls arrived within a few days of you posting them. They are beautiful and I take great delight in showing them to visitors to my home. Everybody who views them are amazed by their beauty!

It was a great pleasure to have met you and the team at Art Noumura.
E-mail
"Japanese scrolls. A wonderful experience at Art Nomura!"

Art Nomura was a real surprise and worth the effort of leaving the usual tourist paths and exploring Japanese art work in a friendly and welcoming environment. The staff were excellent in every way discussing art works, artists, and styles in a 'family type' setting. I would highly recommend this place when visiting Osaka or Kobe.
TripAdvisor review
---
We have many stocks of hanging scrolls so please come over here and have a chat with us. We will find something that is just right for you.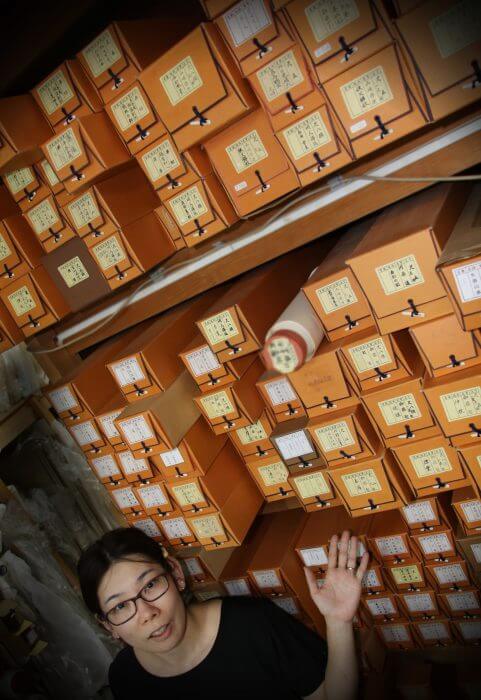 We will continue to convey the charm of the kakejiku all over the world.