Calligraphy: Fukuju-kai-muryou / Yuuhou Takahashi - Fortune and Happiness Are Immeasurable Like the Ocean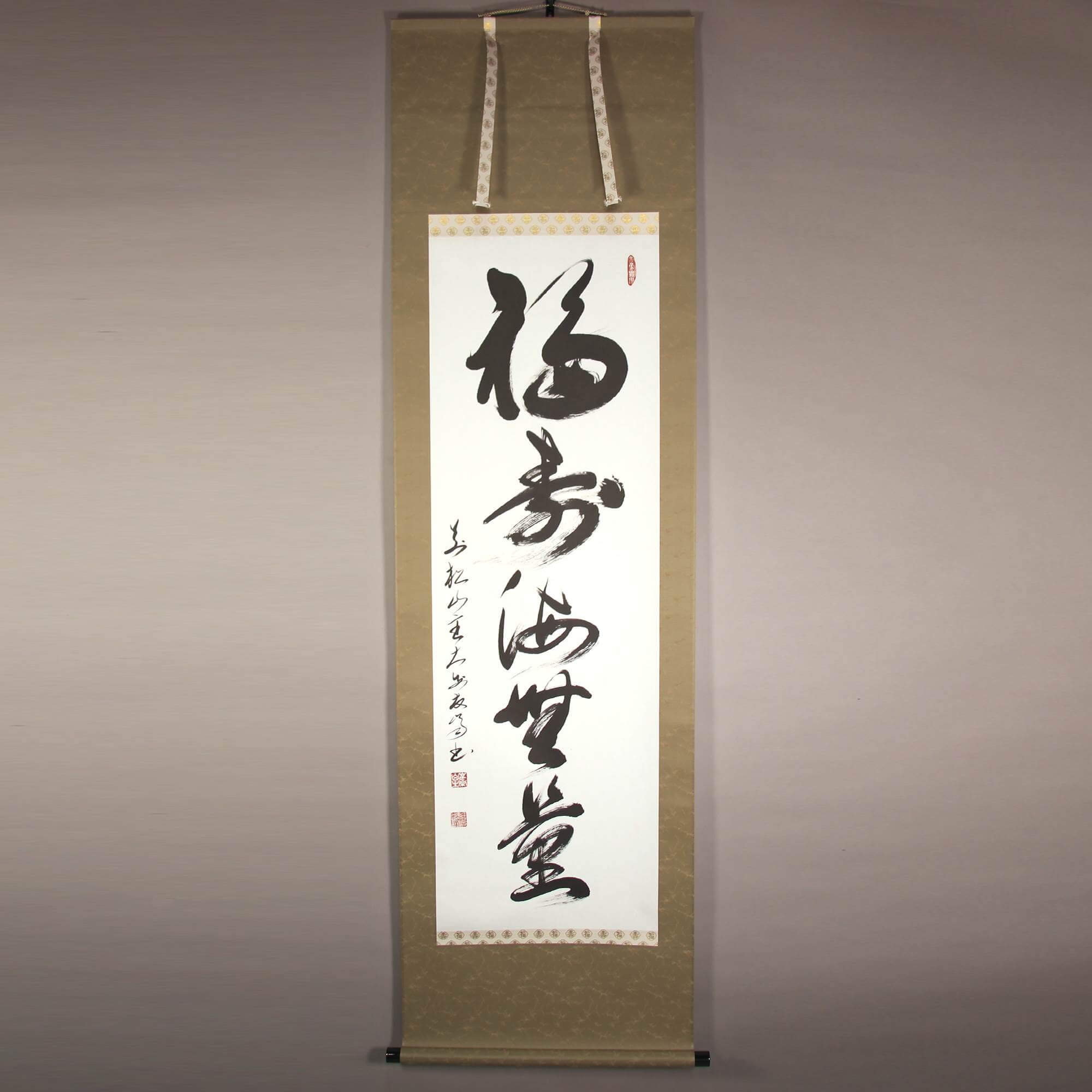 Product ID

0188

Name

Yuuhou Takahashi

Profile

The chief priest at the Daianzen-ji temple in Fukui pref.

1948

Born in Fukui city, Japan

1970

Graduated Kyoto Hanazono University (Major: Buddhism)
Joined and practiced asceticism at the Kaisei-ji temple in Hyogo for 6 years

1989

Appointed as the chief priest at the Daianzen-ji temple in Fukui

2008

Exhibition at the Takumi museum in JR Gifu Station
Exhibition at the art gallery in Inoue department in Nagano

2011

Opened a gallery in the Daianzen-ji temple
Also appointed as the chief priest at the Housyou-ji temple in Ishikawa
Exhibition at the "Gallery Metanoia" in Paris, France

2014

Performed at the Sarah Lawrence College in NY, USA

Size

600mm x 1920mm

Roller End Material


Wood coated with black "urushi" (lacquer)

Material of the Work

Japanese paper

Stock Condition

In stock
Description

Yuuhou is a Zen priest, famous for his sermons which are simple, fun and unique so that people can easily understand them. He serves as the chief priest at 2 Zen temples: Daianzen-ji temple and Housyou-ji temple. He has been passionate about introducing Zen meditation, Bokuseki (calligraphy, especially of Zen priests) and Zen art. He has held many exhibitions, both domestically and internationally. He has lots of fun with his calligraphy and Zen art.

This piece is a calligraphic work of "Fukuju-kai-muryou" by Yuuhou Takahashi. The phrase means "fortune and happiness are immeasurable like the ocean." His lively writing is very attractive and refined. It is very interesting that the Chinese characters of "fukuju (福壽)" are woven in *ichimonji fabric as its pattern.

---

*Fabric attached above and below a main artwork on a kakejiku (hanging scroll). Since ichimonji occupies an important place on a kakejiku, high quality fabric such as gold and silver brocade is used.