White Plum Blossoms / Isozumi Shigen - Hakubai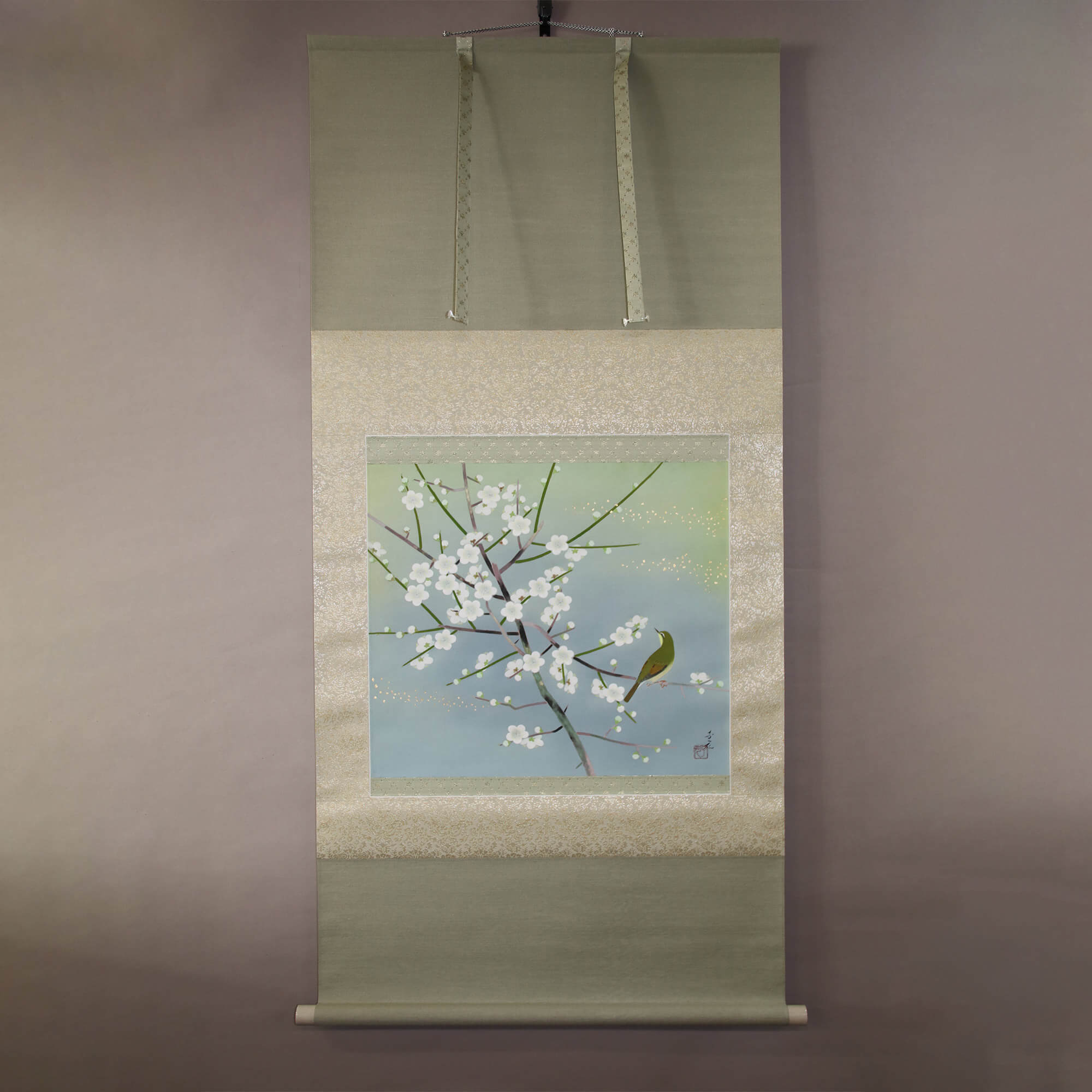 Product ID

0238

Name

Isozumi Shigen

Profile

Isozumi Shigen (五十棲子元, 1916-) is a Japanese-style painter of the Shōwa era. Shijo school painter. Born in Kyoto pref. Studied painting techniques under Nishiyama Suishō. Awarded at the Nitten and the Inten exhibitions. Member of the Shōkōsha art group. Specialized in flowers & birds paintings.

Size

720mm x 1390mm

Roller End Material

Ceramic

Material of the Work

Silk

Price

JPY 100,000

Stock Condition

In stock

Payment: Click the Paypal Mark

Duty and Taxes




Import duty and taxes are beyond our control and may apply to your shipment. Please noted that these fees are the responsibility of the buyer.



Description

Isozumi Shigen was born in Kyōto in 1916. He studied under a leading authority of Kyōto art world, Nishiyama Suishō to belong to the "Shōkō-sha" painting school founded by Nishiyama Suishō, where he learned the painting techniques of the Shijō school. He excelled at flower and bird paintings based on thorough sketching. Repeatedly selected at the Nitten exhibition and Inten exhibition. Shigen has gained popularity in his style, which was consistently calm and full of details, typical of Kyōto-based artists. His works are often delicate in the shade of colors and are filled with emotions.

This work is one of those flower and bird paintings by Isozumi Shigen. The white plum blossoms, which are now beautifully blooming as if to herald the arrival of spring as the cold weather has finally eased, are vividly depicted throughout the painting. The composition of the painting is boldly designed for the white plum blossoms to cover the entire surface of the painting. The fact that the painting never feels cluttered is, however, probably due to the fine and careful depiction of the plum blossoms. The skillful use of *tarashikomi technique to give rhythm to the branches of the plum blossoms is a quite piece of fine art. The little birds perched on the branches may be happy to see the arrival of spring, so they look somewhat joyful. It is no wonder that Isozumi's poetic flower and bird paintings are that popular.

---

*Tarashikomi: A high-level technique of Japanese-style painting for attaining natural blur by making use of the difference in the specific gravity of pigments.