Ukai / Kousetsu Kunii - Ukai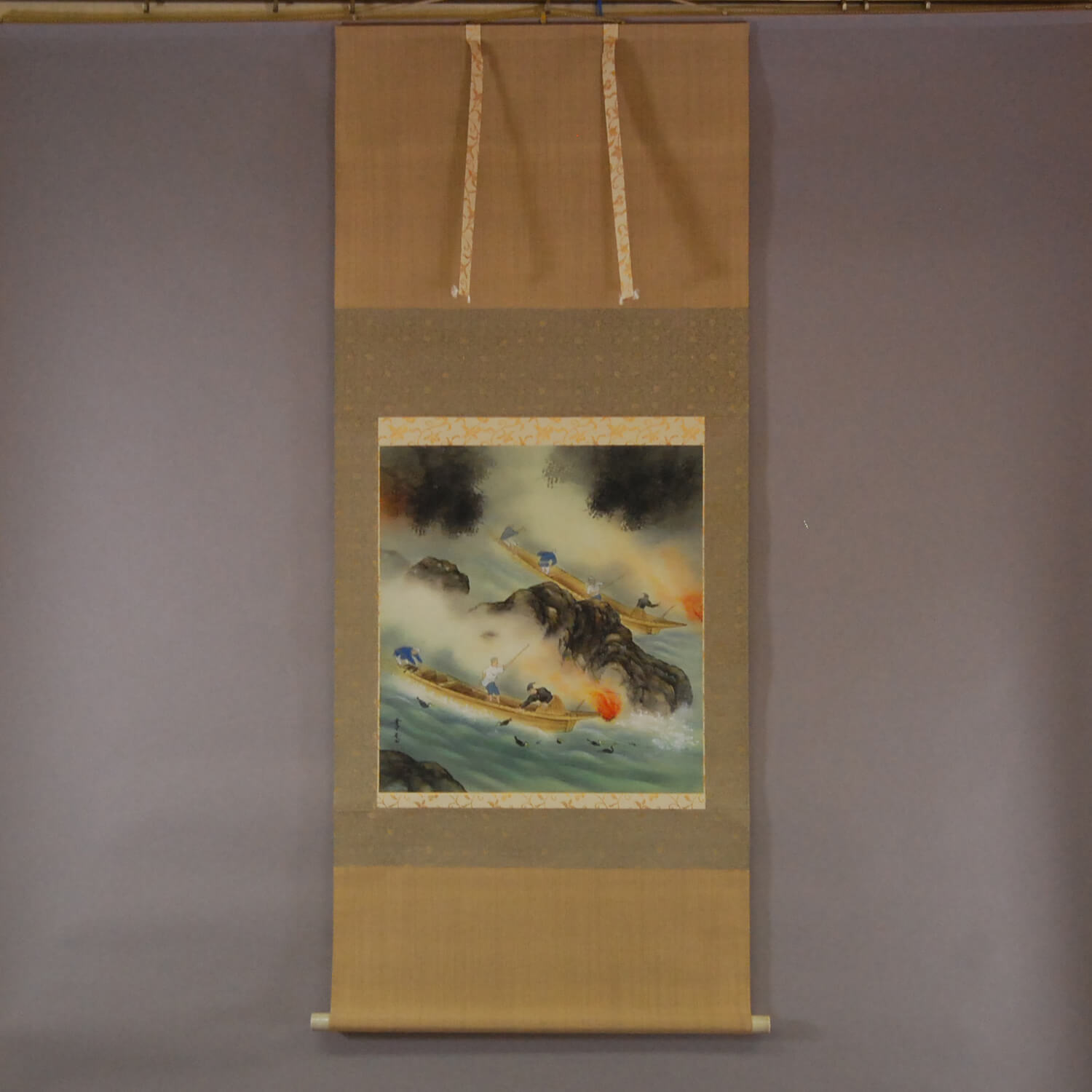 Product ID

0087

Name

Kousetsu Kunii

Profile

1919-
A Japanese-style painter

Size

710mm x 1600mm

Roller End Material

Ceramic

Material of the Work

Silk

Price

JPY 180,000

Stock Condition

In stock

Payment: Click the Paypal Mark

Duty and Taxes




Import duty and taxes are beyond our control and may apply to your shipment. Please noted that these fees are the responsibility of the buyer.



Description

"Ukai" is a traditional fishing method in which cormorants are used to catch "ayu" (sweetish).

In Japan, Ukai is practiced in various places such as Gifu, Aichi, Kyoto, and Ehime Prefectures, among which Ukai in the Nagara-gawa River is the most famous. While the people doing ukai fishing are generally called "Utukai," those doing ukai in the Nagara-gawa River are traditionally called "ushou" because of the hereditary system.

Nagara-gawa ukai is ukai (cormorant fishing) that is conducted in the Nagara-gawa River in Gifu City, Gifu Prefecture during the period from May 11 to October 15 every year. It is conducted every night except at the time of the harvest moon, and when the river rises. The reason why it is not conducted under the harvest moon is that ayu are not lured by "kagaribi" (fishing fire) when the moon is full.

Ukai has been practiced for about 1,300 years, and it originally started as a form of fishing. Currently, however, ukai is conducted as a tourist attraction showcasing the traditional fishing method. Ukai that is conducted eight times a year at Imperial Household Agency's "goryouba" (fishing ground for the Imperial Court) is called "goryou ukai." Ayu that are caught in goryou ukai, are offered not only to the Imperial Palace but also to the Meiji-jinguu Shrine and Ise-jinguu Shrine. Ukai of the Nagara-gawa River is the sole ukai in Japan that is patronized by the Imperial Court, and the official job title of ushou (a fisherman of cormorant fishing) of Nagara-gawa ukai is "shikibushoku ushou" of "Kunaichou" (Imperial Household Agency).

The Ushou boards the "ubune" (a boat used for ukai) with kagaribi at its bow, and controls 10 to 12 cormorants with "tenawa" (a hand rope). The cormorants catch ayu that gather under the kagaribi. As ushou always live together with cormorants, ushou and cormorants get along perfectly and cormorants catch ayu neatly. A fishing method called "Makigari," which is conducted by six ships, is fantastic.

Kousetsu Kunii paints not only landscapes and "kachō-ga" (paintings of flowers and birds), but also Buddhist painting, portraits and genre-paintings. In this painting, kagaribi (fishing fire) and its smoke give lively motion and a dreamy atmosphere to this work. Kousetsu Kunii, who was born in Gifu Prefecture, feels something special for Nagara-gawa ukai. He also takes great care in depicting the rocks and the ushou (the people doing ukai fishing).