Tiger in Snow / Gyokuhou Horie - Secchuu Mouko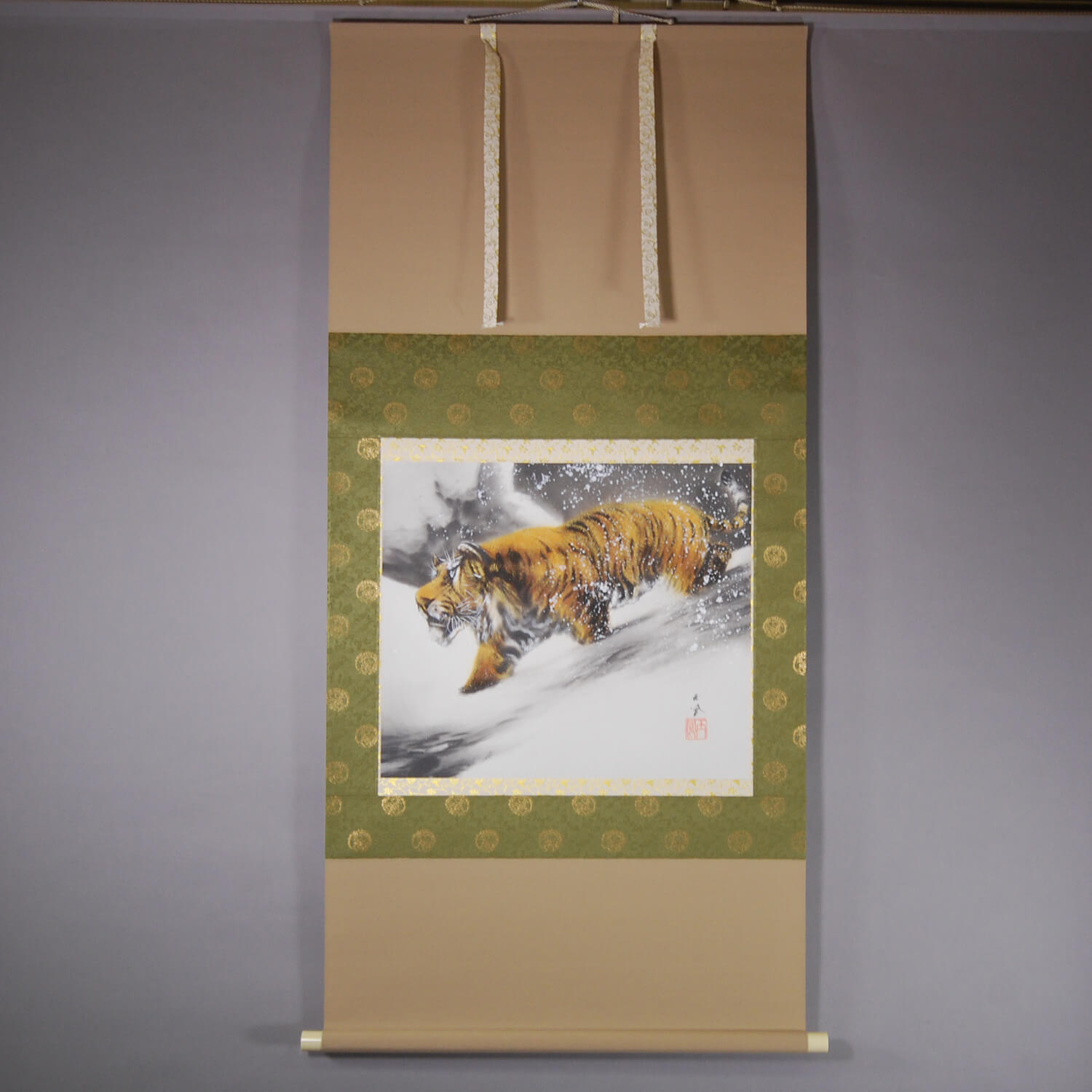 Product ID

0153

Name

Gyokuhou Horie

Profile

1917 – ?
A Japanese-style painter

Size

725mm x 1470mm

Roller End Material

Artificial ivory

Material of the Work

Silk

Price

JPY 120,000

Stock Condition

In stock

Payment: Click the Paypal Mark

Duty and Taxes




Import duty and taxes are beyond our control and may apply to your shipment. Please noted that these fees are the responsibility of the buyer.



Description

Tiger weren't found in Japan until the Meiji period, so Japanese-style painters depicted tigers based on cats. Therefore, the tiger's figure was drawn as a very big cat. In the Meiji period, the painters were able to look at tigers at a circus or zoo, so they began to depict tigers realistically.

Gyokuhou Horie, an expert tiger painter, played an active part in the Japanese-style painting world from the Shouwa period to the Heisei period. His works of tigers were the most popular tiger paintings in those days, and many works were created.

This is a painting of a tiger walking on snow by Gyokuhou Horie. The tiger walks majestically in the snowstorm, so we can feel its raw power. The sharp glint in the eye of the tiger expresses ferocity. "Kegaki," the act of painting hair or fur with fine lines, is very important in depicting a tiger, and Gyokuhou Horie's kegaki is very delicate and beautiful. The expression of the snow, using "gofun" (white pigments), "sumi" (ink), and the utilization of unpainted space, is worthy of praise. This is the reason that Gyokuhou Horie's tiger paintings are especially popular.