The Great Wave off Kanagawa / Hokusai Katsushika - Kanagawa Okinamiura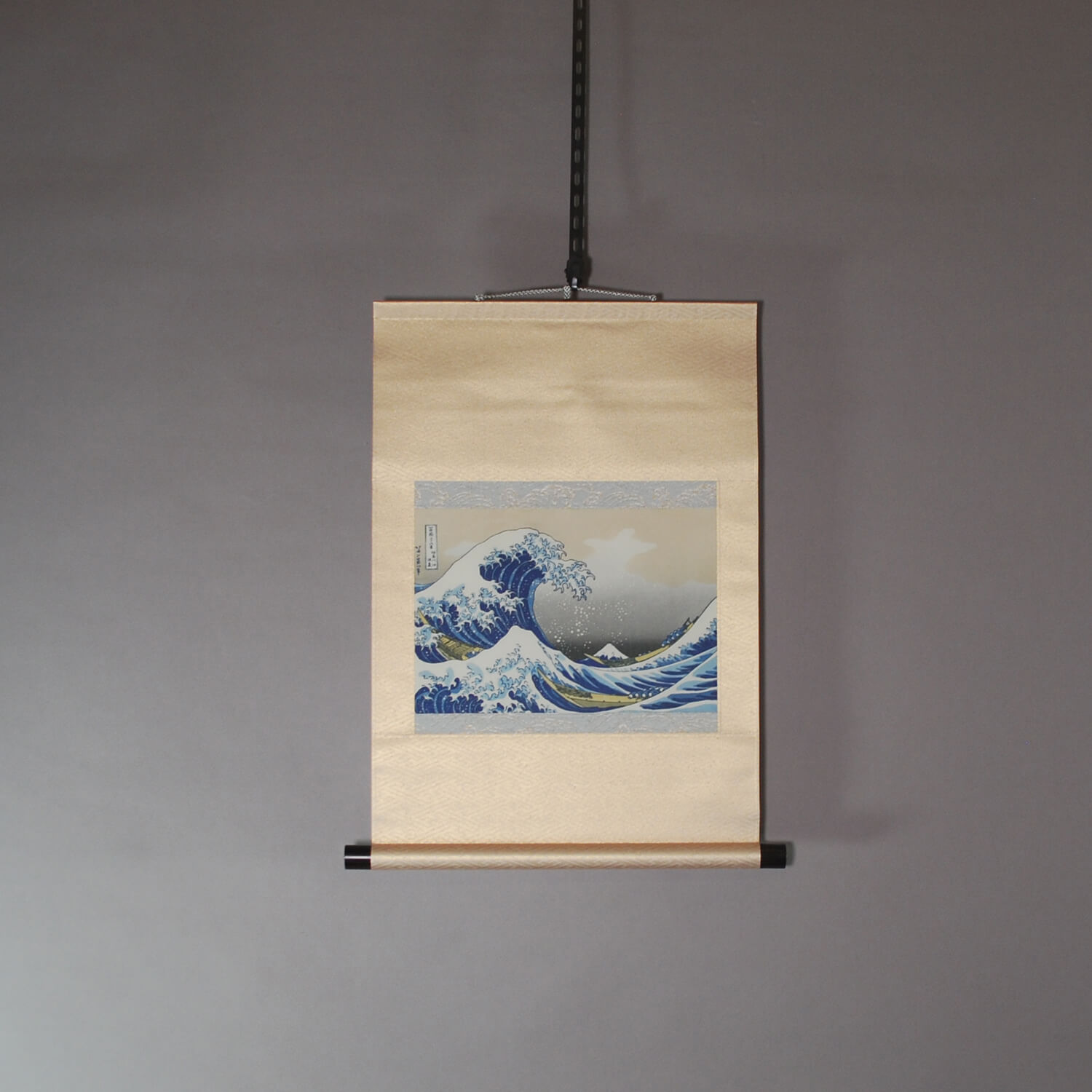 Product ID

0178

Name

Hokusai Katsushika

Profile

1760-1849
Ukiyo-e artist

Size

485mm x 620mm

Roller End Material

Red sandalwood

Material of the Work

Chemical fiber

Stock Condition

In Stock
Description

"Fugaku Sanjuurokkei" (Thirty-six Sceneries of Mt. Fuji) by Hokusai Katsushika (1760-1849) around 1831 won great popularity thanks to the worship of Mt. Fuji commoners. Borrowing the technique of Western-style painting, they were drawn using perspective, and printed with Persian-blue ink called "Bero ai," which was popular at that time. Hokusai's creativity was so fresh that you wouldn't believe he was over 70 years old, and he produced enthusiastically these works about Mt. Fuji, whose scenery and atmosphere change variously depending on time and place. His position as a painter became solidified through the works and these works recreated an impression of Ukiyo-e prints of landscapes along with "The 53 Stations of The Toukaidou Road" by Hiroshige Utagawa. These works were extremely significant in regards of enhancing the existing value of landscapes. The dynamic wave movement in this work really attracts us, and this piercing work is very famous as Hokusai's masterpiece. This work is a view of Mt. Fuji from the coast of Honmoku in Yokohama. This work is so famous all over the world that it is virtually synonymous with Ukiyo-e. The wave makes us feel that Mt.Fuji is small, which should be big and magnificent. In addition, the wave's splashes almost appear alive, while the oarsmen on the boats being tossed about by the wave are stiff as if they were rag dolls in contrast. This juxtaposition between the wave and the oarsmen are, even today, so fresh and interesting. These expressions convey both stillness and movement, that is to say the ruthlessness of Mt. Fuji and the powerlessness of human beings, which are implied by the dynamic wave. The Western shadow method by gradation of indigo ink is used in this work. The expression combines the Japanese traditional expression of the crest of a wave, which imparts high decorative effects and dynamics to the work. In addition, the splendid contrasting indigo and white is also very effective. It is interesting that the sky is expressed with modest color to accentuate the wave.

Hokusai had a great impact on many Western impressionist artists such as Vincent Van Gogh, who saw it and later praised it in a letter to a fellow painter. Claude Debussy, who got an idea from "The Wave off Kanagawa," composed the symphonic poem "La Mer (The Sea)."

The work is owned in home and abroad in famous museums, and it can be said that the work is a worldwide masterpiece of painting, influencing present-day artists even now.