Pine Tree / Shōnen Suzuki - Matsu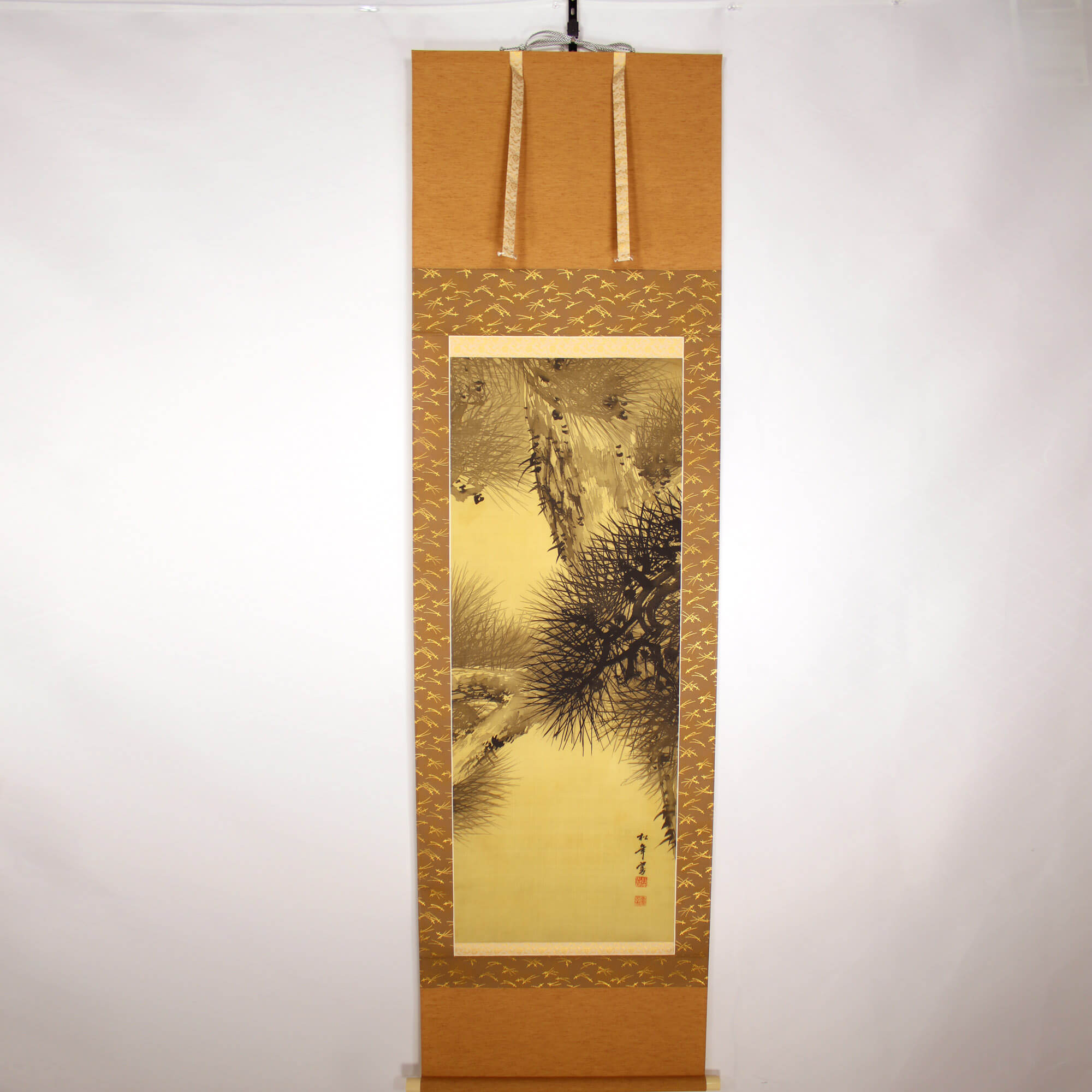 Product ID

0216

Name

Shōnen Suzuki

Profile

Shonen Suzuki (鈴木松年, 1848-1918) was a Japanese-style painter. Born and lived in Kyoto. Son and pupil of Hyakunen Suzuki. Teach at the Kyoto-fu Gagakko (Kyoto Prefectural School of Painting) from 1881 to 1888. Specialized in landscapes and kachoga flowers & birds paintings. Painted a dragon in the main building of the Tenryu-ji temple. His pupils were Shoen Uemura, Shosen Suzuki, Bakusen Tsuchida, Koen Niwayama, Shodo Yukawa, etc.

1882: Won a prize at the 1st Naikoku Kaiga Kyoshinkai exhibition.
1884: Won a prize at the 2nd Naikoku Kaiga Kyoshinkai exhibition.
1890: Won a prize at the 3rd Naikoku Kangyo Hakurankai exhibition.
1895: Won a prize at the 4th Naikoku Kangyo Hakurankai exhibition.
1900: Received the bronze award at the Paris Universal Exposition.

Size

600mm x 1900mm

Roller End Material

Artificial Ivory

Material of the Work

Silk

Price

JPY 126,000

Stock Condition

In stock

Payment: Click the Paypal Mark

Duty and Taxes




Import duty and taxes are beyond our control and may apply to your shipment. Please noted that these fees are the responsibility of the buyer.



Description

Shōnen Suzuki received a training from his father, Hyakunen Suzuki, the founder of the Suzuki school of painting, yet he seems not to have appreciated being taught by his father. In his early career, although his talent was undervalued, possibly because of his father's fame, he succeeded in being accredited with his prolificacy in organising impromptu painting gatherings at the age of 22 where he managed to paint one thousand paintings a day according to guests' demands. The artist's pseudonym was renamed 'Shōnen' when he was 32, which is derived from an auspicious saying of Zen Buddhism, 'the pine tree, a thousand years of green'. His determination to exceed his father Hyakunen (literally meaning 'one hundred years') can be observed through his new name.

Shōnen often painted pine trees, which are related to his name, throughout his career and this is one of those. Rough surfaces of the pine tree are successfully depicted with swift brushworks and a minimal number of brushstrokes. The mount fabric, woven in a pine needle pattern, adds extra profoundness to the work.