Calligraphy: Namu-Shakamunibutsu / Seihan Mori - Namu-Shakamunibutsu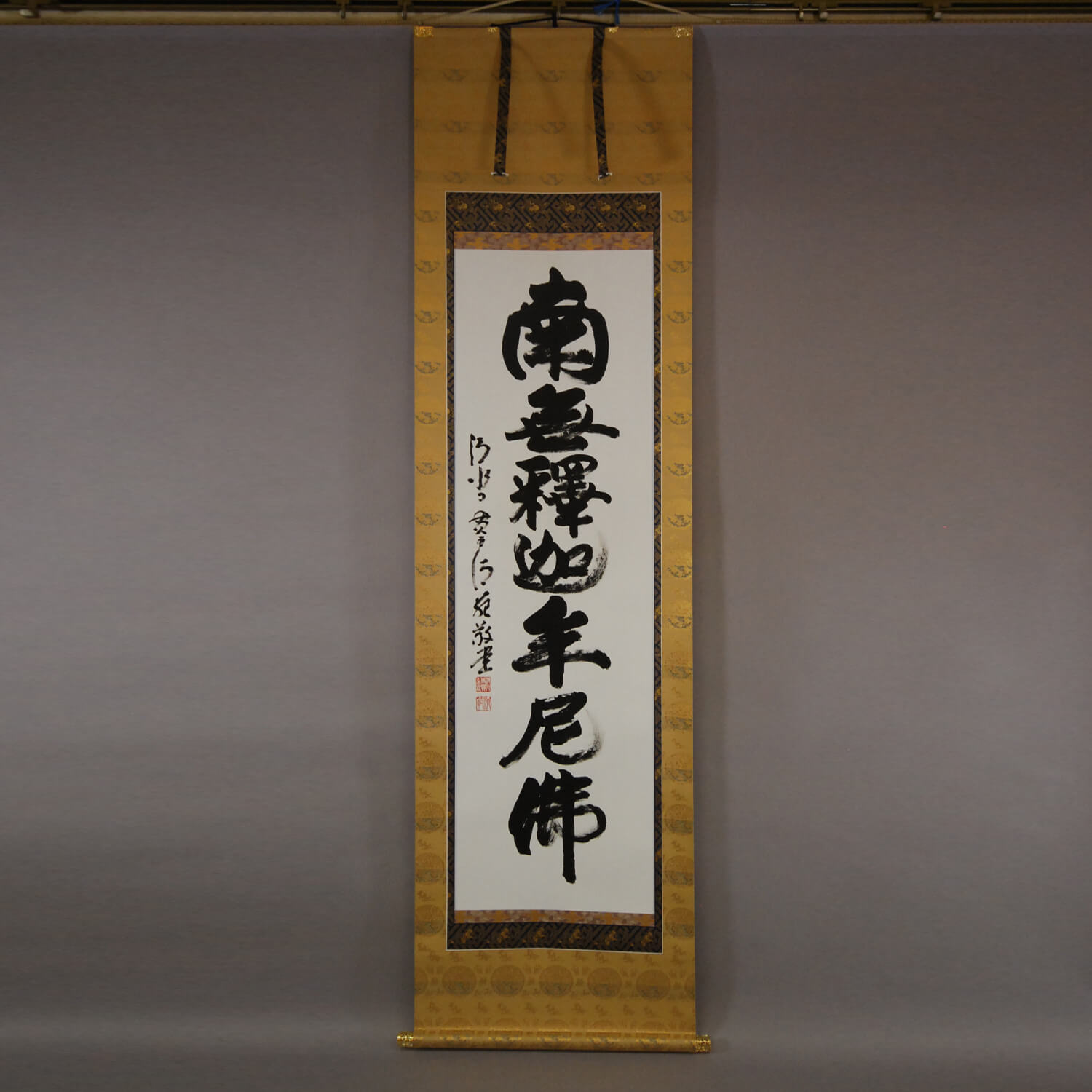 Product ID

0133

Name

Seihan Mori

Profile

1940-
The chief abbot of the Kiyomizu-dera Temple

Size

604mm x 2010mm

Roller End Material


Decorative golden metal

Material of the Work

Japanese paper

Stock Condition

The original of this item has sold out. An additional order has been placed with the artist. The item currently in stock resembles the original but differ in details and color. This is because the artwork is not printed but hand-painted. Besides, the mounting fabric might be different due to the stock condition of it. Please note that they are not duplicates.



Description

Since 1995, the "Kanji of the Year," has been announced every December 12th at the Kiyomizu-dera Temple. One Chinese character, representing the social conditions of that year, is chosen by the Japan Kanji Aptitude Testing Foundation and celebrated as "the day for Kanji." At the time of the announcement, the Chinese character is brushed on a large sheet of Japanese writing paper by the chief priest of the Kiyomizu-dera Temple upon the "Oku no in" (inner sanctuary) stage.

Seihan Mori, the chief abbot of the Kiyomizu-dera Temple, is known for writing the "Kanji of the Year" every year. Therefore, he is known as a "nōshoka" (master of calligraphy), and his pieces of calligraphy are very popular.

"Namu-Shakamunibutsu" is a 7 kanji (Chinese characters) phrase, meaning "to believe in Shakamuni Buddha." A kakejiku (hanging scroll) with the script of Namu-Shakamunibutsu, is used in the Buddhist memorial services of the "Sōtō-shū," "Rinzai-shū" and "Ōbaku-shū" sects (Zen Buddhism). This Namu-Shakamunibutsu was written by Seihan Mori, a very refined piece of calligraphy.