Momotarou / Katsunobu Kawahito - Warabe: Momotarou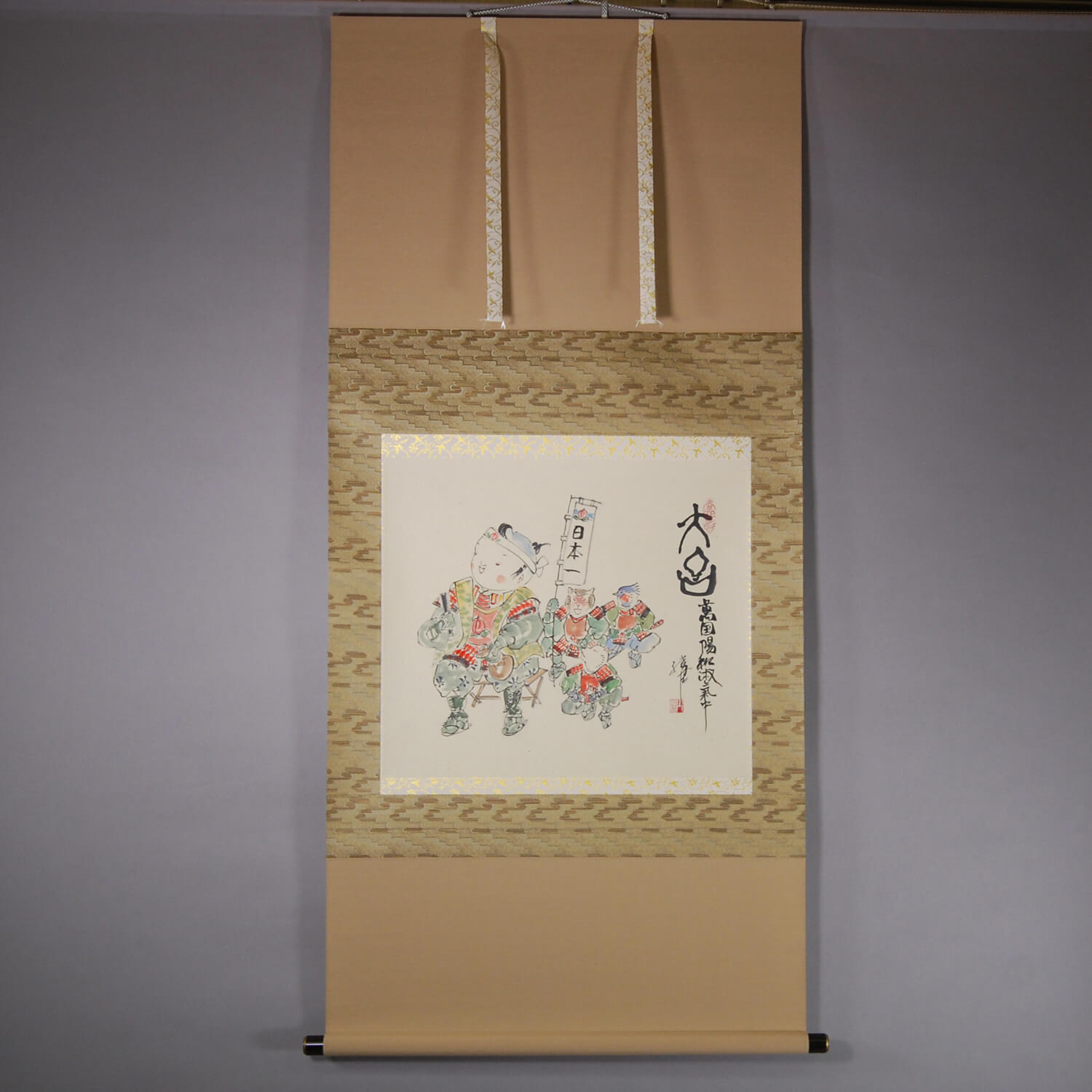 Product ID

0166

Name

Katsunobu Kawahito

Profile

1922-2019
A member of the Nitten Exhibition

Size

725mm x 1480mm

Roller End Material


Decorative wood coated with black "urushi" (lacquer)

Material of the Work

Japanese paper

Stock Condition

Sold out


Description

Momotarou is a popular hero from Japanese folklore. His name literally means Peach Tarou, a common Japanese boy's name, which is often translated as Peach Boy. Momotarou is the title of various books, films and other works that portray the tale of this hero.

According to the most recent adaptation of the tale (dating to the Edo period), Momotarou came to Earth inside a giant peach, which was found floating down a river by an old, childless woman who was washing clothes there. The woman and her husband discovered the child when they tried to open the peach to eat it. The child explained that he had been sent by Heaven to be their son. The couple named him Momotarou, from momo (peach) and tarou (eldest son in the family).

Years later, Momotarou left his parents to fight a band of marauding "oni" (demons or ogres) on a distant island. En route, Momotarou met and befriended a talking dog, monkey and pheasant, who agreed to help him in his quest in return for Momotarou's presents "kibidango" (millet dumplings).

At the island, Momotarou and his animal friends penetrated the demons' fortress and defeated them. Momotarou and his new friends returned home with the demons' plundered treasure and the demon chief as a captive. From there on, Momotarou and his family lived comfortably.

This is a painting by Katsunobu Kawahito of Momotarou. This painting is typical of Katsunobu Kawahito, who is well known for old-fashioned children paintings. It is often said that the most significant detail of portraits is the line. In this painting, Momotarou looks as if he is going to start moving at any moment because the lines drawn by Katsunobu Kawahito are so lively. The dog, monkey and pheasant were personified in this painting. These expressions are unique and very interesting. Katsunobu Kawahito's masterful prowess in artistry stands out in this work.