Mahasthamaprapta / Shingo Tanaka - Seishi Bosatsu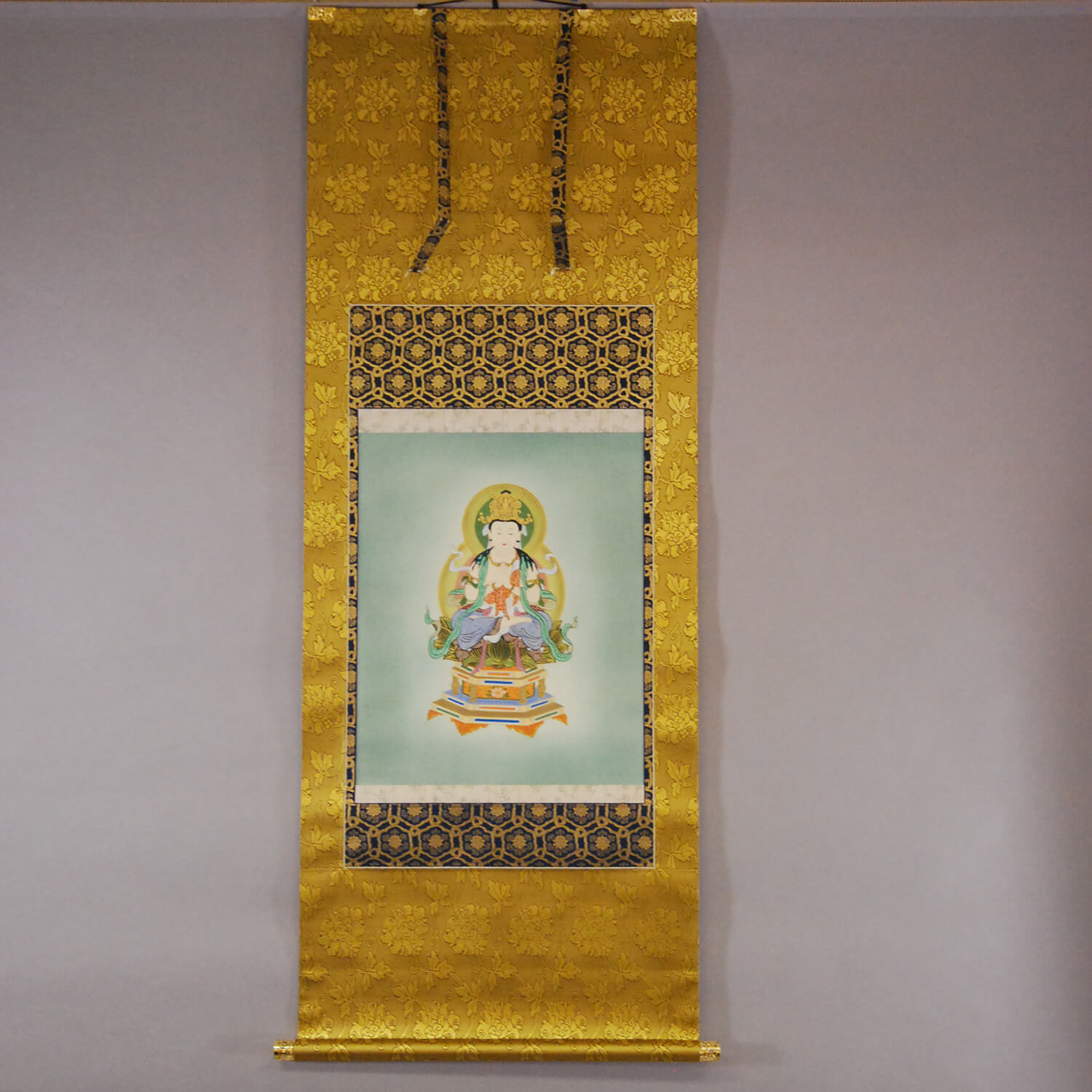 Product ID

0142

Name

Shingo Tanaka

Profile

? –
A Japanese-style painter

Size

634mm x 1550mm

Roller End Material


Decorative golden metal

Material of the Work

Silk

Price

JPY 180,000

Stock Condition

In stock

Payment: Click the Paypal Mark

Duty and Taxes




Import duty and taxes are beyond our control and may apply to your shipment. Please noted that these fees are the responsibility of the buyer.
Description

"Seishi Bosatsu", Bon name: mahaasthaamapraapta, is a "Bosatsu" (Bodhisattva) in Buddhism. The "Kyouji" (statues that accompany a central Buddha figure) to the right of "Amida Sanzon" (Amida Triad) govern the "Chimon" (wisdom) of Buddha and inspires "Bodaishin" (a desire to attain enlightenment and save others) in people. This Bosatsu saves people from falling into hell and the world of hungry spirits by holding the light of wisdom to lighten all things.

In Japan, it is very rare for Seishi Bosatsu to be the sole target of religious attention, and is usually found as an attendant figure of Amida Sanzon. Whereas "Kannon Bosatsu" (Avalokitesvara) have an artificial Buddha on the front of the diadem, Seishi Bosatsu customarily have a water jug. In the "Raigou" (literally, "welcoming") style of Amida Sanzon, in which the Buddha is believed to descend to Earth to welcome a believer facing death, the Kannon Bosatsu holds a lotus-shaped pedestal, whereas Seishi Bosatsu is expressed as having his palms held together in prayer.

This is a painting of Seishi Bosatsu by Shingo Tanaka who is well known for Buddhist paintings. The golden mounting fabric is made of "honkin-shi" (pure gold thread), which is very expensive. This "kakejiku" (hanging scroll) brings about a wave of calmness when looking at it.