Mahaavairocana / Shingo Tanaka - Dainichinyorai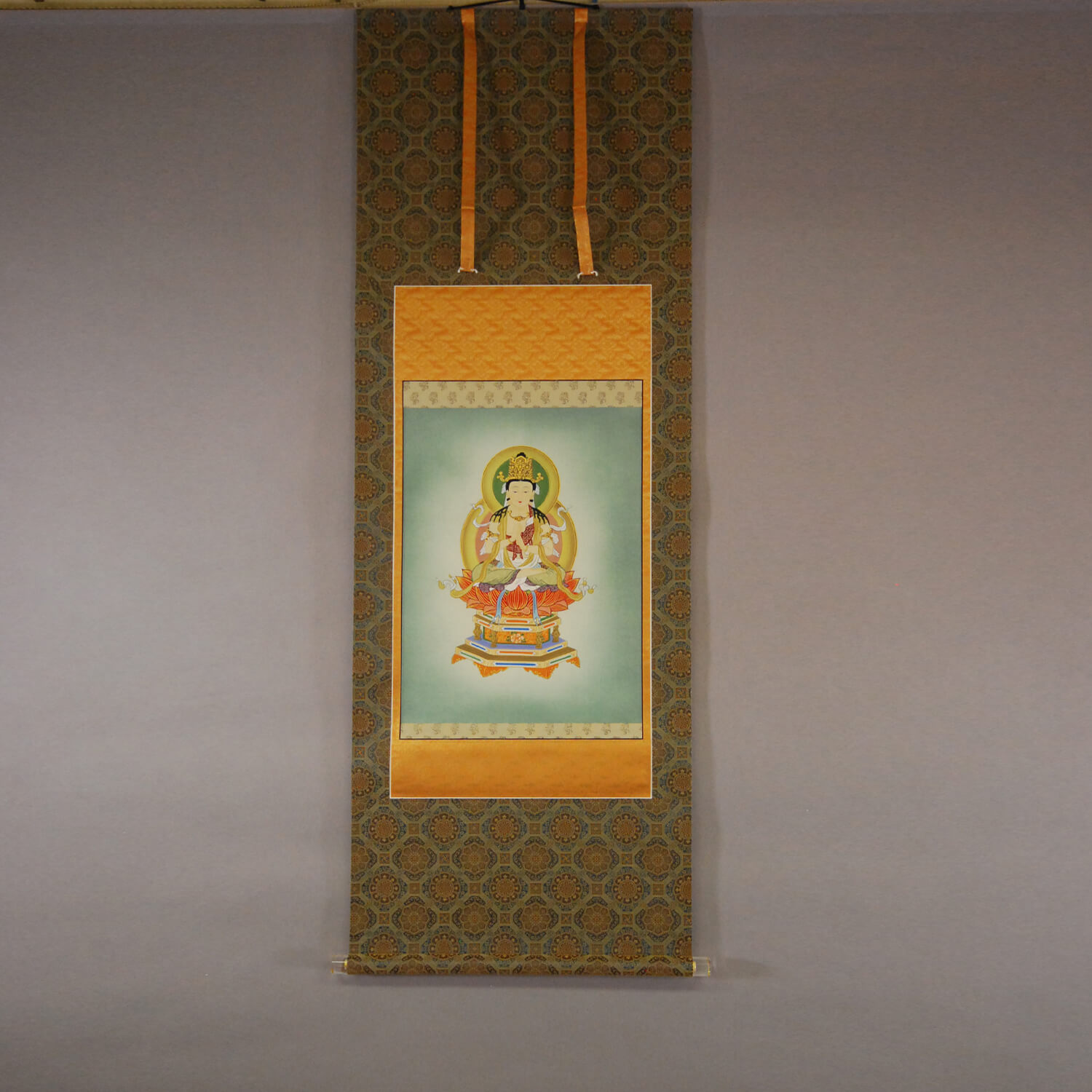 Product ID

0144

Name

Shingo Tanaka

Profile

? –
A Japanese-style painter

Size

594mm x 1545mm

Roller End Material


Crystalline acrylic resin

Material of the Work

Silk

Price

JPY 120,000

Stock Condition

In stock

Payment: Click the Paypal Mark

Duty and Taxes




Import duty and taxes are beyond our control and may apply to your shipment. Please noted that these fees are the responsibility of the buyer.
Description

"Dainichinyorai" (mahaavairocana in Sanskrit) is one of the pantheistic "Nyorai" (the Dharmakaya Buddha), which is thought of as a unit of the universe itself in "Mikkyou" (Esoteric Buddhism). In the "Shingon" sect, which was founded by Kūkai, it is the most important Buddha with which a disciplinant should ultimately integrate. "Fudou Myouou" is regarded as an incarnation of Dainichinyorai, a fundamental Buddha in Mikkyou or an expression of its inner determination. In Tibetan Buddhism, which greatly incorporates the latter part of Mikkyou, Dainichinyorai is revered as the center of the Five Buddhas (gobutsu) as well as "Gochi-nyorai." In Tibetan Buddhism it is commonly expressed as Nyorai's figure without jewelry or is sometimes drawn as a Buddha having many faces.

The form of the statue is expressed by the seated figure like "Bosatsu" (Bodhisattva), who wears luxurious accessories such as a crown and a "youraku" (accessories for the Buddhist altar), a string of beads or lace-work used to decorate Buddhist statues and objects. This imitates the figure of ancient Indian royalty. Generally, Nyorai is expressed as a lightly dressed figure free of any accessory, but Dainichinyorai is particularly expressed as a monarch that wears the existence of the universe like an accessory.

This is a painting of Dainichinyorai by Shingo Tanaka, a Japanese-style painter. He is well known for his Buddhist paintings. The solemn dignity of Dainichinyorai is expressed very well in this work.

Kōbō Daishi Kūkai (774 – 835)
Founder of the Shingon Sect.