Landscape Painting: Yunv Mountain / Fukui Kōtei - Gyokujohō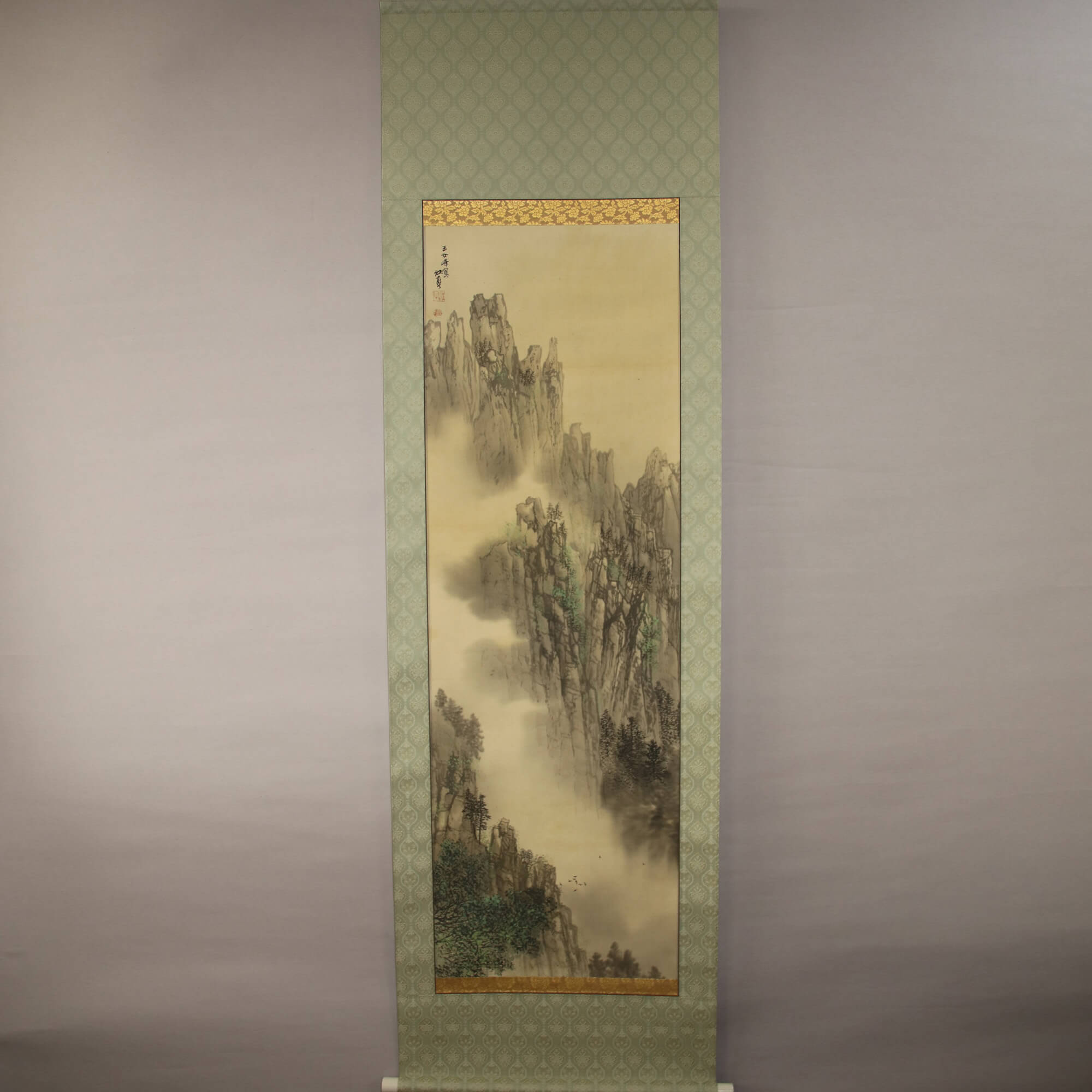 Product ID

0222

Name

Fukui Kōtei

Profile

Fukui Kōtei (福井江亭, 1856-1938) was a Japanese-style painter. He was born in Tokyo pref. First studied Western-style painting; then became a pupil of Kawabata Gyokushō. He was completely trusted by Kawabata Gyokushō. Juror of the Nihongakai. In 1900 with Hirafuku Hyakusui and Yūki Somei established the Museikai. Taught at the Tokyo School of Fine Arts. In 1901, in a day, he painted a picture for each one of 1,224 guests at a summer party: a remarkable feat of dexterity. An able painter of flowers & birds paintings and landscape paintings.

1895: Won a prize at the 4th Naikoku Kangyō Hakurankai exhibition.
1903: Won a prize at the 5th Naikoku Kangyō Hakurankai exhibition.
1909: Won a prize at the 3rd Bunten exhibition.

Size

605mm x 1830mm

Roller End Material

Ceramic

Material of the Work

Silk

Price

JPY 180,000

Stock Condition

In stock

Payment: Click the Paypal Mark

Duty and Taxes




Import duty and taxes are beyond our control and may apply to your shipment. Please noted that these fees are the responsibility of the buyer.



Description

Fukui Kōtei was a Japanese-style painter, active from the Meiji period through the Shōwa era. He was highly trusted by his master, Kawabata Gyokushō, absorbing the fundamentals of the Maruyama School. He gradually increased his reputation in the art world even to make efforts on nurturing the next generations.

Fukui Kōtei spent 5 years from 1917 on traveling around China, the home of suiboku-ga (ink painting), painting numerous works, including this work of "Gyokujohō."

Mount Wuyi is a generic name for a mountain range in Fujian Province, China. With its popularity for scenic landscapes, it is one of the places that Chinese people want to visit at least once in their lives, along with Mount Huangshan and Guilin. Since 1999, it has been registered as a UNESCO World Heritage Site (Combined Heritage). It has 3.5 million tourists a year. The scenery of the Nine-bend River is particularly beautiful, with 36 rocky mountains lining the riverbank, which can be traveled down for about 9 kilometers by bamboo rafts.

"Gyokujohō" is the most famous among these surrounding rocky mountains, named after a beautiful woman because of its beautiful rock surface seen outside. The beautiful rock surface is realistically depicted with Fukui Kōtei's masterful painting technique. "Gyokujohō," which many Chinese have chosen as their subject of suiboku-ga since ancient times, is depicted in Fukui Kōtei's Japanese-style painting, absorbing Western-style painting in the Meiji era. It very interestingly communicates something poetic while based on sketching to be quite far from suiboku-ga of the ancient China. This can be said to be a rare work from the time of Fukui Kōtei's travels around China.