Landscape Painting: Snowscape of the Kinkakuji Temple / Itō Shūki - Kinkaku-ji Sekkei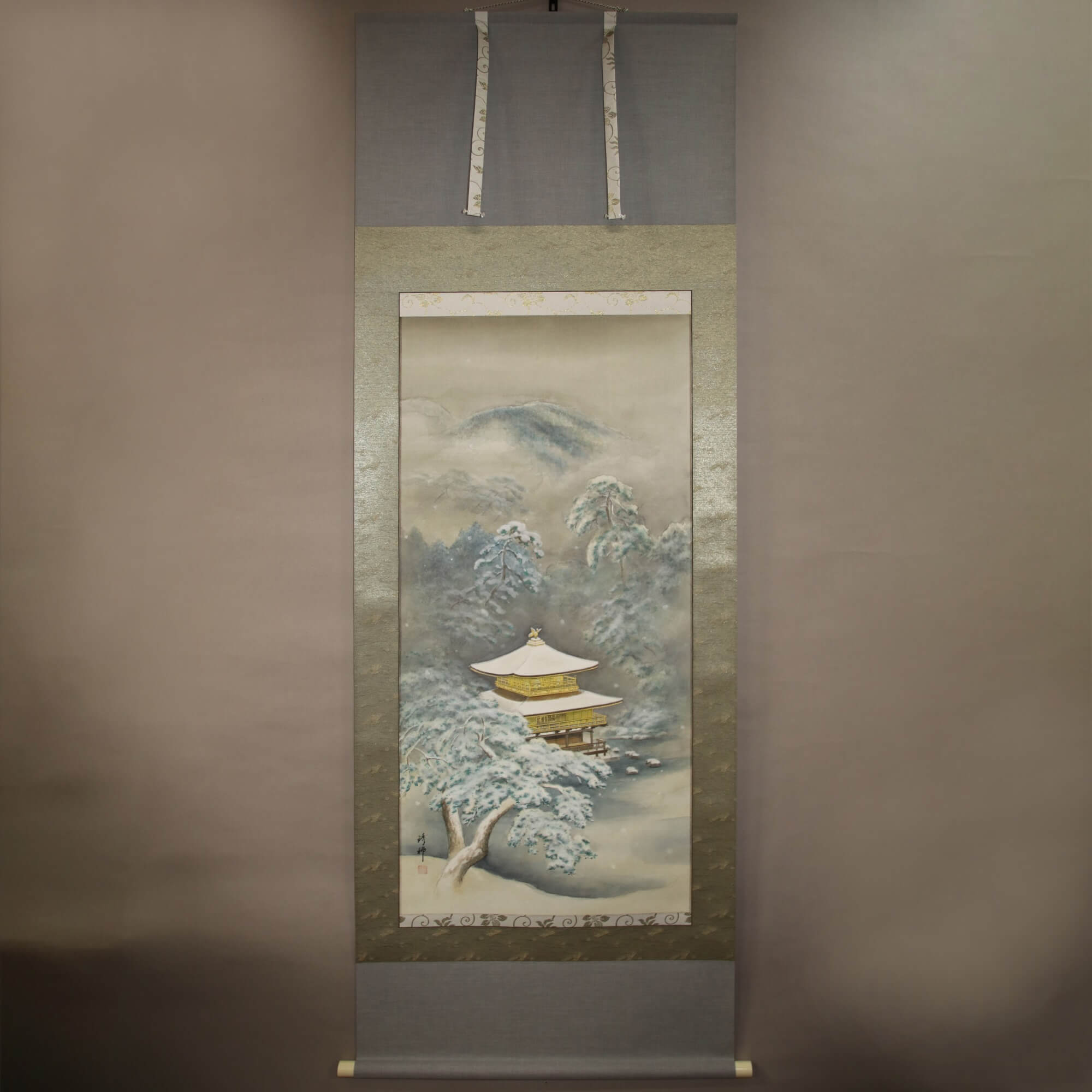 Product ID

0261

Name

Itō Shūki

Profile

Itō Shūki (伊東琇稀, 1930-) is a Japanese-style painter. Born in Hyōgo Pref. A self-educated person. Devoted many works to temples and shrines.

Size

720mm x 1930mm

Roller End Material

Artificial ivory

Material of the Work

Silk

Price

JPY 400,000

Stock Condition

In Stock

Payment: Click the Paypal Mark

Duty and Taxes




Import duty and taxes are beyond our control and may apply to your shipment. Please noted that these fees are the responsibility of the buyer.



Description

Itō Shūki was born in Kōbe, Hyōgo, to be a painter. He learned to paint on his own from his early age without a teacher to acquire painting skills from the Shijō and Kano schools. He was an accomplished artist, who dedicated his ceiling paintings and fusuma paintings to shrines and temples in Hyōgo.

This work depicts the Kinkakuji Temple (Kyōto) in winter, covered with snow. As a famous tourist spot, it in a snowy scenery is especially beautiful. The work's composition devised by Itō Shūki, as if he were sketching in snow, looks at the temple from the upper front, which is quite unique. The snow on the pines is drawn with a delicate touch to allow the audience to feel even its softness of being just piled up. The color combination with the Kinkakuji Temple, painted in gold, also makes the work more interesting. The phoenix statue at the top of the Kinkakuji Temple is impressive with the depiction of the snow piled firmly on it.