Landscape Painting: Snowscape / Morikawa Sobun - Sekkei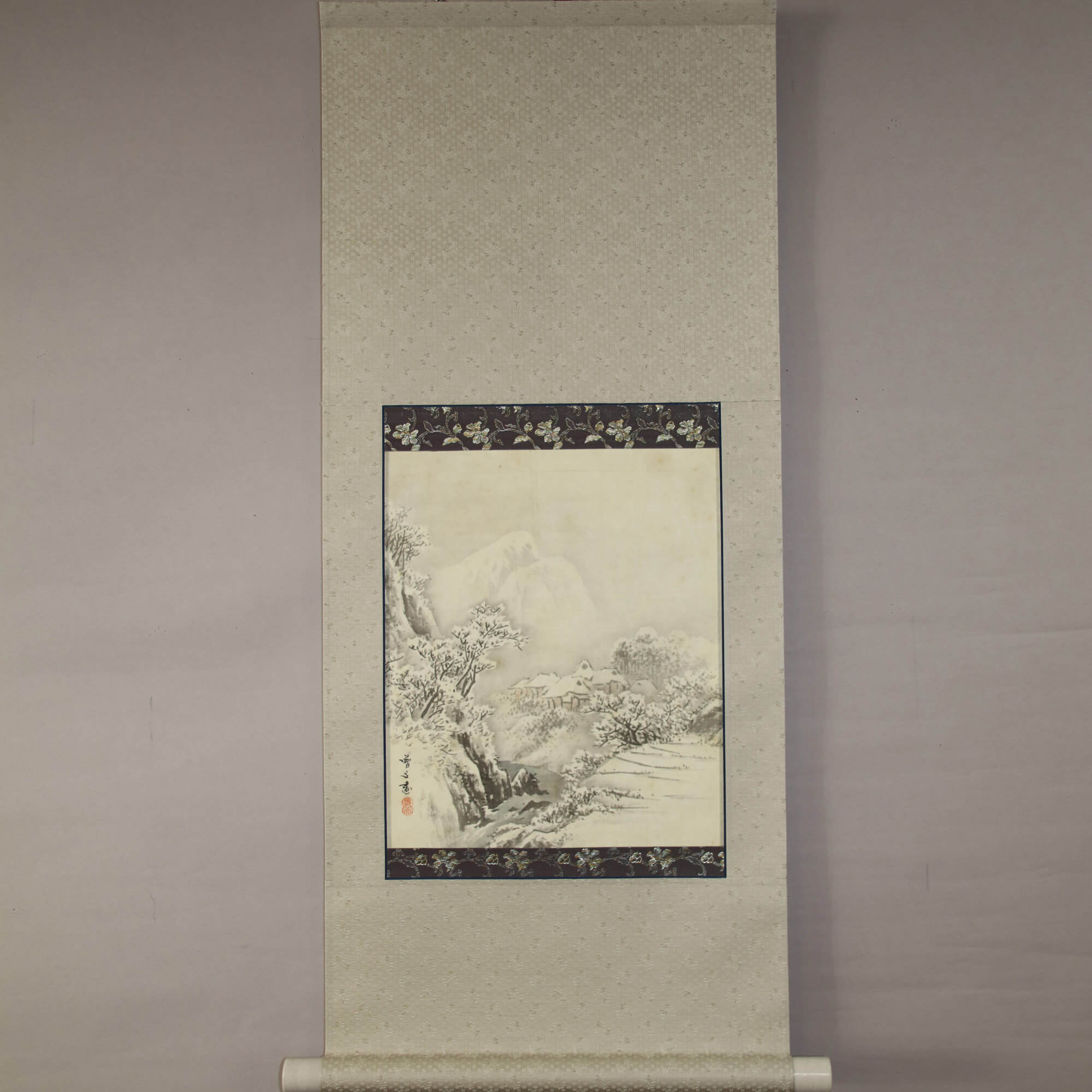 Product ID

0232

Name

Morikawa Sobun

Profile

Morikawa Sobun (森川曽文, 1847-1932) was a Japanese painter. Shijō painter. Born and worked in Kyoto. Studied painting under Maekawa Gorei and Hasegawa Gyokuhō. Member of the Kyoto Bijutsu Kyokai; took an active part in Kyoto art circles. An exhibitor with various government-sponsored shows. A distinguished painter of landscapes, figures, and flowers & birds. Miyake Gogyō and Fukada Chokujō were his pupils.

Size

420mm x 850mm

Roller End Material

Ceramic

Material of the Work

Silk

Price

JPY 80,000

Stock Condition

In stock

Payment: Click the Paypal Mark

Duty and Taxes




Import duty and taxes are beyond our control and may apply to your shipment. Please noted that these fees are the responsibility of the buyer.



Description

Morikawa Sobun was a Japanese-style painter, active in Kyōto during the Mēji period. He initially worked as a preparatory painter for Yūzen at the Kyōto Daimaru Gofuku-ten (draper) to become a pupil of Maekawa Gorei around the end of the Edo period to the beginning of the Mēji period, and then to lean a painting technique under Hasegawa Gyokuhō. From 1880, he worked at the Kyōto Prefectural School of Painting, where he devoted himself to teaching the next generations. At the same time, he won prizes at the Naikoku Kangyō Hakurankai exhibition, the Naikoku Kaiga Kyōshinkai exhibition, and the Zenkoku Kaiga Kyōshinkai exhibition, as well as at the Paris and Chicago Expositions. He spent his later years on serving as various juries to become one of the leading painters of the Kyōto art world at that time. His works indicate that he excelled at paintings of natural landscapes, sansui (hills and rivers), kachō (flowers and birds), and portraits, based on the principles of realism, as befits the Shijō School, with his richly poetic power of expression.

Despite its small size, this work depicts a snowscape in winter using sumi ink and very light colors. Morikawa Sobun had succeeded in depicting the snow-covered landscape by leaving the screen unpainted through his skillful use of silk canvas's own colors. While not as large in scale as Maruyama Ōkyo's "Yukimatsu-zu Byōbu (Folding Screen Picturing Snowed Pine Tree)" (National Treasure), this is a truly impressive work of art, skillfully rendered.