Landscape Painting: Plum Blossoms / Kōtei Fukui - Saishiki Sansui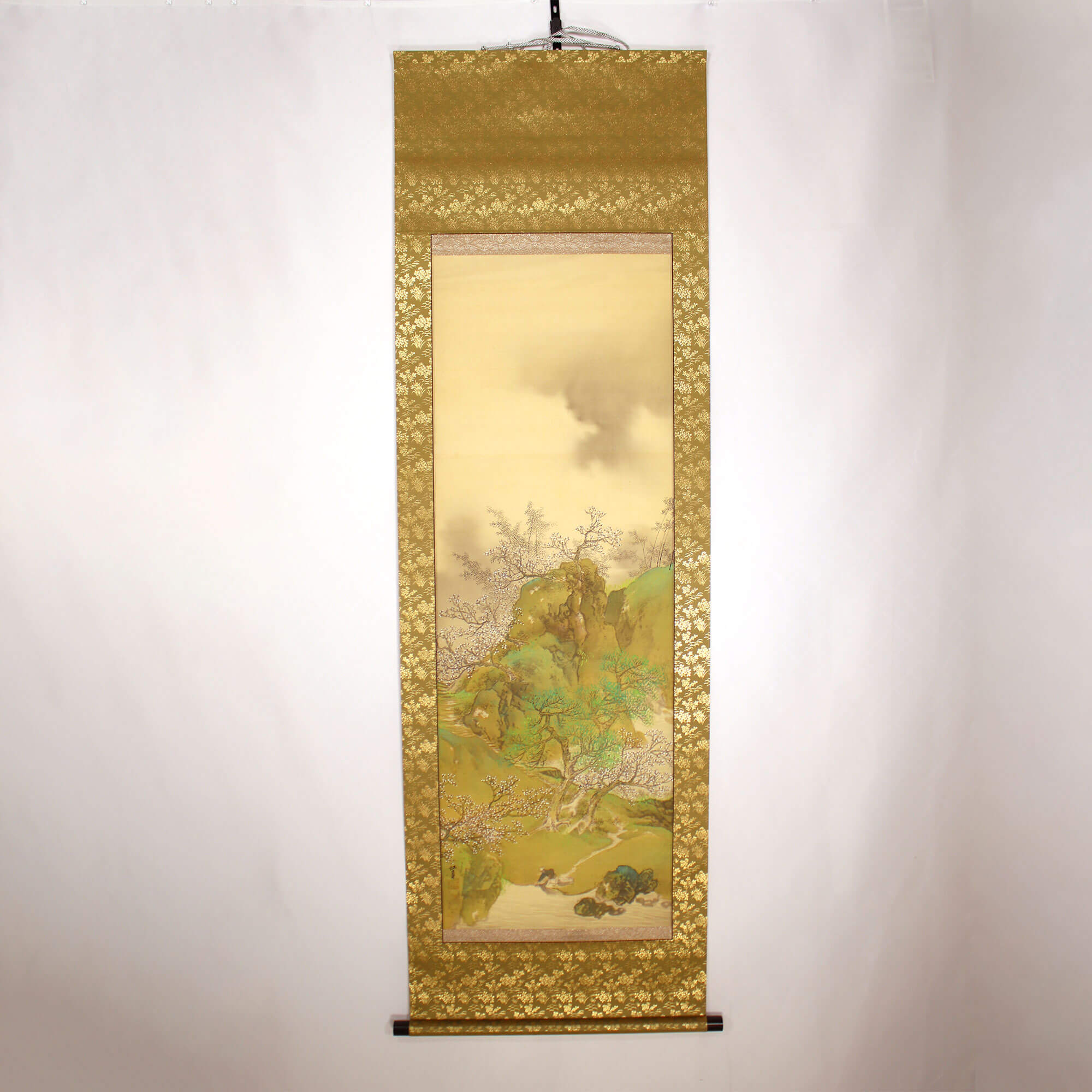 Product ID

0217

Name

Kōtei Fukui

Profile

Kōtei Fukui (福井江亭, 1856-1938) was a Japanese-style painter. He was born in Tokyo pref. First studied Western-style painting; then became a pupil of Gyokushō Kawabata. He was completely trusted by Gyokushō Kawabata. Juror of the Nihongakai. In 1900 with Hyakusui Hirafuku and Somei Yūki established the Museikai. Taught at the Tokyo School of Fine Arts. In 1901, in a day, he painted a picture for each one of 1,224 guests at a summer party: a remarkable feat of dexterity. An able painter of flowers & birds paintings and landscape paintings.

1895: Won a prize at the 4th Naikoku Kangyō Hakurankai exhibition.
1903: Won a prize at the 5th Naikoku Kangyō Hakurankai exhibition.
1909: Won a prize at the 3rd Bunten exhibition.

Size

600mm x 1770mm

Roller End Material

Red sandalwood

Material of the Work

Silk

Price

JPY 180,000

Stock Condition

In stock

Payment: Click the Paypal Mark

Duty and Taxes




Import duty and taxes are beyond our control and may apply to your shipment. Please noted that these fees are the responsibility of the buyer.



Description

Kōtei Fukui was a nihonga painter and was one of the founding members of Museikai 无声会 (literally, 'The Voiceless Society'), founded by seven students of Gyokushō Kawabata, whose members included Hyakusui Hirafuku, Somei Yūki. Museikai artists chose to depict figurative motifs that indicate occupations such as farmers and police officers in their landscape paintings, which were perceived as innovative at the time. It also had a great impact on the circles of nihonga paintings.

This hanging scroll depicts a farmer washing clothes in a river on a glorious spring day that encourages plums to blossom. This painting conveys the beauty in people's daily life that the artist finds worth painting.