Kamo-Gawa River Snowscape / Hirai Baisen - Kamogawa Sekkei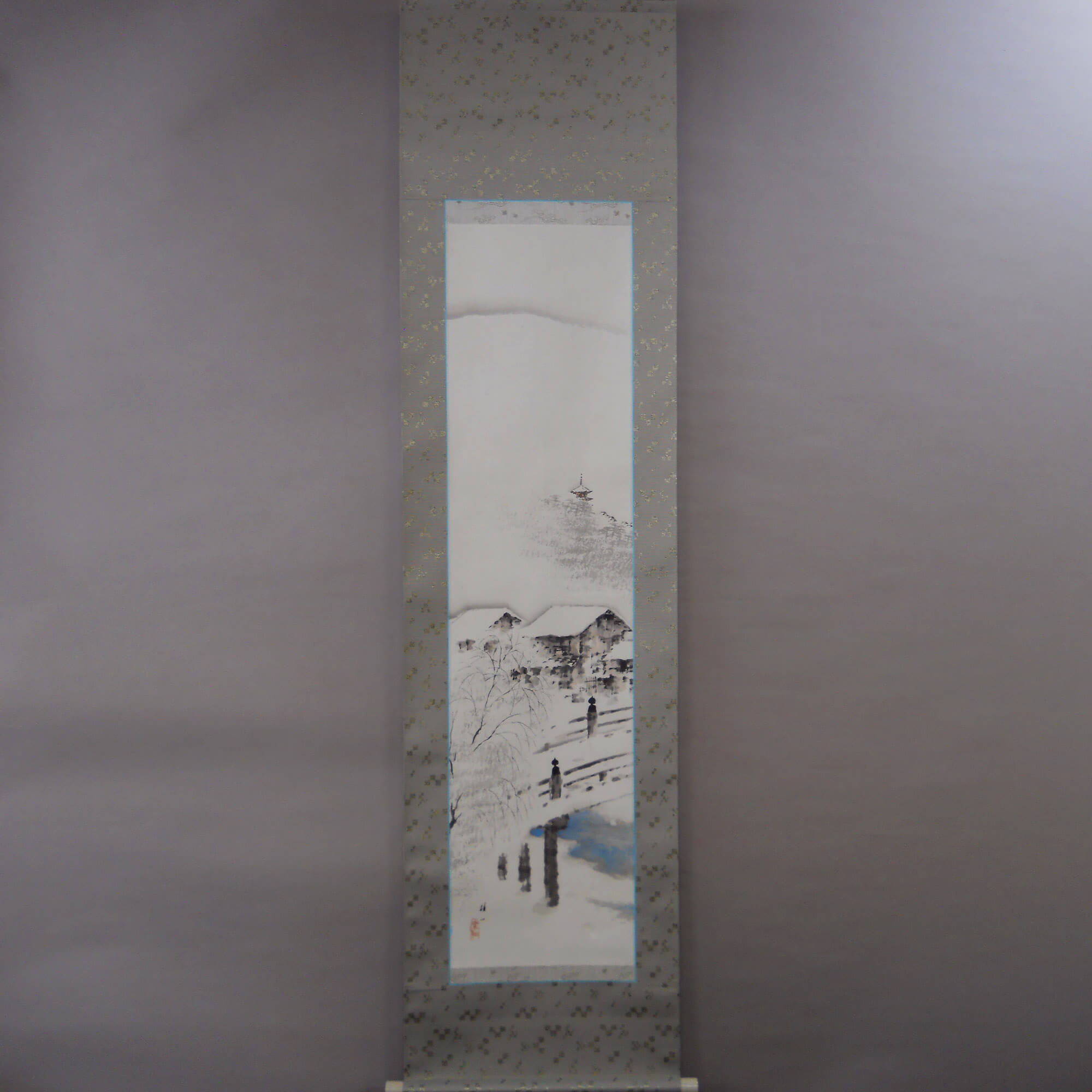 Product ID

0219

Name

Hirai Baisen

Profile

Hirai Baisen (平井楳仙, 1889-1969) was a Japanese-style painter. He was born in Kyoto pref. He studied painting techniques under Takeuchi Seihō. His specialty was figure paintings, flowers & birds paintings, and landscape paintings.

Size

496mm x 1749mm

Roller End Material

Ceramic

Material of the Work

Japanese paper

Price

JPY 180,000

Stock Condition

In stock

Payment: Click the Paypal Mark

Duty and Taxes




Import duty and taxes are beyond our control and may apply to your shipment. Please noted that these fees are the responsibility of the buyer.



Description

Hirai Baisen was a Japanese-style painter, active from Meiji through Shōwa-era. With an outstanding award-winning history in the Bunten exhibition and Teiten exhibition, he used to draw overwhelming attention in the Kanten (publicly offered art exhibition sponsored by the government). In terms of his brush painting technique, he followed the style of Takeuchi Seihō, his master, thus acquiring the sketch method of Shijō school.

This work depicts the scenery surrounding the Kamo-gawa River in Kyōto. Kyōto is well- renowned for the beautiful seasonal scenery in the world. Among that seasonal beauty in Kyōto particularly fascinating is the snowy landscape in winter. Baisen, born in Kyōto and fascinated also by the beauty of Kyōto from his early childhood, must have been driven by a strong passion to depict this beauty in his work. In this work he depicted snow without any coloring materials, making good use of the original color of the base material, white Japanese paper. With only one dimly drawn horizontal line in sumi ink on the upper part, a spectacular snowy mountain looms behind the Kamo-gawa river, private houses, and the Buddhist temple. Such a layout, which is an extremely difficult type of depiction method, requires well-thought spatial composition. Otherwise, the method is likely to result in the total collapse of the painting impression. Baisen, on the contrary, easily makes his work marvelous one with full command of this extremely hard method for any of painters. This work really is a masterpiece showing how extraordinary his talent is.