South Wind, Clear Sky (Red Mt. Fuji) / Hokusai Katsushika - Gaifuu kaisei (Akafuji)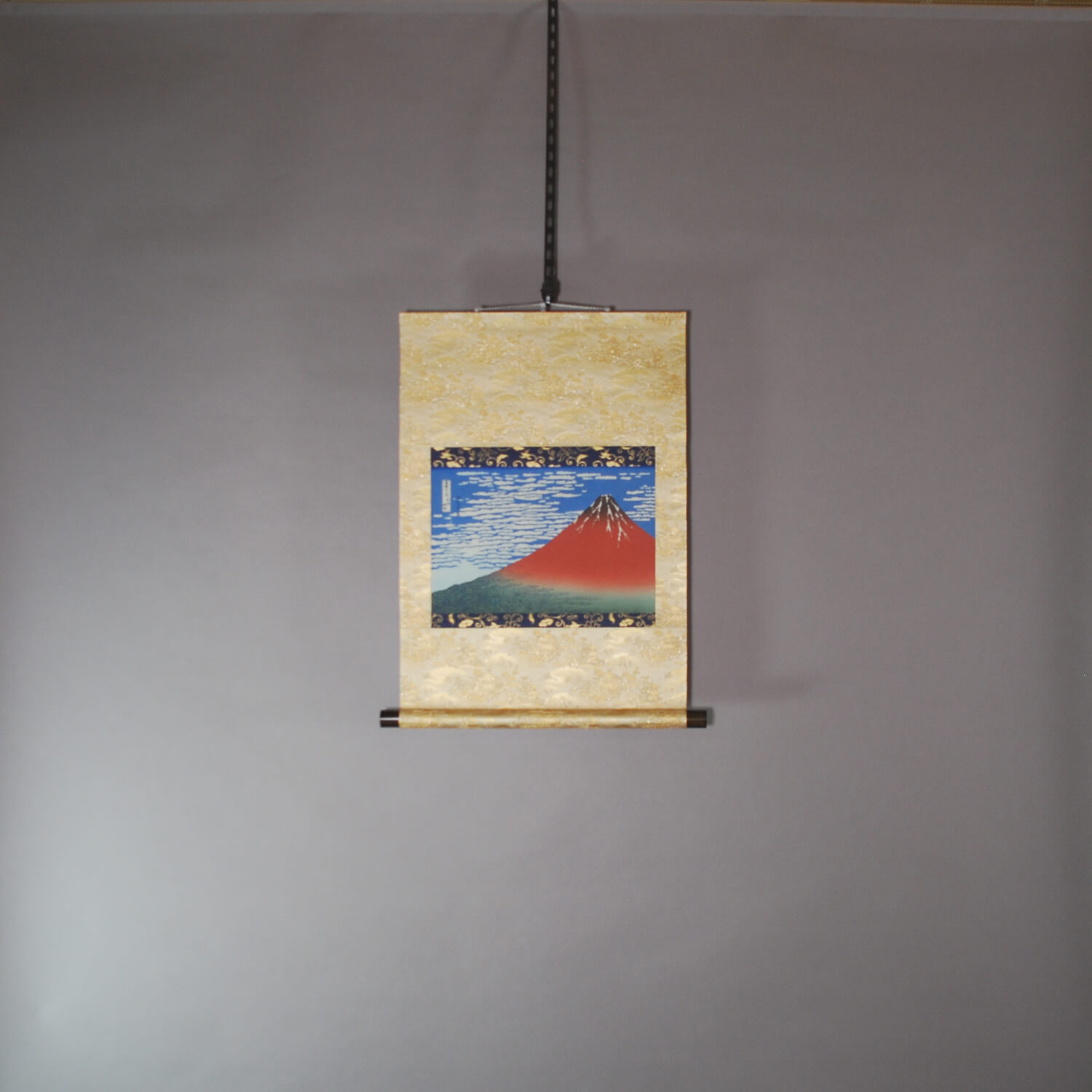 Product ID

0177

Name

Hokusai Katsushika

Profile

1760-1849
Ukiyo-e artist

Size

482mm x 612mm

Roller End Material

Red sandalwood

Material of the Work

Chemical fiber

Stock Condition

In Stock
Description

"Gaifuu kaisei" (South Wind, Clear Sky [also known as Red Mt. Fuji]) is one of the series of landscape Ukiyo-e works "Fugaku sanjuu rokkei" (Thirty-six views of Mount Fuji) by Hokusai Katsushika. This work is the representative of the series along with "Kanagawa oki namiura" drawing Mt. Fuji with boats tossed about by a large wave.

However it is not known whether the view point of this work is from Kai Province's side or Suruga Province's side, Mt. Fuji from the front fills the whole screen in this work as with "Sanka hakuu" (Rainstorm Beneath the Summit). The sea of trees at the lower part of the screen, a sky filled with cirrocumulus and snowy gorges at the top of the mountain are depicted in this work.

The word "gaifuu," which is in Shikyou (the Book of Songs), means a gentle south wind in summer. This work is commonly called "Akafuji" (Red Mt. Fuji) and the mountain's surface, which turned red because of morning sunshine in summer, was depicted. The simple color scheme and the bold composition are very impressive. Hokusai depicted the outline of the mountain with a rhythmical line, not a straight line. The reason why he did was probably on the purpose of emphasizing the height of the mountain. We can feel a tense atmosphere through the line drawn eagerly by Hokusai so that the screen wouldn't be monotonous because of the simple composition.