Four Seasons Landscape / Hirai Baisen - Shiki Sansui Zu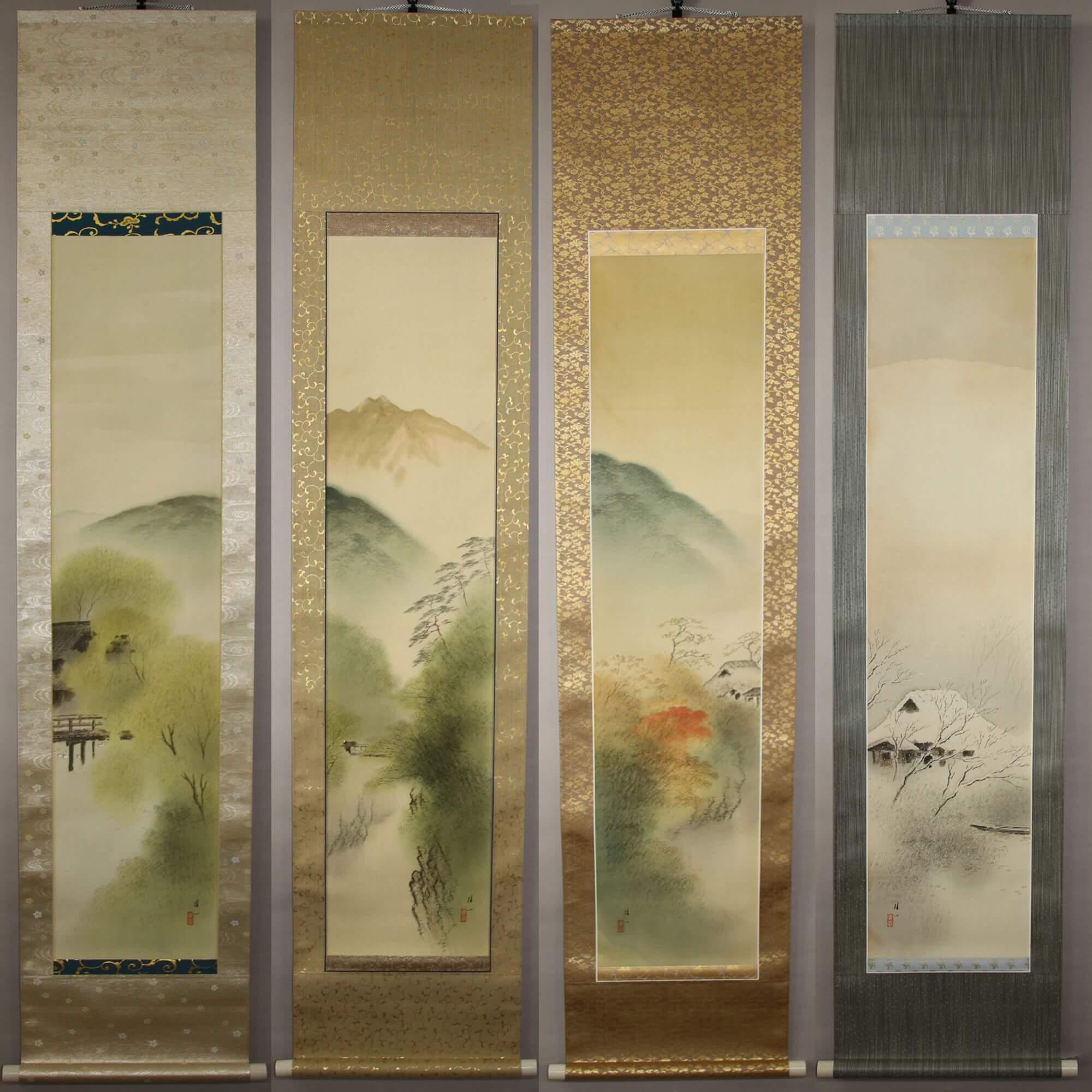 Product ID

0231

Name

Hirai Baisen

Profile

Hirai Baisen (平井楳仙, 1889-1969) was a Japanese-style painter. He was born in Kyoto pref. He studied painting techniques under Takeuchi Seihō. His specialty was figure paintings, flowers & birds paintings, and landscape paintings.

Size

435mm x 1730mm x 4 scrolls

Roller End Material

Ceramic

Material of the Work

Silk

Stock Condition

Sold out


Description

Hirai Baisen was a Kyoto's leading Japanese-style painter of the Taishō and early the Shōwa era, active mainly in the exhibitions sponsored by the government. He mainly painted landscape paintings full of poetic charm and gained popularity. These works are a set of landscape painting scrolls of each of all seasons of the year by Hirai Baisen.

The spring scroll is titled "A Bank of Pond on a Spring Day". It depicts a scene of a beautiful spring day. The soft depiction of willow trees eases viewer's mind. A flock of ducks moving under the bridge is also a heartwarming portrayal.

The summer scroll is titled "A Woodcutter Returning Home in the Height of Summer". It depicts a woodcutter returning home after finishing his work in summer mountains. With fine lines of black ink and subtle use of green colors, Hirai Baisen portrays the lushness of the mountain trees. This piece shows the high level of painting ability that Hirai Baisen, who is good at landscape paintings, possesses.

The autumn scroll is titled "A Rural Cottage Under a Clear Autumn Sky". An autumn mountain covered with bright red leaves is depicted. Under persimmon trees full of their fruits, a rural cottage stands solitarily. There is a figure around the house, probably enjoying the clear autumn weather, which makes this work more interesting.

The winter scroll is titled "A Fishermen's House Covered in Silently Falling Snow". It captures scenery where the snow is falling deeply. Maybe the snow prevented the fisherman from setting out on a fishing boat. The fisherman is going back home and the boat at the river bank shows no sign of moving. A scene of a quiet winter scene is captured by Hirai Baisen as if it were cut out from reality. The detailed portrayal of the snow is very beautiful and impressive.

It can be said that these four scrolls are masterpieces of Hirai Baisen which depict the scenery of each season with rich sentiment and that these are rich in the essence of Hirai Baisen's art.