Calligraphy: Flower Sees Bird, Bird Waits for Flower. | Daurian Redstart with Camellia Flowers/ Nishigaki Daidō - Hana ha Tori wo Shiri Tori ha Hana wo Matsu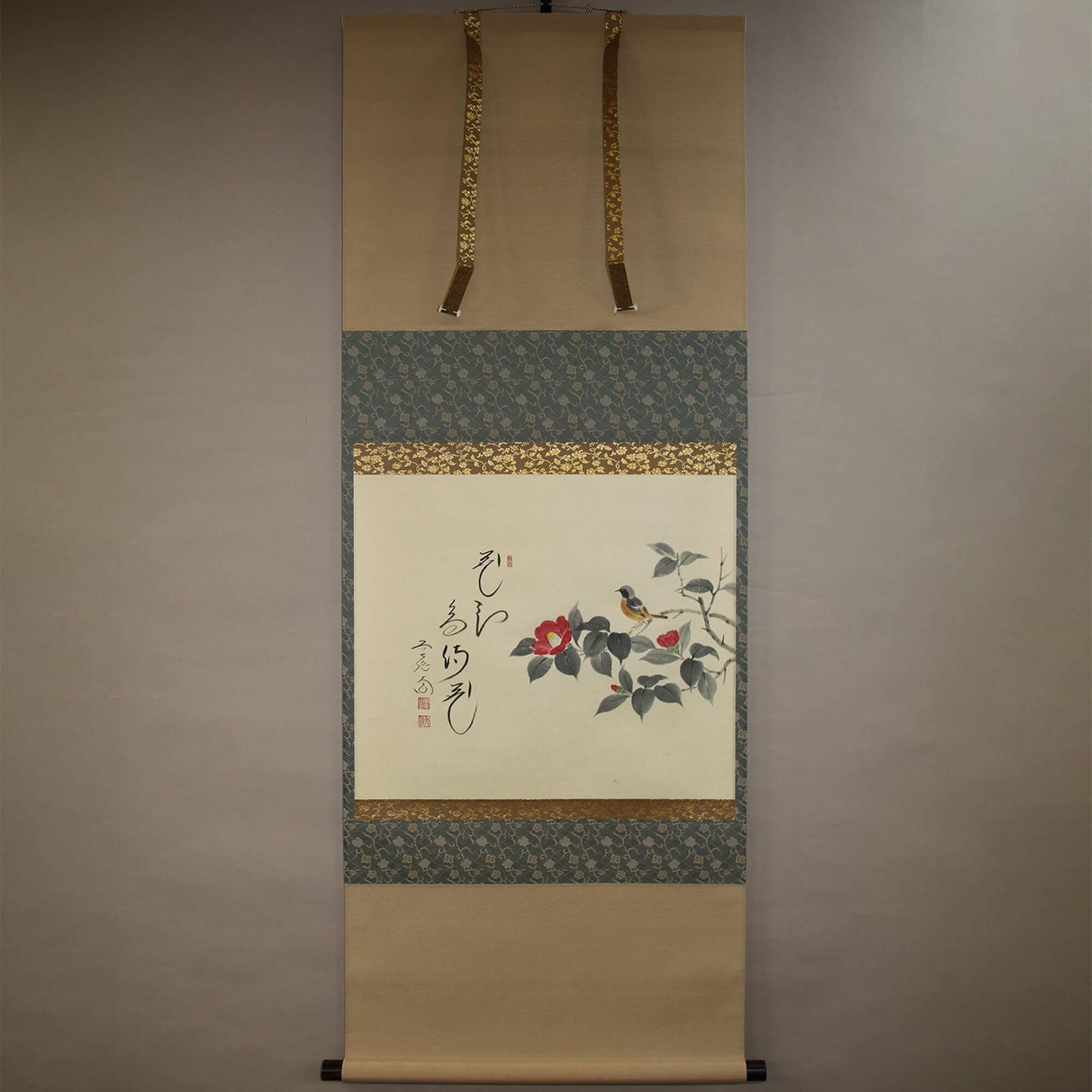 Product ID

0269

Name

Nishigaki Daidō

Profile

1942: Born in Hyōgo prefecture.
1949: Ordained by Nishigaki Sōkō.
1949: Joined training at the meditation hall of Daitoku-ji and Shōkoku-ji temples.
1978: Became an abbot of the Gokurakuzenji temple.

Size

600mm x 1430mm

Roller End Material

Red sandalwood

Material of the Work

Japanese paper

Price

JPY 60,000

Stock Condition

In stock

Payment: Click the Paypal Mark

Duty and Taxes




Import duty and taxes are beyond our control and may apply to your shipment. Please noted that these fees are the responsibility of the buyer.



Description

"Hana Ha Tori Wo Shiri, Tori Ha Hana Wo Matsu" is Zen words, signifying the way nature is. Birds are waiting for flowers to bloom so as to feed on their nectar, while the flowers are also waiting for the birds to fly across their branches so as to bear fruit for new life passed on. Having been cherished since ancient times, the words indicate that the two understand and recognize each other in the workings of nature. In the tea ceremony, particularly, the phrase has been used to describe the importance of relationship for two parties present at the same place, with the flowers as guests while birds as masters. This work features such words written by Nishigaki Daidō, the chief priest at the Gokurakuji Temple (belonging to the Daitokuji School of the Rinzai sect in Buddhism), in a tasteful brushwork. His soft and gentle brushwork is soothing the audience's heart. Besides the calligraphy, Japanese-style painter Miyake Wakō beautifully painted camellia, one of the most important flowers in the tea ceremony. Depicting a daurian redstart tries to express the phrase's meaning even through the picture, which is quite impressive.