The Battle of Vanguard at the Uji-gawa River / Kakou Nakajima - Ujigawa senjin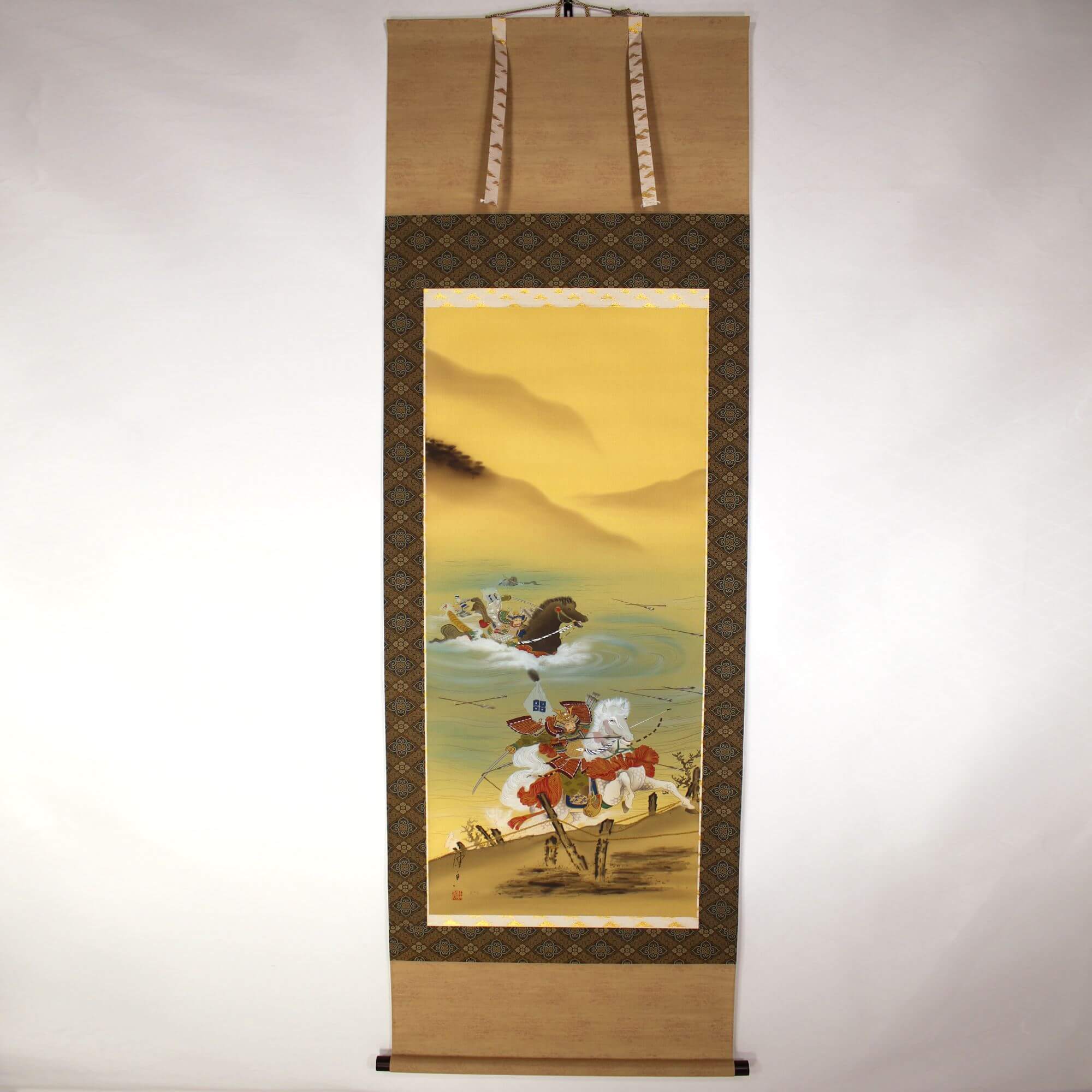 Product ID

0187

Name

Kakou Nakajima

Profile

1947-
Born in Gifu
A Japanese-style painter
Received a prize in the Nitten exhibition.
Received a prize in the Nisshunten exhibition.
Received a prize in the In-ten exhibition.

Size

705mm x 1960mm

Roller End Material

Red sandalwood

Material of the Work

Silk

Stock Condition

In stock
Description

The Battle of Uji-gawa River was a battle that took place in January 1184, at the end of Heian period, between Yoshinaka Minamoto, and Noriyori Minamoto and Yoshitsune Minamoto who were dispatched by Yoshitomo Minamoto in Kamakura. The decisive battle across the river with very strong current began with the fight for the vanguard between Takatsuna Sasaki on Ikezuki (a fine horse) and Kagesue Kajiwara on Surusumi (a fine horse) , who were in the Yoshitsune's troop.

Exploits on a battlefield assured samurai warriors of their promotion in those days. Takatsuna Sasaki, who won the fight for vanguard, has been depicted as a symbol of a strong man, who can win a race, among many Japanese-style painters since ancient times, since only being a spearhead and taking a cut head of a enemy general were regarded as rewards.

This piece is a kakejiku (hanging scroll) with a painting of the battle of vanguard at the Uji-gawa river by Kakou Nakajima. Takatsuna Sakaki, who crossed the river bravely under a shower of enemys' arrows, and Kagesue Kajikawa, crossing with a rueful countenance, are depicted splendidly with Kakou's delicate brushwork. The elaborate detail of Takatsuna's armour draws our attention. This is an truly wonderful work.