Avalokitesvara: Deer / Koushou Shimizu - Kanzeon-Bosatsu: Shika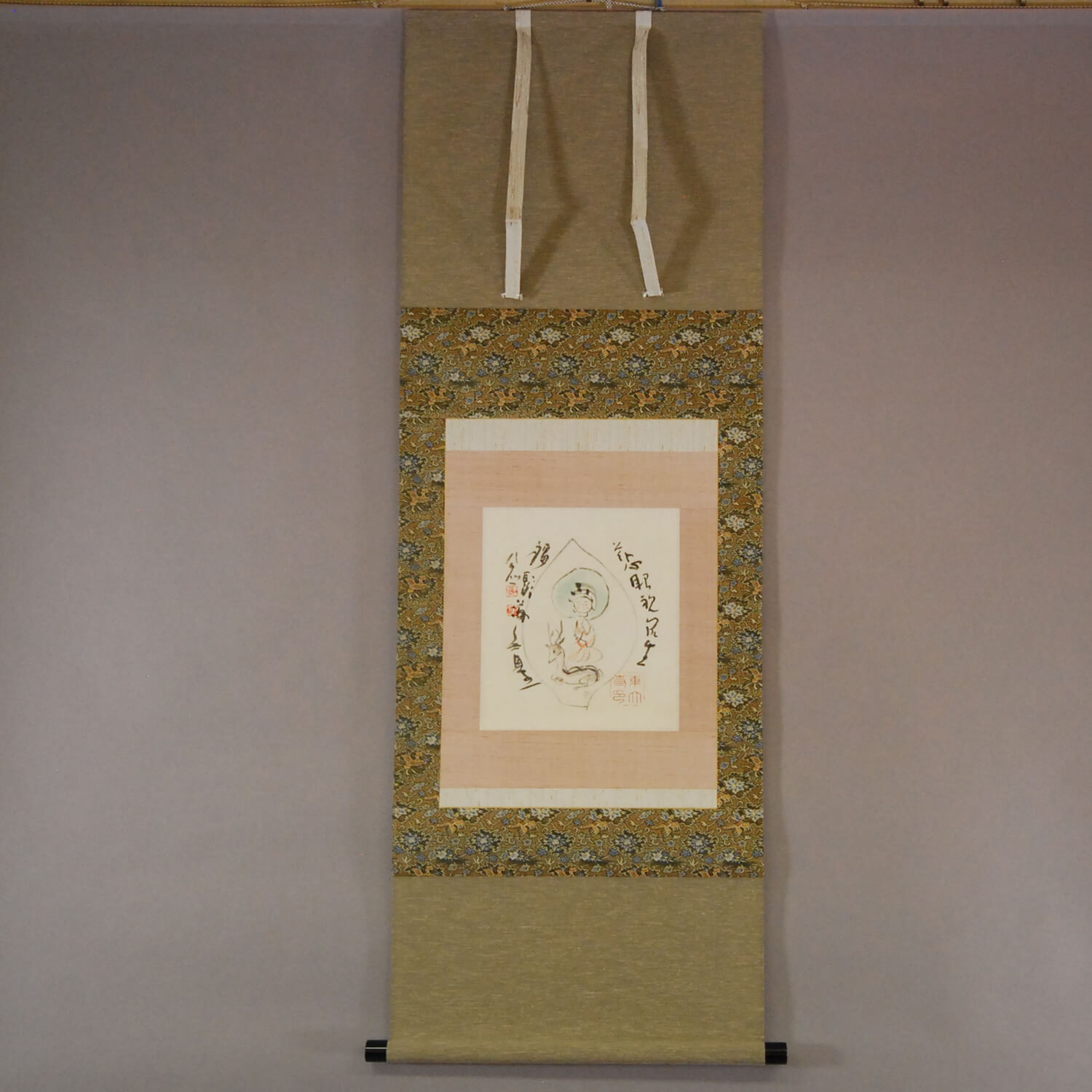 Product ID

0139

Name

Koushou Shimizu

Profile

1911-1999
"Bettou" (head priest) of the Tōdai-ji Temple
the chief abbot of the "Kegon" sect

Size

540mm x 1410mm

Roller End Material


Wood coated with black "urushi" (lacquer)

Material of the Work

Japanese paper

Price

JPY 100,000

Stock Condition

In stock

Payment: Click the Paypal Mark

Duty and Taxes




Import duty and taxes are beyond our control and may apply to your shipment. Please noted that these fees are the responsibility of the buyer.



Description

Nara Park is a municipal park stretching at the foot of Mt. Wakakusa in Nara City, Nara Prefecture. Most of the ground in the park is covered with lawn, and up to about 1200 deer are prowling around. These deer are famous internationally, and are the main objects of sightseeing in Nara, so a lot of students are seen coming here on school trips. By the way, the original reason why the deer are in this park is as follows.

It has been handed down to us that a deer is a "Shinshi" (Divine Servant) of the Kasuga-taisha Shrine, and that, when the Kasuga-taisha Shrine was founded, Takemikazuchi no Mikoto had come here riding a divine deer. (Takemikazuchi no Mikoto was the enshrined god of the Kashima-jinguu Shrine in Ibaraki Prefecture.) Therefore, the deer in Nara Park have been protected very carefully since ancient times. Even today, it is said that the local inhabitants not only love the deer, but also revere them simultaneously.

This is a painting of "Kannon-Bosatsu" and a sika deer by Koushou Shimizu. Koushou Shimizu was a Buddhist priest of the "Kegon" sect. He worked as "Bettou" (head priest) of the Tōdai-ji Temple in Nara Prefecture. Kannon-Bosatsu (Avalokitesvara) is a sacred image of "Bosatsu" in Buddhism and a kind of Buddha that has attained widespread faithful followers since ancient times, particularly in Japan. Kannon-Bosatsu and a sika deer are a typical combination of Koushou Shimizu, and this work is deeply meaningful.