Acala Naatha / Shingo Tanaka - Fudou-myouou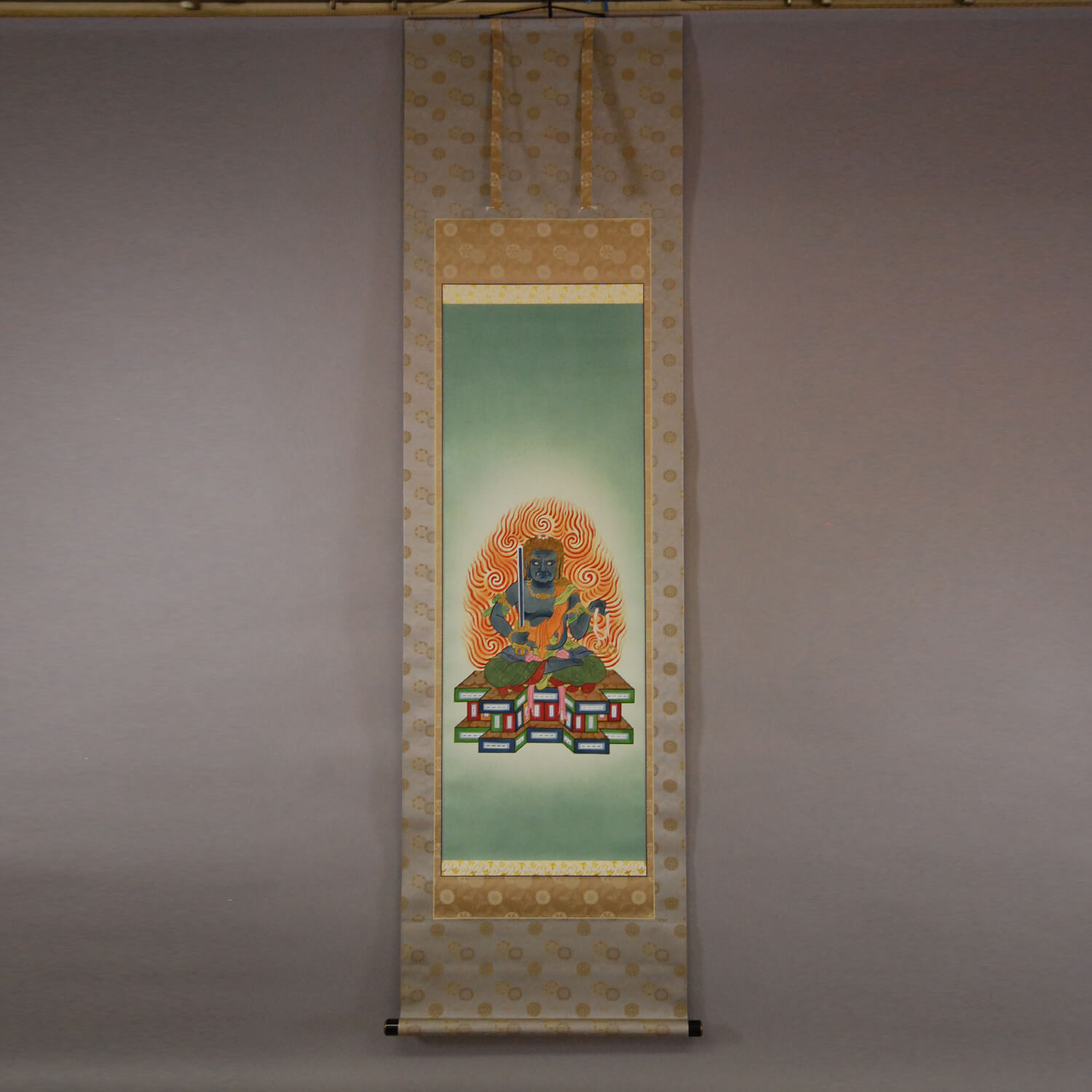 Product ID

0145

Name

Shingo Tanaka

Profile

? –
A Japanese-style painter

Size

598mm x 1925mm

Roller End Material


Decorative wood coated with black "urushi" (lacquer)

Material of the Work

Silk

Price

JPY 120,000

Stock Condition

In stock

Payment: Click the Paypal Mark

Duty and Taxes




Import duty and taxes are beyond our control and may apply to your shipment. Please noted that these fees are the responsibility of the buyer.
Description

"Fudou Myouou" (acala naatha in Sanskrit) is an object of worship in Buddhism and one of the "Myouou," a status that is specific to "Mikkyou," Esoteric Buddhism. He is also the Myouou that is the center of "Godai Myouou" (the five great myouou). Fudou Myouou is regarded as an incarnation of "Dainichinyorai," a fundamental Buddha in Mikkyou or an expression of its inner determination. Among Buddhist countries in Asia, it is worshiped with particular fervor in Japan, as exemplified by the numerous statues. "Acala" in Sanskrit means "unshakable" and "naatha" means "guardian," so that "acala naatha" means "unshakable guardian." It is said that the iconography of Fudou Myouou was introduced to Japan when Kōbō Daishi Kūkai transmitted Mikkyou from China.

In Mikkyou one "Buddha" is considered to appear in the three aspects of "jishourinjin (the embodiment of the wheel of own-nature)," "shoubourinjin (the embodiment of the wheel of the true Dharma)" and "kyouryourinjin (the embodiment of the wheel of injunction)." Jishourinjin ("Nyorai") means the aspect that embodies the universal truth and the state of enlightenment itself, while Shoubourinjin ("Bosatsu") means the aspect that preaches the universal truth and the state of enlightenment in an easily understood manner. In contrast to these, "kyouryourinjin" is the aspect that implements intervention very aggressively as it admonishes a person who doesn't follow Buddhism even as it threatens the person with its awful appearance, and compels the cessation of hostility toward Buddhism. Fudou Myouou is said to be the kyouryourinjin of Dainichinyorai. It is shown as a figure of anger in order to relieve the living things who suffer earthly desires and for whom relief is more difficult to find.

Although the statues of Myouou in Mikkyou are often shown as mysterious figures with many faces and many upper arms, Fudou Myouou is generally shown as a figure with one face and two upper arms (in the iconography of Mikkyou and others, Fudou Myouou with many bodies is also depicted, but it is rarely configured as a statue). It is generally shown as a figure having a "kouma sankoken" (demon-quelling three-pronged sword, which drives off Satan and cuts away people's earthly desires at the same time) in the right hand, "kenjaku" (a kind of lariat to bind evil and relieve people bound with earthly desires) in the left hand, around his shoulders, the "karuraen" (a flame like the shape of "Karura," a firebird of legend that eats up three poisons), and determines, "I shall not move from here until I relieve all people," sitting on a rough rock (large rock), with an angry face. (In Japan, standing statues are much more commonly seen than seated statues).

This is a painting of Fudou Myouou by Shingo Tanaka, a Japanese-style painter. He is well known for his Buddhist paintings. The solemn dignity of Fudou Myouou is expressed very well in this work.

Kōbō Daishi Kūkai (774 – 835)
Founder of the Shingon Sect.