Japanese Buddhism
Japanese Buddhism
With about 96 million adherents, Japan is one of the largest Buddhist countries. There are estimated to be about 75,000 temples and more than 300,000 Buddhist statues, more than in any other Buddhist country. Japan also has the oldest wooden temple in the world, "Hōryū-ji" Temple, as well as the oldest Buddhist scriptures.
The style of Buddhism that was popular in the Kamakura period (Kamakura Buddhism) served as the basis of today's Mahayana Buddhism, had a profound influence in Japanese history, and has been followed by many people up to the present day.
The genealogy and sects
Japanese Buddhism includes many sects. This section describes the genealogy and sects of the thirteen sects of the traditional so-called thirteen sects and fifty-six schools.
Nara Buddhism
---
Kegon-shū sect founded by Shinshō (Shinjō), Hossō-shū sect founded by Dōshō, Risshū sect founded by Ganjin (Jianzhen)
Heian Buddhism
---
Shingon-shū sect founded by Kūkai (Kōbō-Daishi), Tendai-shū sect founded by Saichō (Dengyō-Daishi)
Kamakura Buddhism (Hokke line)
---
Nichiren-shū sect founded by Nichiren (Risshō-Daishi), Jōdo-shū sect founded by Hōnen (Enkou-Daishi), Jōdo-shin-shū sect founded by Shinran (Kenshin-Daishi), Yūzū-Nenbutsu-shū sect founded by Ryōnin (Shōō-Daishi), Ji-shū sect founded by Ippen (Enshō-Daishi)
Kamakura Buddhism (Zen line)
---
Sōtō-shū sect founded by Dōgen (Jōyō-Daishi), Rinzai-shū sect founded by Eisai (Senkō-Kokushi), Ōbaku-shū sect founded by Ingen (Shinkū-Daishi)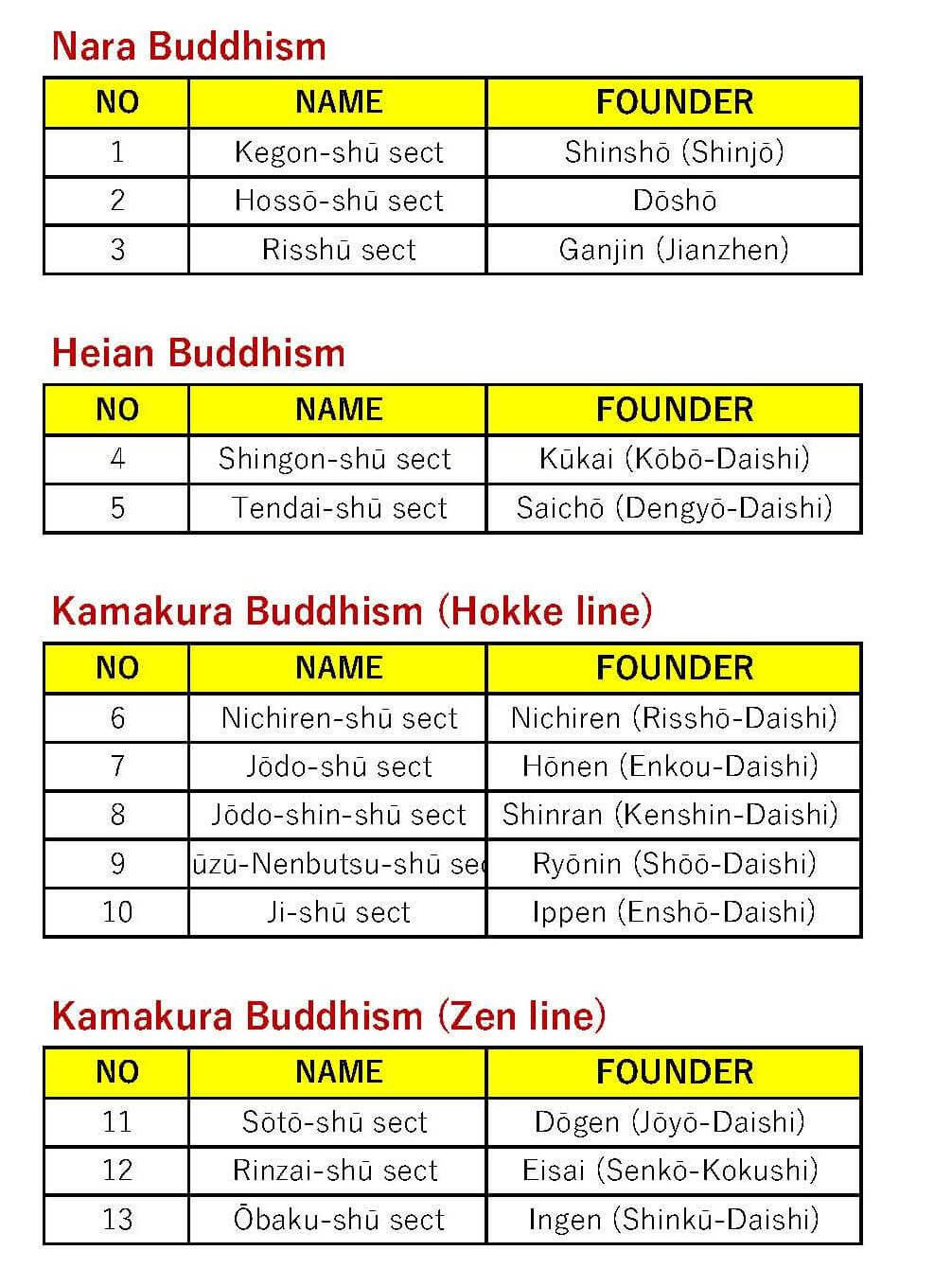 Menu
| | | | | |
| --- | --- | --- | --- | --- |
| Japanese Buddhism | History | What Is Hōyō? | Buddhist Kakejiku | |

Main Kinds of the Kakejiku