Auspicious Kakejiku
Auspicious Kakejiku
'Auspicious kakejiku' is a type of kakejiku displayed at auspicious events. By displaying the kakejiku, various scenes of celebration such as New Year, exchange of betrothal gifts, celebration of a birth / longevity and housewarming will be refined.
I would like to introduce the representative ones from a wide range of auspicious kakejikus.
Takasago
Kakejikus depict an elderly couple are called 'Takasago'. Allegedly, the couple, the motif of them, is originated from a narrative passed down in Takasago Shrine which is located in Takasago City, Hyōgo Prefecture.
Once upon a time, a rare 'Aioi no Matsu' the twin-trucked pain tree with a single root emerged. One day, an elderly couple, the avatars of two gods appeared from the tree and announced 'We now give a divine spirit to this tree and show the world the guidance of marital relationship.' Since then out of respect for the tree, a custom of displaying an image of the elderly couple as an ideal married couple at an exchange of betrothal gifts and a wedding is said to have begun.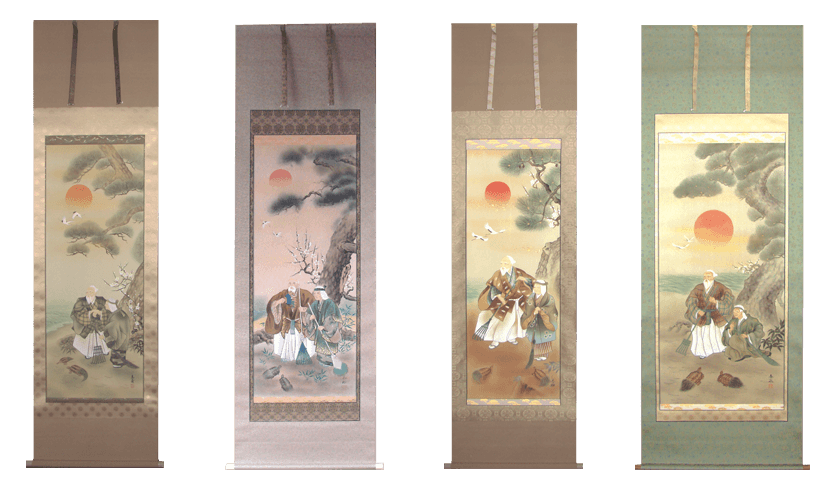 Tsuru Kame / Crane and Turtle
'Tsuru kame' is the quintessential auspicious kakejiku displayable for almost all of scenes of cerebration. They have been a symbol of longevity and there is even a saying 'Cranes live for a thousand years, turtles live for ten thousand years.' in Japan.
Despite not living that long, why are they treated as the symbol? According to one theory, it is because the crane and turtle were considered to be the vehicles of hermits for flying and cruising underwater in ancient China. – The vehicles were thought to have a long life undoubtedly for hermits who are meant to be immortal.
Another reason why the crane and the turtle are thought to be auspicious is as for the crane, their habit of being monogamy and staying with the same partner for life as that is seen as the ideal style of married couple. As for the turtle, they were believed to be Genbu, one of the four Gods, in disguise in ancient China.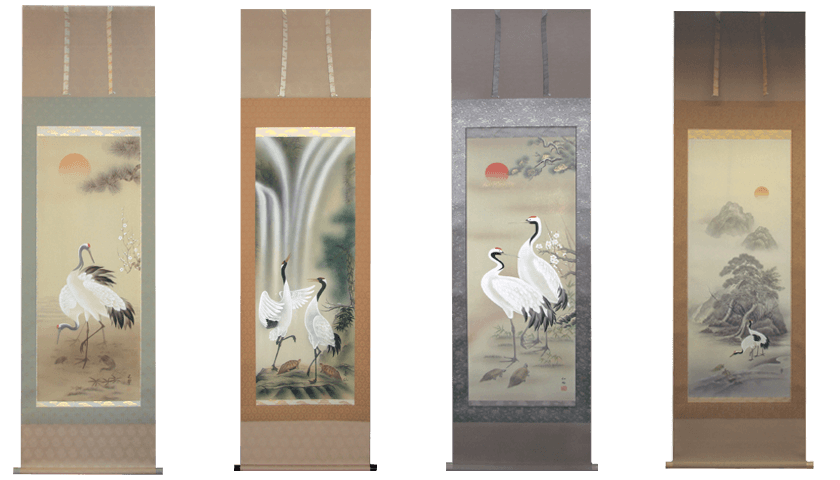 Shō Chiku Bai / Pine Tree, Bamboo and Plum Tree
As well as those kakejikus mentioned previously 'shō chiku bai' is also a versatile auspicious kakejiku and was a popular motif in ancient China. The motif is called 'saikan no sanyū / the three friends of winter' and was frequently drawn during the Sung dynasty(960-1279). The three trees became favored for their following characteristics.
Pine Tree: As it is an evergreen tree, its green pine-needles which won't discolor indicate prosperity.
Bamboo: Its upward growth signifies sincerity and vigor while its trait of being unbroken symbolizes power and its tendency not to discolor stands for prosperity.
Plum Tree: As the first tree to blossom in the spring after going through the winter, the season when plants and flowers wilt, the tree is considered as a symbol of vitality.
These conceptions had expanded in Japan and they have become well-liked subjects. As I mentioned when I introduced 'Takasago', the motif of pine tree won popularity especially in Japan since the pine tree came to be believed as the dwelling place of God.
'Pine tree, bamboo and plum tree' can be portrayed together and individually. When separately drawn, a pine tree motif can be displayed as usual kakejiku, not limited to the use of auspicious kakejiku. As the bamboo is displayed as usual kakejiku while the plum tree as seasonal kakejiku, they play a different role when separated.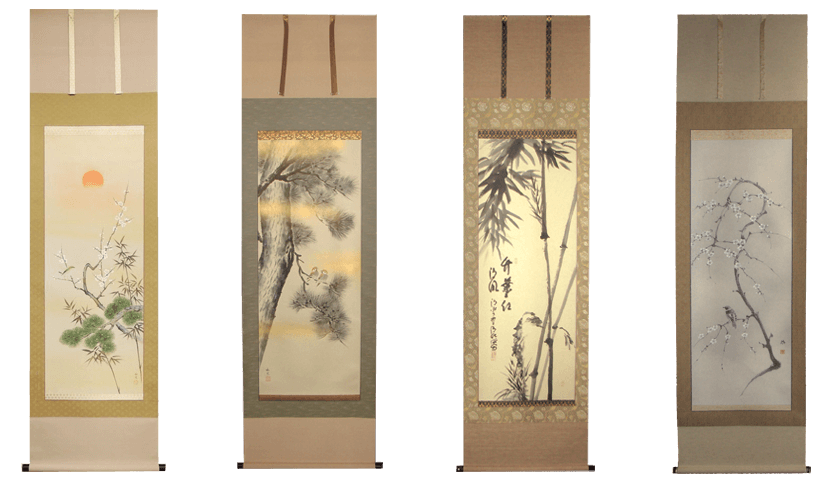 Aka Fuji / Red Mt. Fuji
The representative mountain of Japan is Mt. Fuji which is usually covered by snow and in white. From end of summer to early autumn the mountain occasionally turns into red influenced by a ray of light from the sun and climate and the phenomenon is called 'aka Fuji'. A belief that all creations have spirits exists in Japan so does the thought that an extraordinary God lives in mountains. Japan and China share the belief and in China, mountains were thought to be a secluded region where hermits live. Influenced by the thought, in Japan, ascetic practices are performed and temples are built in a mountain. Among those mountains, the biggest mountain in Japan has been worshipped a great deal since ancient times. The event of Mt. Fuji changing its usual white color into totally red one is an utterly mysterious phenomenon…It is no wonder that it was considered as the sign of something auspicious. – Especially in Japan the belief became firmed as a combination of red and white has been conceived as a fortunate arrangement since old times.
This motif has been drawn supposedly since the mid Edo period and the worship of aka Fuji by Japanese has been continuing ever since. The phenomenon without exaggeration has to be the representative of all auspicious signs. As an auspicious kakejiku, aka Fuji is generally displayed in New Year. However, this auspicious kakejiku tends to be admired as usual kakejiku seeing that it brings in happiness.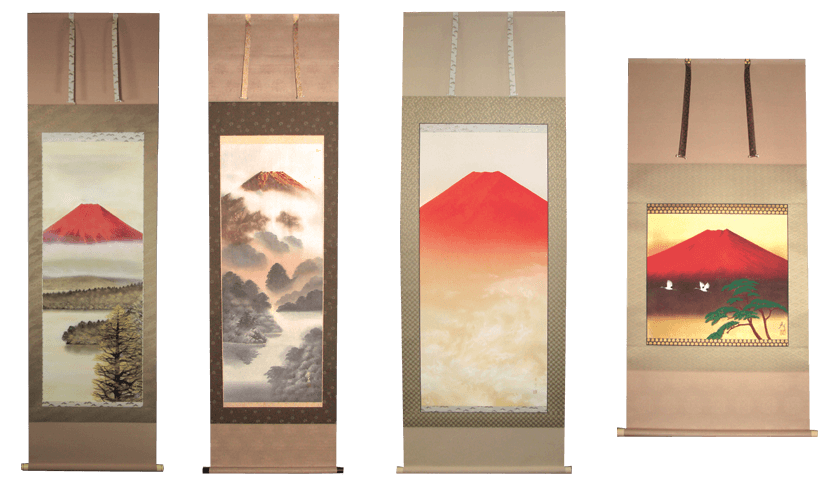 Sunrise
The depiction of 'Sunrise' is either simply sunrise or in combination with the sea. Following a custom of 'hatsu hinode / the first sunrise' praying for the first sunrise of the year, this auspicious kakejiku is displayed in the New Year to pray for 'hatsu hinode' at an alcove in Japan. 'Amaterasu Ōmikami', the supreme God from Japanese mythology was regarded as the God of sun and that thought made the custom well received since around the Edo period.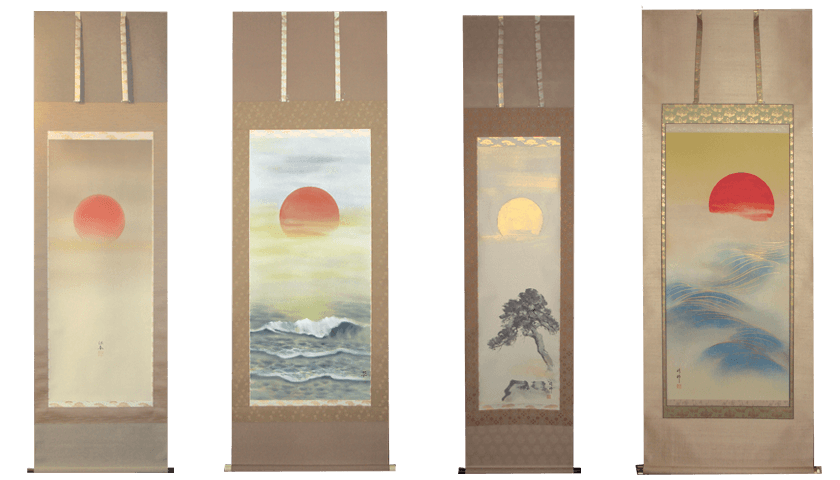 Amaterasu Ōmikami

Kakejikus with calligraphy 'Amaterasu Ōmikami' is written are occasionally displayed as auspicious kakejiku. Hatsumoude is a Japanese custom to visit the shrine in the New Year for a variety of prayer for the year in appreciation of the blessing in the last year. A prayer to Amaterasu Ōmikami, the supreme God among all of the Gods from Japanese mythology presented at the alcove in a house is meant to be equivalent to prayer to a certain God in a certain shrine.
At farmhouses, kakejikus of 'Amaterasu Ōmikami' would be displayed as usual kakejiku besides the use of auspicious kakejiku since the sun is absolutely vital for growth of crops, the motif is displayed all year round wishing and appreciating for a good harvest for the year.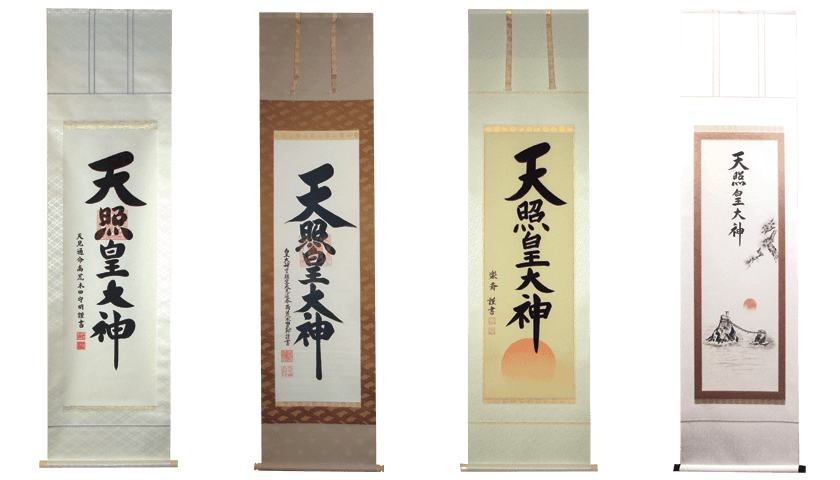 Shichifukujin / the Seven Gods of Fortune
'Shichifukujin' the auspicious kakejiku portrays the seven gods of fortune: Ebisu, Daikokuten, Jurōjin, Fukurokuju, Bishamonten, Benzaiten and Hotei all together. It is easy to misunderstand that all of them are Japanese Gods but in fact, only Ebisu the Shinto God is the God from Japan. Other Gods, Daikokuten, Bishamonten and Benzaiten are originated from India as Hindu Gods while Hotei is a God rooted in Buddhism and Jurōjin and Fukurokuju have their origin in Taoism in China. The kakejiku with this motif is generally regarded as kakejiku for the New Year still it is preferred to use as usual kakejiku at times with an anticipation of the blessings. The kakejiku is hardly seen at exchange of betrothal gifts interestingly.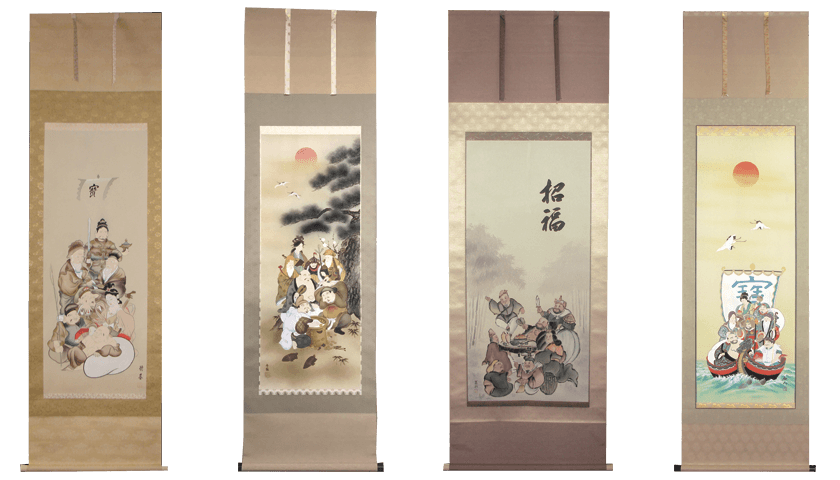 Hōraisan
'Hōraisan' is believed to be a mountain that Taoist hermits of ancient China are dwelling. The auspicious subject of painting has been favored since old times in Japan. This painting tends to feature mountains and a palace which hermits live. Besides, elements of cerebration, shō chiku bai, tsuru kame and hermits are added most of the time and that creates a unique ambience enough to stand out from ordinary landscape paintings. Cerebrations that the kakejiku is commonly displayed are the New Year, for longevity and housewarming. Characteristically, this kakejiku too is hardly seen at exchange of betrothal gifts.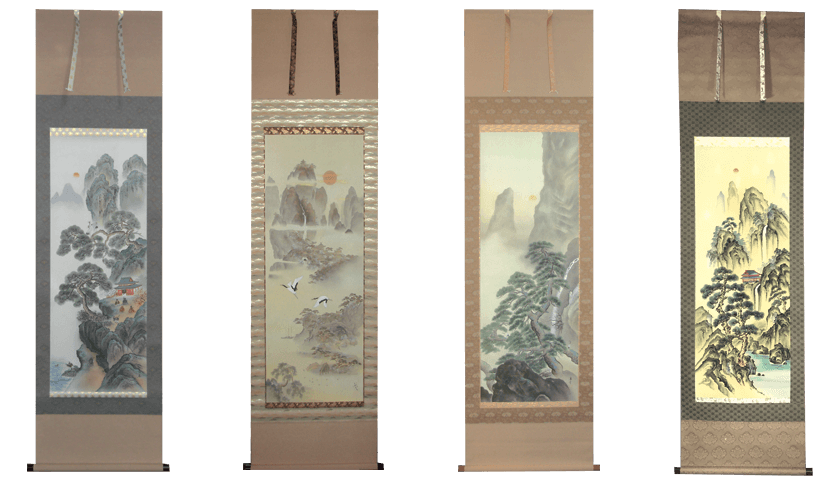 Main Kinds of the Kakejiku