Usual Kakejiku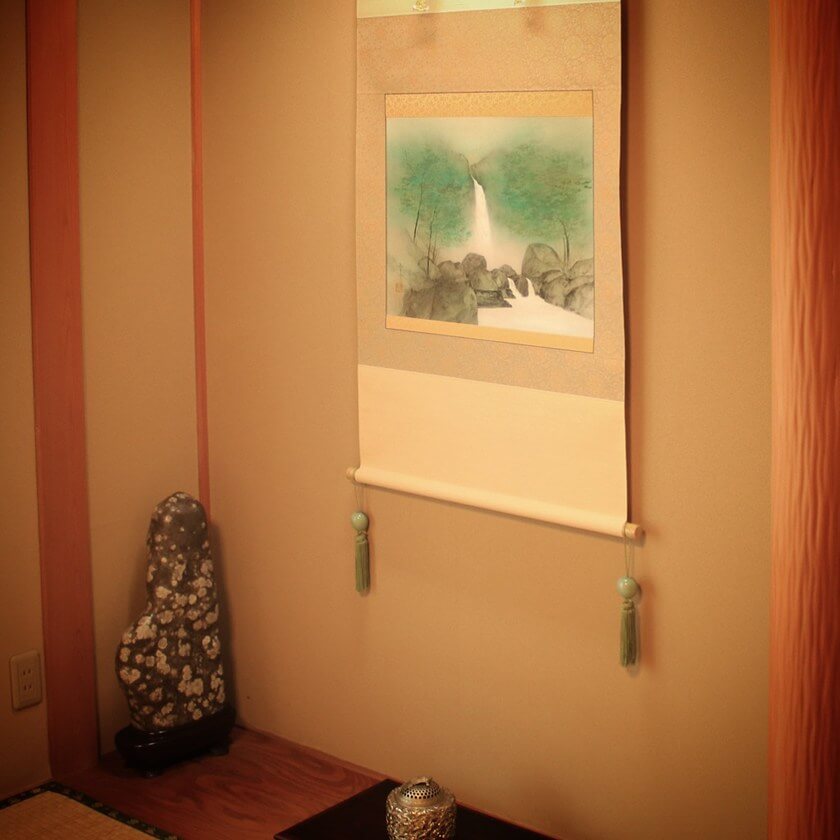 Usual Kakejiku (Everyday Kakejiku)
The usual (everyday) "kakejiku" (hanging scroll) means a kakejiku, whose subject is "perennial." In this case, "perrnial" doesn't mean that we can leave the kakejiku displayed for a long time, but that we can display it freely, regardless of the season.
Landscape
The landscape, often called "sansui" (literally mountain and water), is one of the subjects of the usual kakejiku. "Suiboku-ga" (ink painting), the art of painting in just one color using "sumi" (Japanese ink), is not only for painting lines, but also for showing gradation through contrasting ink density and lighting. The landscape painting with sumi is called a "suiboku-sansui."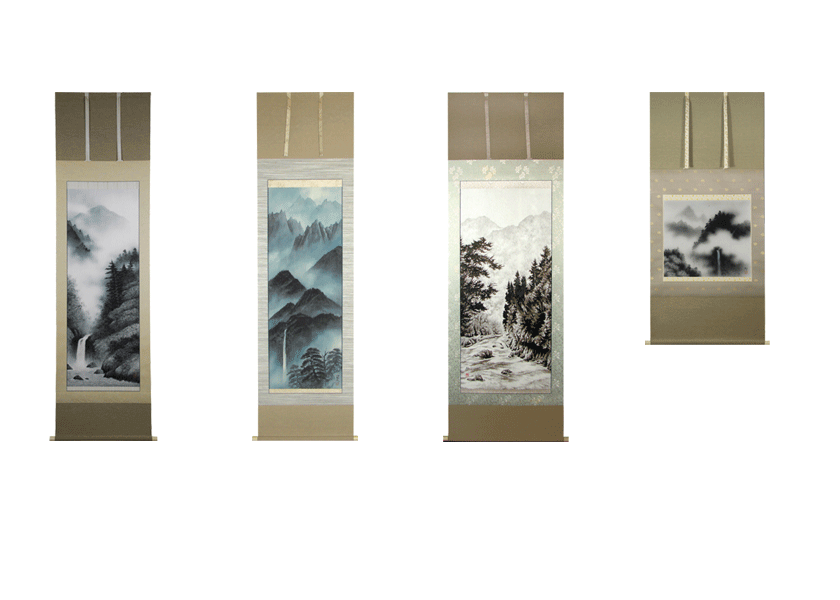 Mt. Fuji
Mt. Fuji has, since ancient times, long inspired many painters, because its magnificent image has long been worshipped all over Japan. When Mt. Fuji is tinted red by the sun's rays, the image is called "Aka-Fuji" (Red Mt. Fuji). This superb view, which is rarely seen by most people, has long been considered a very lucky symbol. This is why a kakejiku of Aka-fuji is often displayed for New Year holidays as well as ordinary days, while other usual kakejiku are rarely displayed. (Most Japanese people want to have a happy New Year).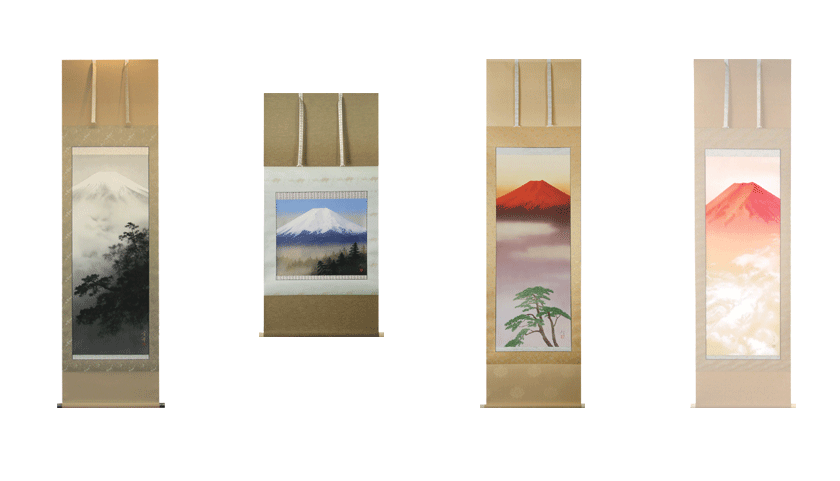 Shikibana / 4 Flowers, Each Representing One of the Four Seasons
"Shikibana" means four flowers, each representing one of the four seasons. Shikibana is one of the subjects of the usual kakejiku. Although there is no special rule, a peony, which is considered the king of flowers in China, is usually positioned in the middle of the screen, with the other flowers encircling it.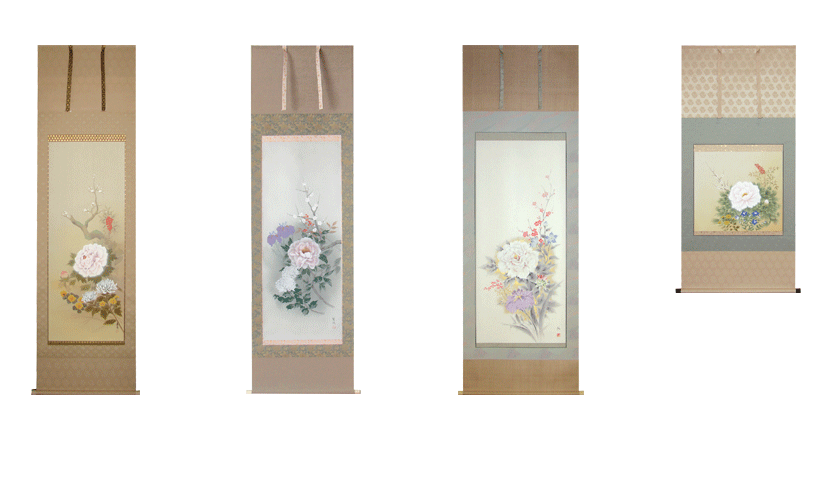 Take-ni-suzume / The Combination of Bamboos and Sparrows
The combination of bamboos and sparrows (called "take-ni-suzume") has, since ancient times, long been considered a lucky symbol, so it is very popular in Japan.
The Japanese people admire the characteristics of bamboo: they grow straight and is flexible, yet is hard to break. They liken bamboo to the fortunes of a family, and hope that their family fortunes will not decline.
The sparrow breeds abundantly, so it has been considered a symbol of the prosperity of a family's descendants.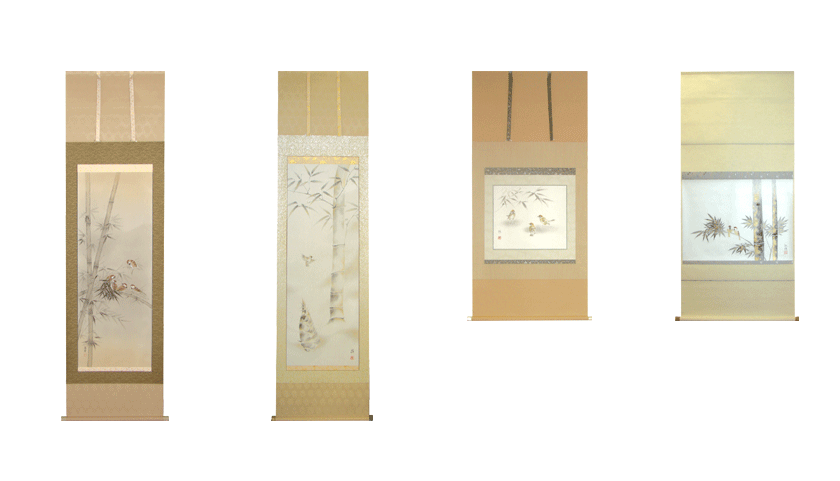 Tiger
A tiger is said to make 8,000km round trip in one day. Old Japanese people worshiped a tiger for its vitality and pray for it. A tiger casts sharp eyes all around to get rid of disasters or any bad luck. This is why Japanese people loves to have a tiger's paintings, scroll or statue in their houses.
Dragon
From ancient times in Japan, a dragon has been worshiped as a god that controls sky. A dragon flying up to the sky is very ferocious and thus became one of lucky symbols for social success in life and prosperity.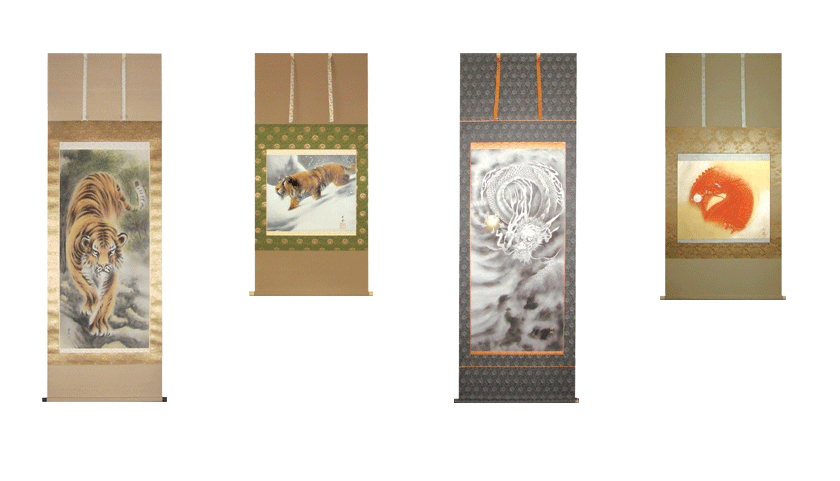 Main Kinds of the Kakejiku