Fresh Arrivals | Kakejiku | 20180116
Kakejiku | Peonies / Fuki Ikeno – Botan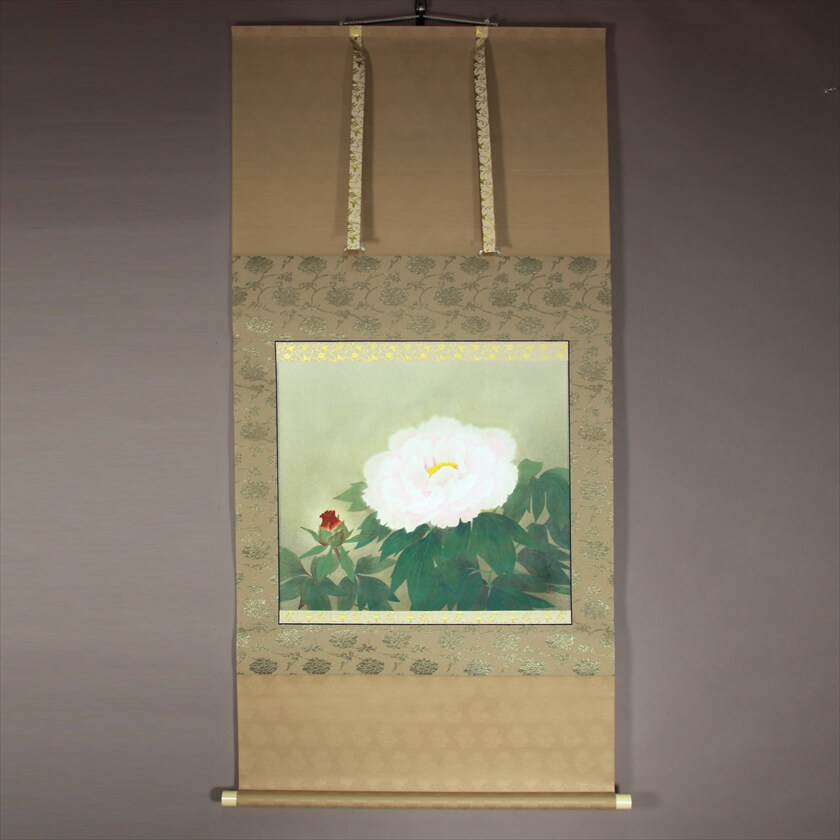 Graceful poenies, also called as "The King of Flowers", have been admired among many Japanese-style painters since ancient times. In the kakejiku (hanging scroll) world, displaying a kakejiku with a peony painting is considered as the warmest hospitality. Therefore, this kakejiku is often displayed not only in the early summers but also in every seasons.
In this painting, the large-flowered white peony, which is full of vitality, is here depicted by Fuki Ikeno. It is very impressive that she expresses the peony's beauty by adding the pink colour slightly to the white one of the flower. A very captivating painting indeed!
Kakejiku | The Battle of Vanguard at the Uji-gawa River / Kakou Nakajima – Ujigawa senjin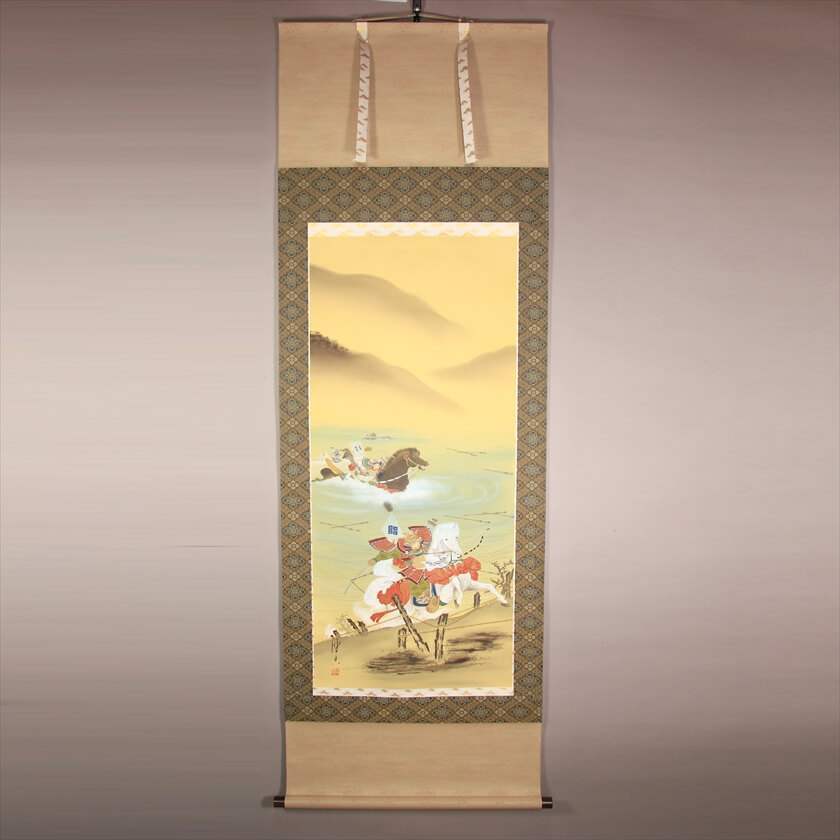 The Battle of Uji-gawa River was a battle that took place in January 1184, at the end of Heian period, between Yoshinaka Minamoto, and Noriyori Minamoto and Yoshitsune Minamoto who were dispatched by Yoshitomo Minamoto in Kamakura. The decisive battle across the river with very strong current began with the fight for the vanguard between Takatsuna Sasaki on Ikezuki (a fine horse) and Kagesue Kajiwara on Surusumi (a fine horse) , who were in the Yoshitsune's troop.
Exploits on a battlefield assured samurai warriors of their promotion in those days. Takatsuna Sasaki, who won the fight for vanguard, has been depicted as a symbol of a strong man, who can win a race, among many Japanese-style painters since ancient times, since only being a spearhead and taking a cut head of a enemy general were regarded as rewards.
This piece is a kakejiku (hanging scroll) with a painting of the battle of vanguard at the Uji-gawa river by Kakou Nakajima. Takatsuna Sakaki, who crossed the river bravely under a shower of enemys' arrows, and Kagesue Kajikawa, crossing with a rueful countenance, are depicted splendidly with Kakou's delicate brushwork. The elaborate detail of Takatsuna's armour draws our attention. This is an truly wonderful work.
Kakejiku | Fukuju-kai-muryou / Yuuhou Takahashi – Fortune and Happiness Are Immeasurable Like the Ocean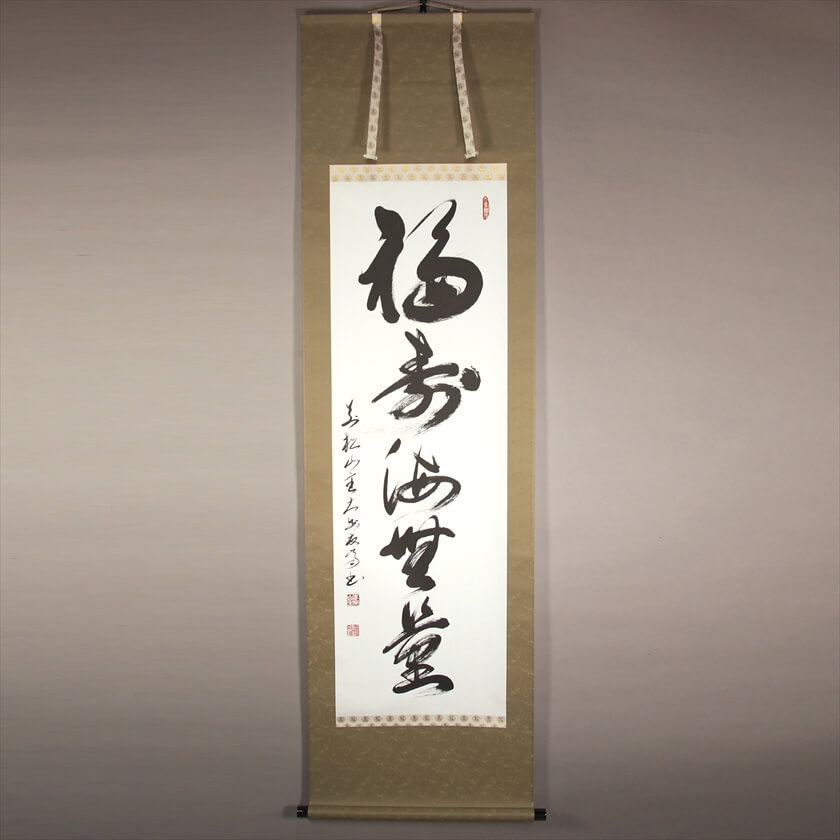 Yuuhou is a Zen priest, famous for his sermons which are simple, fun and unique so that people can easily understand them. He serves as the chief priest at 2 Zen temples: Daianzen-ji temple and Housyou-ji temple. He has been passionate about introducing Zen meditation, Bokuseki (calligraphy, especially of Zen priests) and Zen art. He has held many exhibitions, both domestically and internationally. He has lots of fun with his calligraphy and Zen art.
This piece is a calligraphic work of "Fukuju-kai-muryou" by Yuuhou Takahashi. The phrase means "fortune and happiness are immeasurable like the ocean." His lively writing is very attractive and refined. It is very interesting that the Chinese characters of "fukuju (福壽)" are woven in *ichimonji fabric as its pattern.
---
*Fabric attached above and below a main artwork on a kakejiku (hanging scroll). Since ichimonji occupies an important place on a kakejiku, high quality fabric such as gold and silver brocade is used.
Kakejiku | Honrai Muichimotsu / Taigen Kobayashi – All things Are Essentially Nothingness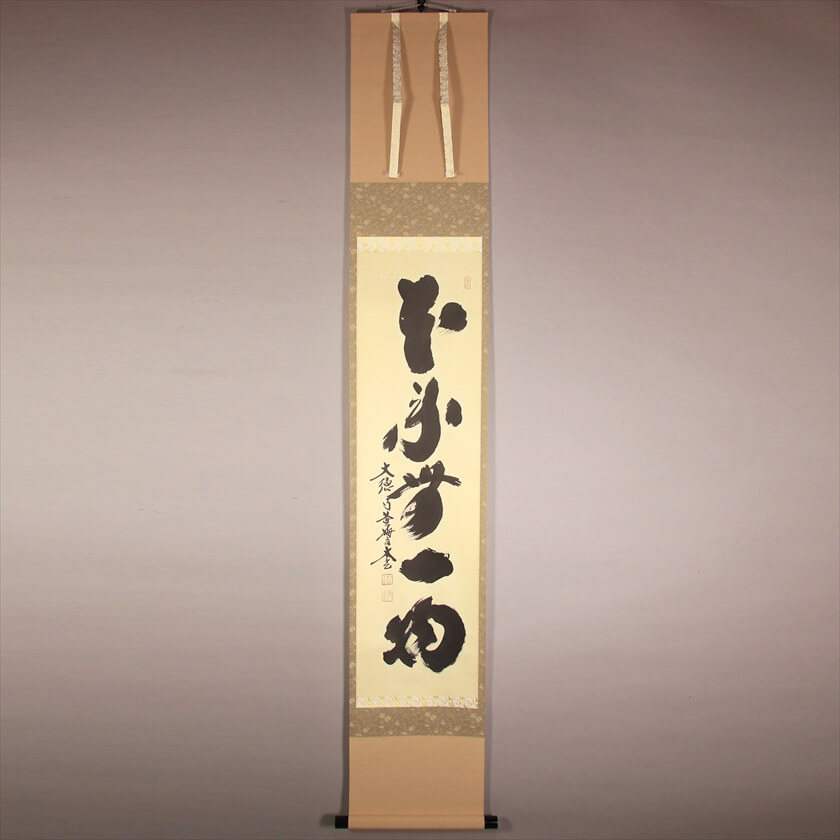 The phrase "Honrai muichimotsu" is one of the most famous Zen terms. It is a term that describes a state of enlightenment of Zen. By translation, it means that  everything comes from nothing and comes into the world with nothing – no attachments, no possessions, no preconceived ideas nor prejudices; by nature, having nothing. Being free ourselves from any attachments allows one to attain the enlightenment.
This piece is a calligraphic work of "Honrai muichimotsu" by Taigen Kobayashi, the chief priest of the Ôbai-in subtemple of the Daitoku-ji temple, located in Kyôto. His dynamic and powerful brush strokes boldly grab our attention. We can't see his idle thoughts from his brush strokes. It seems as if he tried to express the meaning of the phrase through this piece.
Kakejiku | Maples and Ayu Sweetfish / Daidou Nishigaki – Kaede ni Ayu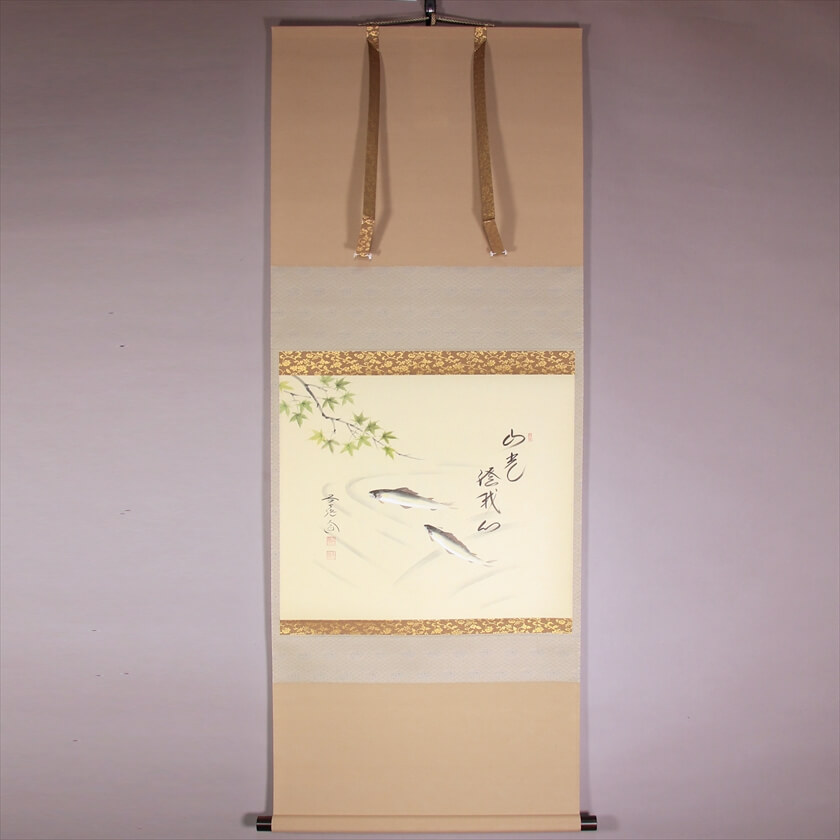 Tajima region, located in the northern part of Hyogo prefecture is famous for its beautiful natural scenery. There is the Gokuraku-zenji temple, where Daidou Nishigaki served as chief priest, in Kinosaki-chou town, Tajima region. The town is well known as a hot spring resort. Recently it has become very popular among many foreign visitors to Japan because they can enjoy its old streets and atmosphere besides natural scenery.
In this artwork, the calligraphic work of "Sankou Wagakokoro-wo Sumasimu" by Daidou Nishigaki means that mountain scenery makes our mind clear and pure. We can see Daidou Nishigaki's love for the nature in this area through this work. The depiction of swimming ayu sweetfish makes us feel the workings of nature in Tajima region.