Bulk Order of Blank Kakejiku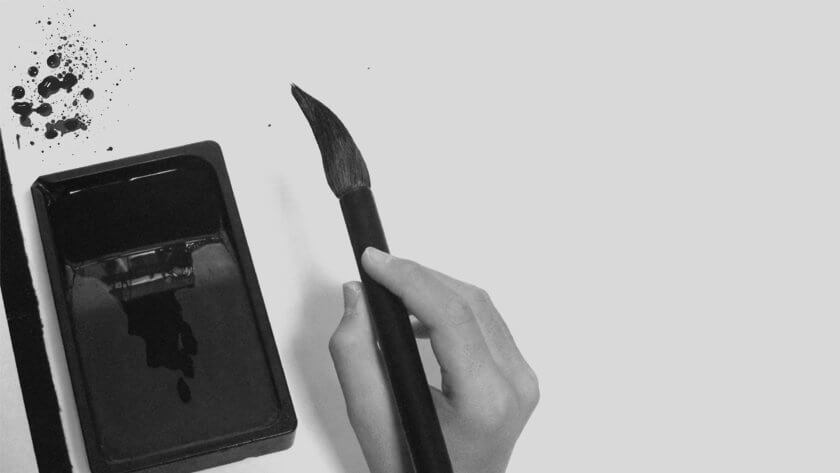 Shodō (書道, literally "the way or principle of writing"), Japanese calligraphy is the visual art of expressing the meaning and feeling of words, using a brush and sumi ink that are principal tools since ancient times. Those who practice the art are called Shodōka (書道家/calligrapher). Japanese calligraphic works are appreciated from the following points. Composition and shape of a letter, brush strokes, the contrast between letter strokes, the shades of black (sumi-ink), and calligraphy layout. The world of calligraphy may appear to be simple but it's a deep practice. There are many foreign learners of Japanese calligraphy in the world. We are amazed by how many skilled calligraphers there are in the world!
Today, we would like to talk about our recent work with an American Shodōka.
Japanese Calligrapher in the U.S.
The client started training for Aikido(合気道) at the age of thirteen. At the International Aikido Summer School in Chicago, calligraphic work given from a Japanese Aikido master encouraged him to learn Shodō (書道). Over 20 years, he became a self-taught American calligraphy expert and is teaching to his students as a calligraphy teacher now. (Wow, that's great!)
The client was looking for a supplier that could offer him custom blank kakejiku for calligraphy. He might have read the article about an order from the USA for the custom blank scrolls in 2018, as shown below.
We were informed from the client that the size of the scroll he has been using was 42(w) x 125(h)cm (paper size: 32(w) x 82(h)cm). It didn't have to be the same measurements and he was open to our suggestion as to what was the ideal size. Assuming we do not change the paper size, we felt longer top and bottom (ten & chi) would be better. More room for the top and bottom will make calligraphy work appear more attractive. The figure on the right (below) is our suggestion.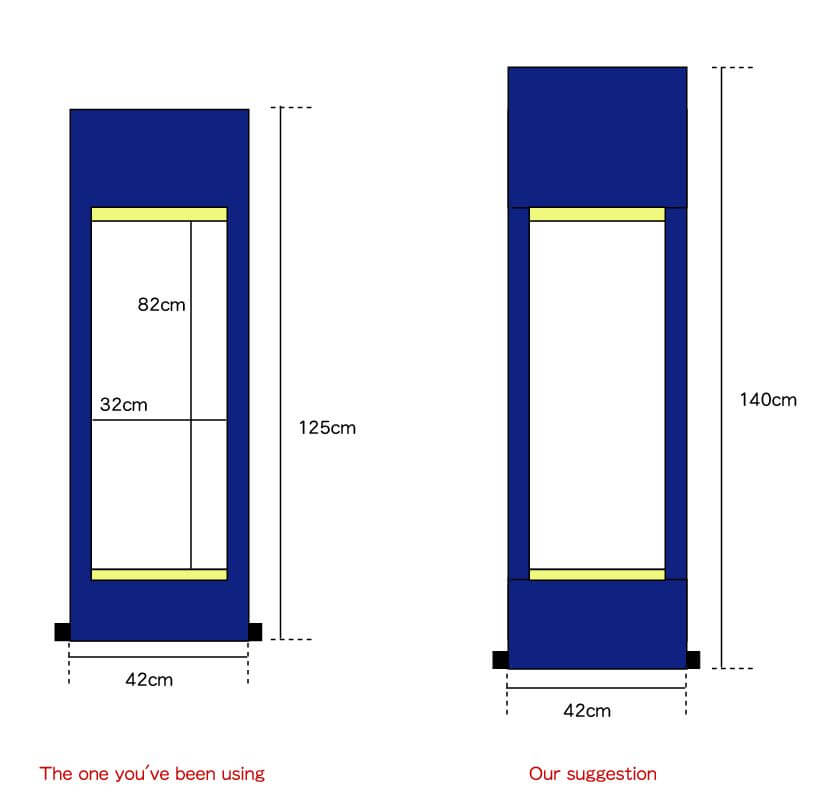 " Let's go with your suggestion for the scroll size." He readily agreed so we moved on to mount fabric. We chose 5 different fabrics that he might like and told him that S10 was the most similar one to light green (the color of scrolls he's been using then). Also, we told him that he could either choose one pattern or freely choose multiple patterns to make the combination of 10. (e.g. 2 of S1 + 3 of S13 + 5 of S10 =10 scrolls.) Can you guess what was his choice? 5 S10 and 5 S13!!
The Advantages and Disadvantages of Blank Kakejiku
If you are considering getting a blank scroll for your artwork, you may want to weigh the advantages and disadvantages of it. What exactly are the advantages and disadvantages? You may ask. Yes, we were frequently asked this question so please let us quote our response to our client today:
The client

I'm considering what's a better option:

1) order blank scrolls and brush the calligraphy directly on it
2) brush the calligraphy on paper and have it mounted. 

ART NOMURA

For having your calligraphy mounted, the cost will be more expensive than blank scrolls. For the details, please review our comments below;

1) order blank scrolls and brush the calligraphy directly on it

pros: cheaper, less procedure, less production time, we can offer you our discount price for bulk orders.
cons: You have one chance only. Once you make a mistake, you can't take it back. Risk of ink stains on mount fabric.

2) brush the calligraphy on paper and have it mounted.

pros: only the best selection of your calligraphy will be mounted. A scroll will be perfectly made to order to fit the paper size and the content (e.g.: your calligraphy style and its meaning.)
cons: price for mounting calligraphy will start from approx. JPY XX,XXX/scroll. It is expensive since it requires a lot of work and is time-consuming. (for example, we do color fixing multiple times to prevent sumi ink from bleeding.) We need to pay a lot of attention to each artwork, so this service is not subject to a discount. 

So, for your calligraphy of a very big one (out of regular size), masterpieces, and a special request from your clients, we highly recommend the latter option. If you need a large quantity with the same size, we assume the blank scroll is your choice.
Production of Blank Kakejiku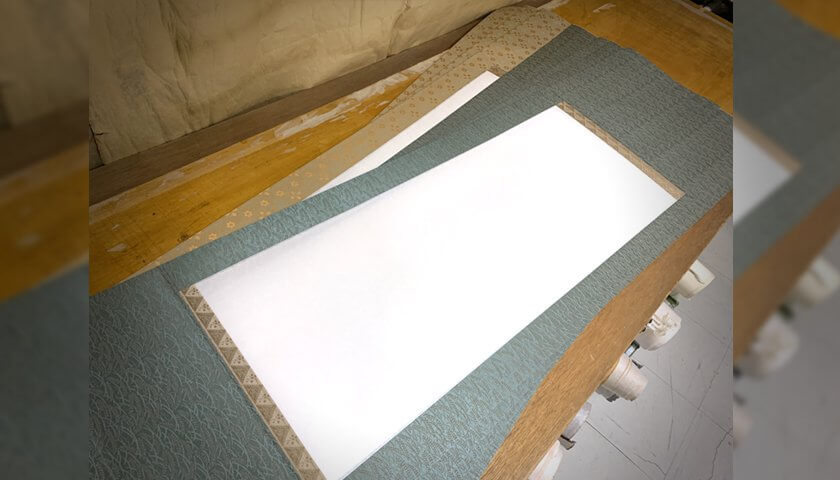 We produce 5 of S10 and 5 of S13 each as confirmed. Making scrolls is not as easy as you think. It is a process of applying a piece of fabric one by one. (For the blank scrolls shown above, there are 6 pieces of fabric for making 1 scroll.)
Blank Kakejiku Completed
Blank scrolls are now completed! Our advantage is producing customized hanging scrolls exclusively for you. We sent out a package of blank scrolls after the final inspection.
Calligraphy Works by the Client on the Blank Scrolls
Masakatsu Agatsu Kakejiku Scroll

Aikido Kakejiku Scroll

Mui Kakejiku Scroll
Here are the client's bold calligraphy works we saw on his Instagram. They are amazing! We are looking forward to seeing the creative works on his Instagram.
We accept custom orders as we received lots of requests from our clients. Do you like to do calligraphy or draw pictures? You can now make custom orders to us by contacting us via e-mail or Mounting Inquiry Form. Please feel free to contact us if you have any inquiries.
Ready-Made Blank Scrolls Catalogue