From the USA: Custom Blank Scrolls Kakejiku Made to Order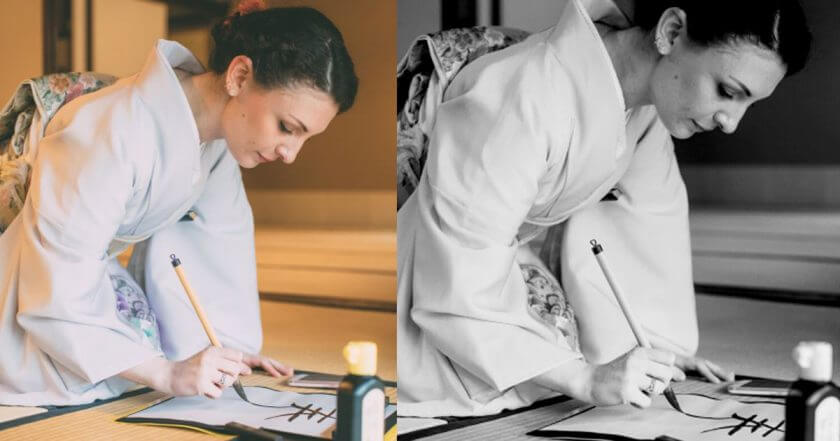 We specialize in making kakejiku, Japanese hanging scrolls so we receive many inquiries on our products, quote requests for restoration of antique scrolls, and also made to order scrolls. The fact that we receive so many e-mails explains that many people in the world are interested in calligraphy and sumi-e (suibokuga) painting. Some write calligraphy and others draw pictures and they are very good at it!
Today, we would like to talk about our recent custom scrolls made to order which was requested by an American client. His idea is to order blank scrolls to give his wife as a gift so that she can draw sumi-e (suibokuga) painting as she likes. Isn't it so sweet?
We do have some ready-made blank scrolls, but the client's request was something more unique and special, mounted with yellow-green gold brocade. Our company's main advantage is that we do all the work ourselves, so we can accept special orders and take orders from 1 single scroll. You get what you want, the way you want it.
This is how a finished scroll looks. The client ordered 6 in total.
Mounting fabric for an inner enclosure is very luxurious. Gold threads are used for embroidery of plants and flowers patterns on yellow-green gold brocade background.
On another note, Typhoon Jebi made landfall in western Japan in this early September 2018, the strongest tropical cyclone to come ashore in Japan in 25 years.  Typhoon Jebi smashed a tanker into a bridge, forcing one of our largest airports (KIX) to close and hundreds of flights to be canceled. There has been a significant delay in overseas shipment even after international flights were back to normal. Typhoon Jebi also left us the task of repairing the damage. All our team members were forced to spend time repairing typhoon-related damage in our office and factory.
A shipment of these 6 scrolls was affected by Typhoon Jebi. Even if it was due to a weather-related delay, we were sorry for the inconveniences caused and we highly appreciate his kind understandings and patience. After the parcels arrived to him, we received the message that he would let us know when his wife starts painting on the blank scrolls.
Blank scrolls with his wife's sumi-e paintings are going to be great! We are looking forward to hearing from him again soon.
To find out a price for a blank or customized scroll, please feel free to contact us. We are here to help!
Ready-Made Blank Scrolls Catalogue