Belgian Customers Looking for Kakejiku / Hanging Scroll Walked in
The episode this time is about a recent visit of Belgian customers.
Our company is located in Tarumi Ward in Kōbe City, Hyōgo Prefecture.
Not quite a big gallery but at this ground floor gallery, we display kakejiku and framed wall art like, oil/ Japanese paintings.
Consultation with our customers is hold at this gallery as well as the viewing of artworks on sale.
I spend most of my time at the workshop and am hardly around the gallery and I did, like usual the other day. Then one of our staff came up to me smirking.
I asked her 'what happened?'
Then she responded cheerfully 'Customers from abroad have come over~'
To be honest with you, it was so unexpected…
We have had foreign customers visiting us to purchase our kakejiku or request our mounting services when they travel to Japan, but the visit this time was such a surprise as frights to Japan have suspended due to a pandemic of COVID-19, I didn't expect a visit of non Japanese customers this soon.
Either my wife or I mainly take a role of corresponding with our customers in English among all of us. On one occasion when both of us were out two young men from Canada dropped in to look kakejiku then our executive director, my mother somehow managed to look after the customers and better still, with her assist they found the one they were looking for and left our shop with much satisfaction. I assume she couldn't speak in English, still helped them find the ideal kakejiku while communicating by gestures with her will to satisfy customers by all means. I believe that takes a lot of vitality. My parent has guts…baby boomers are really something!
On this occasion I looked after the customer as my wife wasn't there. When I went into the gallery, there were two young ladies and a child of either of them.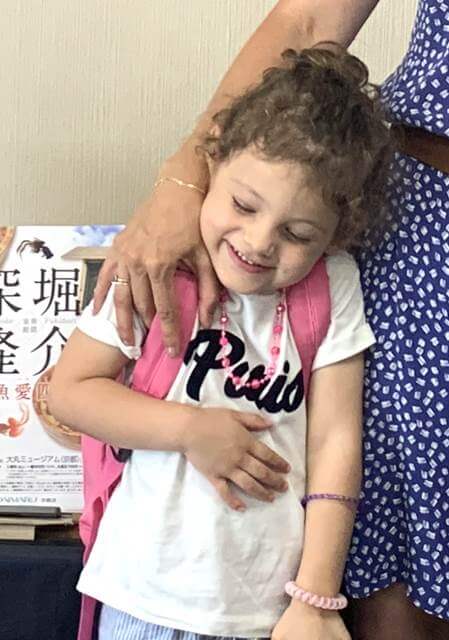 They actually turned out to be residents of Shioya, a town located next to our town and were understandably not tourists.
Although it was not the first time that Belgian customers purchased our kakejiku, as they have never visited us in person before, what sprung to mind for Belgian were merely 'Strong football team' and 'Chocolate'. The visit was unexpected, yes, still my luck of imagination for the country was a real letdown..
I asked them the details of what they are looking for and the answer was works with wabi-sabi taste as they are keen on Japanese traditional art. After suggesting the customers taking a seat for the moment, I picked up a choice of kakejikus that should meet their requests at our warehouse (on the 3rd floor of our building) then showed them these kakejikus back in the gallery.
My selection of kakejikus seemed to live up to their expectation and at the consultation which I enjoyed, the customers discussed many things about those works and asked me points they were aware of.
Our gallery is not quite spacious with the space up to 10 kakejikus can be displayed and as a result, our service has been this style, we listen customer's demand first, then pick up the kakejikus those which we would think meets the customer's demand to suggest. This style of service is not particularly for foreign customers but Japanese customers too and we have been keeping this way for decades. In fact, I find this hearing & suggesting customer relations style most pleasurable.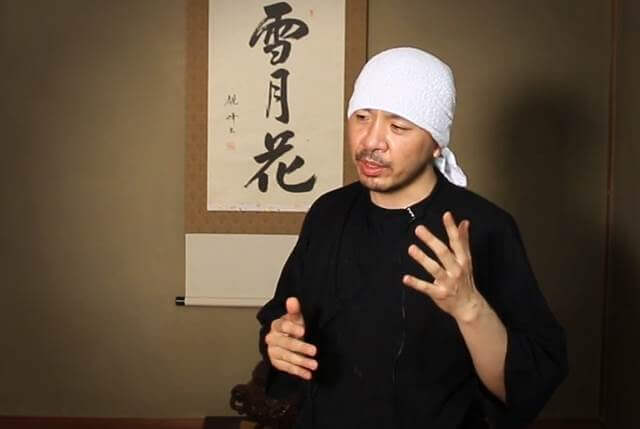 Various ways of shopping are available but I assume that the mainstream is choosing the one by yourself from loads of products displayed in a spacious store and that is fun for sure. However, our style is
→After a thorough consultation with our customer on their needs, suggest works that were carefully chosen by our staffs with broad expertise to meet their demands.
→ when some of the works were pleased with the customer, give them further details of the works. In case the chosen works didn't ring the bell, suggest other works we chose after an even further consultation on their needs.
With this way, the process is such a fun as I feel as if I enjoy the adventure searching for 'the one and only for our customer' along with them. I always share an utmost joy with them when they find the one.
Two calligraphy kakejikus seen below were the customer's favorite among our suggestions for this time.
These kakejikus depict letters meaning dream and fortune. Both words are thought to be auspicious at home and abroad. Although we suggested other kakejikus on which the same letter is drawn, the customer fancied this two that would suit their home considering the color of the mounting fabric etc.
They motioned that they will display the kakejikus in no time. I don't really think these two art will be put on show at a tokonoma alcove, nonetheless with their sensibility, foreign customers tend to display their kakejiku tastefully as a part of their room. The picture below shows a kakejiku whose restoration process was done by us, displayed in the room of our foreign customer. It looks trendy doesn't it. That would be fantastic if we could take a look how the kakejiku chosen by the customer this time put on show.
We received the feedback on our service from the customer. It sounds over the top in a good way, but simply I am extremely glad about it
Well, my English is not really perfect. It's mock English (giggling).
I have set off a variety of activities around 2013 out of a wish for growing world recognition of the attraction of Japanese kakejiku.
Previously, I hardly ever use English in everyday life so I resumed studying the language which I haven't done since I was at high school. After that, my daily little by little English study has brought me to a level which you can communicate without trouble but just about.
Of course I am studying English still now and I find it amusing that reaching to a higher level of English enables me to become more interactive and mutually enjoy kakejiku with people from abroad. Becoming capable of knowing foreigner's perception of kakejiku has been such a precious change for me.
This time I talked about a visit of local Belgian customers. We have had foreign customers living in Tōkyō and requested our mounting services, still since it was very first time for us that foreign customers resident in Japan stepped into our shop, the visit was quite exiting.
Like this episode, if your Japan dweller friend from abroad is interested in kakejiku and looking for the shop, please introduce our shop by all means.
We, Team Nomura will do our very best for you vigorously and whole-heartedly.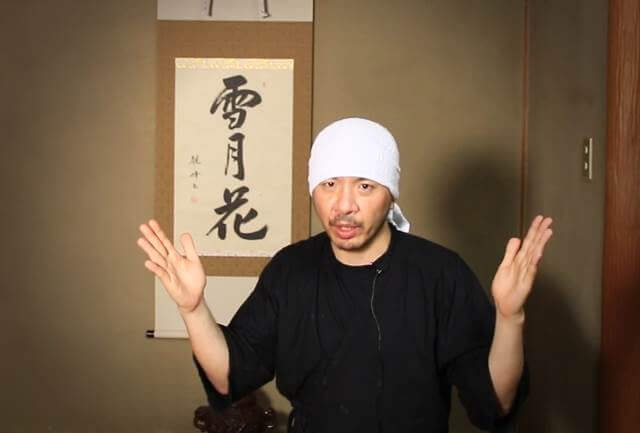 This time, thorough 'Daily news of a kakejiku shop' we introduced our rather unique episode to you.
The way how a kakejiku shop like us runs the business and what kind of circle it is are not something everyone is familiar with. We would like to send out the news which reveals a number of exciting, jolly and fun everyday lives of a kakejiku shop like this time to let you know a little more about our field and arouse your curiosity towards kakejiku.
Thank you for reading to the end.