Restoration: Deer Kakejiku by Gyokusen Mochizuki
Secrets behind the Massive Hit Movie, Bohemian Rhapsody (2018)
To be honest, I am not a movie person and go to the movies only once a few years or so. However, shortly after the release of Bohemian Rhapsody last November 2018, I went to a movie theatre with my wife. I had only a passing knowledge about Queen and Freddie Mercury. I casually went to see the movie and ended up being really into them.
The story was well organized and easy to understand. All the characters stood out, songs and music featured in Bohemian Rhapsody were amazing. The stories behind the songs gave us goosebumps. I and my wife were blown away by the end. We couldn't stop crying. I knew that I'd probably like it, but I didn't know I'd like it this much. Nor did I know that I was going to have such an emotional response. 
What's great about the movie is, it does not let it end as just a movie. After watching it, it makes you watch and listen to songs and live performances of Queen over and over. I searched for more information on the internet. It's just uncontrollable. The phenomenon is called "Queen Fever" and it makes you want to go to the movie one more time (or many times?) to experience Live Aid in 1985 and to feel Freddie who is so full of life in the movie. We were totally in love with the band. I and my wife could not resist the strong urge to go to the movie the second time (well, it was my first time to watch the same movie again at the theatre.) and we still cried like the first time. What a magical movie!
Avid Collectors of Japanese Art and Antiquities in the World
In the movie, we recognized a paper charm of the Kinkaku-ji temple (in Kyoto) was displayed by the door in the house where Freddie stayed while recording his solo album. Also, Freddie was wearing a Japanese kimono as a dressing gown in his house. It is well known that he loved coming to Japan and that he was an avid collector of Japanese fine arts and antiques. He came to Japan incognito several times, especially for ceramics. Like Freddie, the number of people who have an interest in Japanese fine arts has been going up these days. It is our pleasure receiving many inquiries for hanging scrolls from people around the world. Today, we would like to talk about our restoration work of a hanging scroll with a gentleman who is from another country and lives in Japan.
Inquiry for Remounting "Deer" Scroll Painting by Gyokusen Mochizuki (望月玉川)
The gentleman first contacted us through an inquiry form for mounting/remounting on our website. We prepared the form to make it easier for clients to contact us and to summarize their thoughts for mounting/remounting. With this, we can confirm clients' needs and the scroll condition, so it is very helpful.
According to the inquiry form, the client possessed a "Deer" painting scroll by Gyokusen Mochizuki (望月玉川). There was a line running through the center, creases, and some dirt on it. From the pictures attached to the inquiry form, it was apparent that it was an antique scroll that needed to be repaired immediately.
Mochizuki School of Japanese Painting
---
The story of the Mochizuki family in Kyoto dates back to a man called Dosen(道泉), who was originally from Omi(Shiga prefecture) and later moved to Kyoto around 1573-1593. He first started the business of Maki-e. Maki-e artists decorate Japanese lacquerware with gold or silver powder (refer to https://en.wikipedia.org/wiki/Maki-e).
Born the son of a father who was a Maki-e artist the fourth, Shigekatsu(重勝) later started the Mochizuki family of painters and became the first Gyokusen(玉蟾 1692-1755). The first Gyokusen learned Japanese painting under famous painters such as Mitsunari Tosa(土佐光成) and Sekkei Yamaguchi(山口雪溪), then became skilled at painting "Landscape". He also learned calligraphy under Shizuma Sasaki(佐々木志津磨) and was well-read in Chinese books and wrote Chinese poetry. He was well-informed about the literati culture. After the first Gyokusen(玉蟾), the Mochizuki family flourished and were able to last for many generations. There were Gyokusen the second (玉仙1744-1795), Gyokusen the third (玉川1794-1852), Gyokusen the fourth (玉泉1834-1913), Gyokusen the fifth (玉溪1875-1938), and Gyokusen the sixth (玉成1900-1951).
Especially, Gyokusen the fourth(玉泉) served the Kikutei family(one of the court nobles). He often received orders from Imperial families. As an Imperial Household artist, Gyokusen(玉泉) eclectically mixed painting of various schools and were well-known for soft and gorgeous painting style, while setting importance to basic sketching. He did not spend all his time on his work and devoted considerable time to teaching at the Kyoto Prefectural School of Painting which he founded with Bairei Kono(幸野楳嶺) in 1880. It was the first public painting specialist school in Japan. Other than that, he taught Japanese painting at a girls' school and Kyoto School for the Blind and the Deaf. Gyokusen(玉泉) contributed significantly to the modern Japanese art world as a great art teacher.
First Estimation
Based on the client's request, we sent him the first estimate. We talk a lot about a scroll in every detail with our clients until we reach a consensus. So sending an estimate once is not enough. It requires time to determine restoration details and it is our usual process. Here is our first reply to the client.
Remounting: Deer Scroll by Gyokusen Mochizuki

The cost of remounting is basically decided by the size of artwork, the fabric grade and the condition of a honshi (main artwork). Please review our comments for the general idea of the costs :

Basic remounting of a kakejiku

The minimum charge starts from approx. JPY —– / scroll.

+ Art Work Size: 59cm (w) x 132cm (h)
+ Overall Size: 60cm (w) x 160cm (h)

+ Mounting Style: Fukuro Mounting (The same style as it is now.) More Info about Fukuro Mounting: http://nomurakakejiku.com/lesson_lineup/literati-mounting

+ The Mounting Fabric:  basic grade

+ Cleaning, Removal Stains
We were not able to confirm the stains from your photos. At the moment, we are planning to do cleaning only.

+ Ichimonji-otoshi
Please be noted that, with your requested overall size, we regret to inform you that we are not able to apply ichimonji-otoshi since the pillars will become too thin to apply them.

+ Inclusive: Shipping charge by EMS and insurance fee

N.B.
※ The price includes a paper box package. For a paulownia wooden box, JPY —- will be added.

※ Please be advised that the above price is calculated for international order/shipping. For a domestic order/shipping, we are pleased to offer you our discount price so kindly let us know.

The detailed estimation will be confirmed after we receive your scroll and check its condition. Kindly note and please feel free to contact us if you have any questions or requests.

Thank you very much.



Here is the reply from the client, and our response in red.
At the minute the scroll hangs badly with an ugly line down the center. Is it possible to make it look more smart and elegant with a new mounting?
Yes. The line down the center will look much more smart and elegant since they will be stretched and smoothed out during the remounting process. Unless it is very deeper than it looks from the photo, it will be almost unnoticeable.
A soft green or brown for the main scroll fabric would be nice. I am thinking not silk but maybe a hemp style material.
Well noted your request for color. Regarding the materials, we are not able to use fabrics made of hemp. We mainly use silk or cotton mount fabrics.
Would it be possible to have the painting mounted as maru mounting? I think silk clothe pattern top and bottom of the painting would be nice.
Yes, of course, we are able to mount the painting as maru mounting style. (Fukuro + Ichimonji) Ichimonji fabrics are made of silk with gold or silver threads. The price remains unchanged for maru mounting. If we receive your scroll in our studio, we will make some digital mount sample images for searching your ideal scroll.
The painting seems to be slightly dirty and there a few splash marks on the empty spaces. The painting of the deer and the landscape I think is not damaged, but there might be slight creases.
Well noted your scroll's condition. We confirmed your photo one more time but we are not able to see damage/dirt/splash marks just from the photo. Please note that there will be an additional charge of JPY—– for stain removal. You do not have to spend extra money when cleaning will wash away stains/dirt. So please kindly wait until we receive your scroll here and make our judgment if the painting really needs stain removal or just cleaning will do. Also please rest assured that most creases can be stretched out and will be almost invisible in the end.
I live in Tokyo so postage will be domestic.
Thank you for your information. We are pleased to offer you JPY—- off discount. Thus, the minimum charge will be changed to JPY—–.
The Arrival of the Scroll and Confirming Details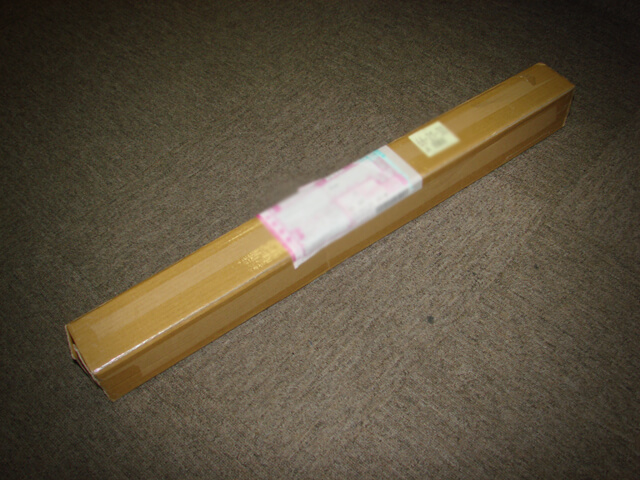 We received the scroll that the client sent to us. Let's open and check it!
After checking the scroll's condition in person, we confirmed the following points with the client:
Splash Marks
We did notice them when having seen them on a screen, but we did when we had an actual scroll. From our experience, we decided that the scroll did not need a process of stain removal because cleaning would work well.
Creases and Folding Lines
Creases and folding lines were seen throughout the painting. To get rid of them perfectly may be impossible but they will be certainly unnoticeable after restoration.
Finished Size
We will apply ichimon-ji (top and bottom mount fabrics). The client's available wall space is limited so we will keep the finished size of the hanging scroll as is the original.
Kakejiku are familiar to Japanese people so imagining a restoration process is relatively easy for us. However, it is not easy for people from other countries. There are not too many of them who own hanging scrolls. Also, fewer people would consider restoration and contact a conservator like us. For questions from the client, we responded as much and as fast as we could, hoping to dispel the client's anxieties and doubts about restoration.
What is the Japanese for ichimonji? I only know it as a school of sword makers from the Bizen tradition 一文字.
Ichimonji (一文字)literary means one (一) word (文字) in Japanese numerals of kanji-漢字, or being in the shape of the letter "one (一)". Monji is an old-fashioned way of reading moji (文字) and still can be read as monji when combined with specific cultural words. Since mount fabrics, that are attached to the top and bottom of the painting, look like the shape of "one (一)", they came to be called ichimonji. We call ichimonji for short but more specifically, there are kami(top) ichimonji and shimo(bottom) ichimonji.
I am curious about the process of remounting.  Is there any chance of the painting degrading or colour change etc as part of the process?
Regarding your concerns, please rest assured that the painting will be fine during the process, under the following conditions ;
・ Mounting/remounting is to be done by an experienced mounter.
・ The painting is not in a bad state.
・ The painting is depicted using appropriate materials.
・ The previous remounting has been done appropriately.
Your scroll meets all the requirements as above. This time, we are going to do "cleaning" to remove dirt. This process washes away dirt only and both the paper and background of the painting will not become white. The vintage look will remain unchanged.
In the antique artwork, there is the traditional Japanese aesthetic, wabi-sabi so we do our very best not to ruin wabi-sabi in your artwork.

For more info on wabi-sabi,
http://nomurakakejiku.com/lesson_lineup/wabi-and-sabi

This video will show you our cleaning process. Please check the effect of cleaning on the artwork.
https://youtu.be/YKnmhNmXdmE

Kindly note that most Japanese works of art are basically created on the idea that they would be remounted later on. Many of the Japanese paintings are made of fragile materials such as silk and paper. Because of the deterioration of the paintings and mounting, paintings of the East have been transmitted until today by means of regular restoration executed every few decades or 100 years. This is why techniques of mounting and restoration are indispensable in preserving and transmitting these works of art. Your kakejiku had a sign of remounting in the past but we did not find any damage like the painting degrading or colour change. It is for sure that a skilled craftsman did the previous mounting.
We, mounter, strive for the highest results, making the best decisions possible while carrying out a risk assessment with our knowledge and experience. We will take good care of your scroll so please leave it to us 🙂
Selecting Mount Fabrics

Now, we moved on to discuss mount fabrics. The painting was about autumn, depicting deer in a landscape (with Japanese pamper grass). The client would have liked to get mount fabrics that associated with autumn air. We proposed 5 mount fabrics with different prices.
The client currently lives in Japan, so we sent him fabric samples by mail for his checking. A fabric changes its color when it is seen from different angles, so we always take many photos of mount fabrics for our clients. Still, it's best if our clients could check samples in person.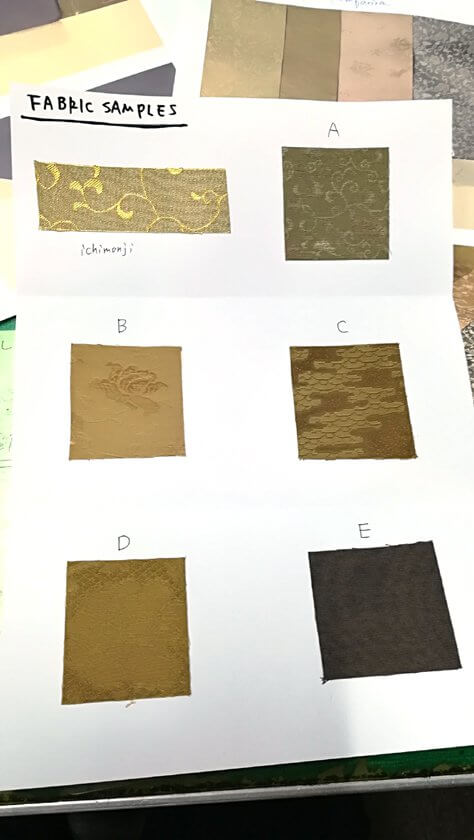 The client liked two patterns, B and C as below;
While the overall appearance is very nice and I sense shibui, it has made me realize that either material B or C is the one that I would like.  For Materials B it seems that the pattern is of peony flowers.  What about material C?  Is it of pine trees or mist or something else?
Our response: Thank you for your reply and yes! you are correct about B. Its pattern is of peony flowers. The peony is a magnificent blossom, and in China, it is called "King of Flowers." The peony pattern is widely used in the industrial arts as a symbol of wealth and affluence.
About pattern C, it is of clouds. There are many kinds of cloud variations and this is one of them. "雲/clouds" can be pronounced as both "kumo" or "un" and un (運) means lucky in Japanese. This is why Japanese people love it and created lots of clouds pattern.
The client chose fabric-pattern C.
Final Overall Quotation
After spending a long time to discuss the details, we finally confirmed specifications for restoration as per the following:
Remounting "The deers" by Gyokusen Mochizuki 望月玉川
Price: JPY –,— (confidential)
Mounting Style: Maru mounting style
Fabric: C, the material with clouds (no ichimonji-otoshi)
Overall Size: Approx. 62cm (w) x 176cm (h)
Incl.: Cleaning, a paulownia box, shipping charge with insurance
Process for the Restoration
The steps below detail our restoration process for the Deer painting scroll/kakejiku that needs cleaning.
Disassembly

↓

Removal of Backing Paper

↓

Cleaning

↓

Hada-urauchi / 1st Backing

↓

Arrangement of New Mounting Fabrics

↓

Mount
Restoration Completed
The operation was taking more time because the deterioration of the painting was worse than we'd expected. Also, we were very affected by the typhoons in 2018 and all our team members were forced to spend time repairing typhoon-related damage in our office and factory. The client was getting anxious about the delay, so we told him the reasons and sincerely apologized for the inconveniences caused. After restoration, the ugly line down the center the client cared disappeared. Please look at before and after photos.
We got splash marks off the painting. The painting is so beautifully clean!
Cleaning refreshed the painting and showed up brown pigments that were hidden in the dirt.
The form of the two deer got better as they look plump and fluffy. We feel their energy and liveliness even more.
Countless fine lines were smoothed out. This enables viewers to focus more on the depiction of the landscape (grasses and the hill).
Feedback from the Client
We were so sorry to have kept the client waiting for so long. Thank you for your patience. We felt relieved to hear from him that the hanging scroll arrived safely and to receive his feedback.
Last night I received the deer scroll and I am very pleased with it. The mounting is beautiful and is a perfect match for the painting. I am very impressed by how you have totally refreshed the painting. For example, before I was not aware that there is so much brown pigment in it. Also, I am so glad that the ugly crease in the center has gone. The box is beautiful and certainly will keep the work in great condition for years to come. Overall, I am delighted with the end result.

Considering the amount of work and the number of skilled people that helped to restore the painting (including the making of the box), the price that I paid was very reasonable.

Also, my wife commented yesterday that she cannot believe how well the actual painting know looks.  It will hang for the autumn at the end of a short corridor and has certainly enhanced the atmosphere of our house. 
Thank you very much for your thoughts and feedback! Followings are beautiful pictures received from the client. The hanging scroll is being displayed on the wall, matching the presence of the table lamp, and colors of the door and the floor.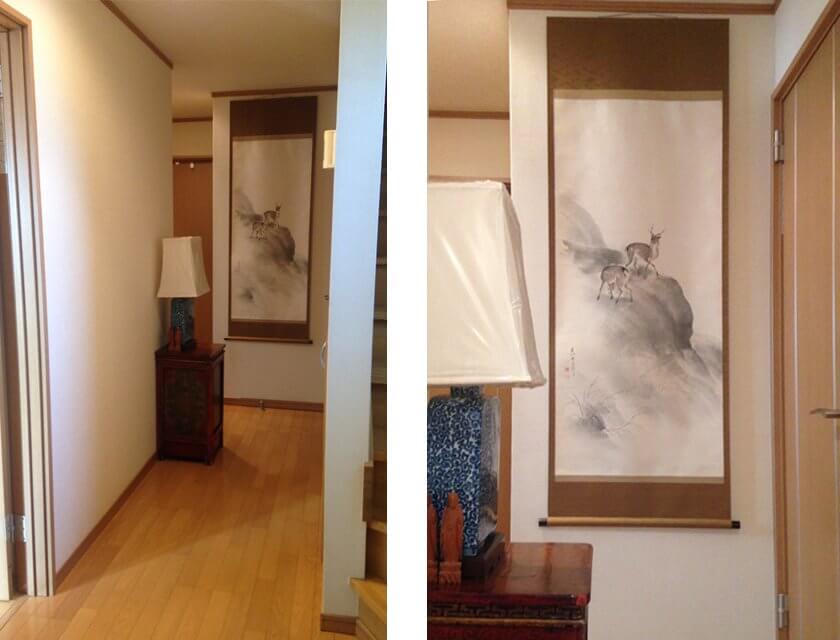 Lastly
As we mentioned beforehand, it is good to know the number of people around the world who love and collect Japanese art is increasing. If you are one of them and need any help regarding the restoration of your hanging scrolls, please feel free to contact us. We welcome both domestic and international clients.
Movie: Deer Kakejiku by Gyokusen Mochizuki