Methods of Expression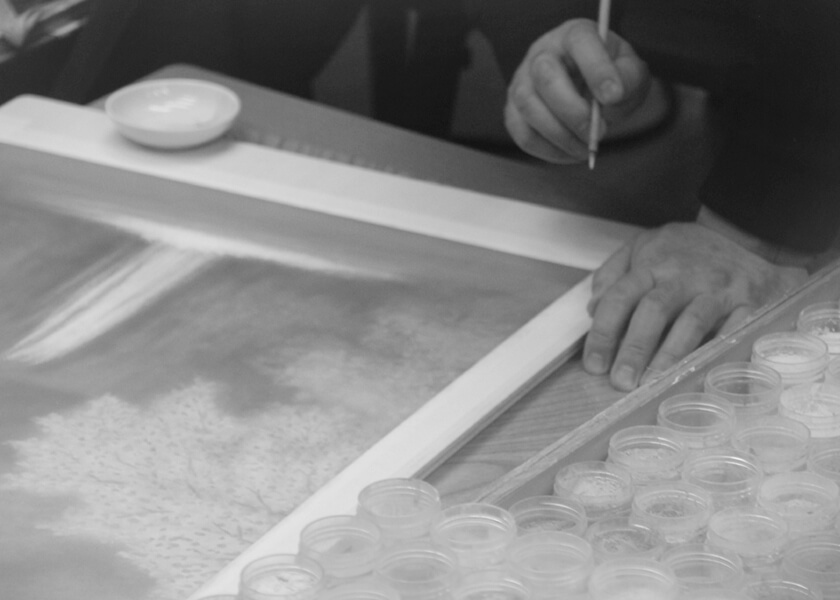 There is a very close relationship between painting materials and techniques. In Japanese-style paintings ("nihonga"), it is possible to skillfully select different materials and techniques, depending on the subject of the paintings.
Outline technique (kouroku)
"Kouroku" is a technique in which the form of the object painted is outlined. The technique in which color is applied to the inside of the outline is called "kouroku-tensai." It became one of the most representative techniques used in "kachō-ga" (paintings of flowers and birds) along with the "mokkotsu" technique.
Mokkotsu
"Mokkotsu" is a technique where the object is expressed by the shading of "sumi" ink or color rather than by using outlines ("koppou".) It is widely known as a technique for kachō-ga (paintings of flowers and birds).
Dripping technique (tarashikomi)
"Tarashikomi" is a high level technique used in Japanese-style painting to attain a natural blur by making use of the difference in the specific gravity between pigments.
Contourless painting (tsuketate)
"Tsuketate" is a kind of mokkotsu technique where the volume and energy of the brush stroke is used to express an object. This shading is done with sumi and paint. No draft drawings or outlines are used in this style of painting.
Gradation (bokashi)
"Bokashi" is a painting technique in which water is added to already-applied paint in order to express shading.
Hair-line drawing (kegaki)
Kegaki" is a technique of drawing fine lines to express hair, especially around the hairline, side locks, eyebrows, and mustache. The word is also used to refer to such lines themselves. Hair-line drawing is also used for the fur of animals. Dark and light sumi ink lines may be drawn on top of each other or lines may be rendered in the appropriate color. A fine "mensou" brush is used. Hair-line drawing renders a soft and fluffy expression.
Mist and clouds
Mist and clouds, which express the moist climate of Japan, play an important role as factors in the composition of paintings. In the mountain-and-stream painting ("sansui-ga"), it is possible to give perspective or express the height of mountains by painting mist and clouds. They are also painted at intervals to suggest a change of scene or the passage of time.
Ink floating (sumi-nagashi or marbling)
Ink floating is a technique to disperse floating ink by dropping resin on the water's surface and printing it on paper. A similar effect may be obtained with water colors. They are also painted at intervals to suggest a change of scene or the passage of time.