Materials of Nihonga
Materials
"Nihonga" (Japanese-style paintings) have continued to evolve for over one thousand years. However, the technique of mixing natural mineral pigments ("tennen iwa-enogu") with animal glue, which is central to the tradition, has remained unchanged. Materials, such as "sumi" ink, wood, silk, and paper, also continue to be used. Moreover, even metals are used in nihonga and render a unique world of sublime beauty. Although it is possible to make various colors artificially today, historically, colors that could not be found in mineral pigments were derived from natural vegetable dyes.
Nihonga have been executed since old times on such materials as rock surface, earthen walls, wood, linen, silk, and paper, on which it is possible to stabilize pigments by using animal glue. The materials that function as support for paintings and painting techniques are closely related and have developed together.
Silk and Washi
Silk and "washi" (Japanese paper) are often used for the materials that function as support for "kakejiku" (hanging scroll) paintings, because they are thin materials. Thick materials may be damaged when a kakejiku is rolled up.
Sumi (Ink)
Sumi (ink) is made from soot mixed with a glue from fishbone or animal hide. It is the most represented black coloring material used in East Asian paintings.
Iwa-enogu (Natural Pigments)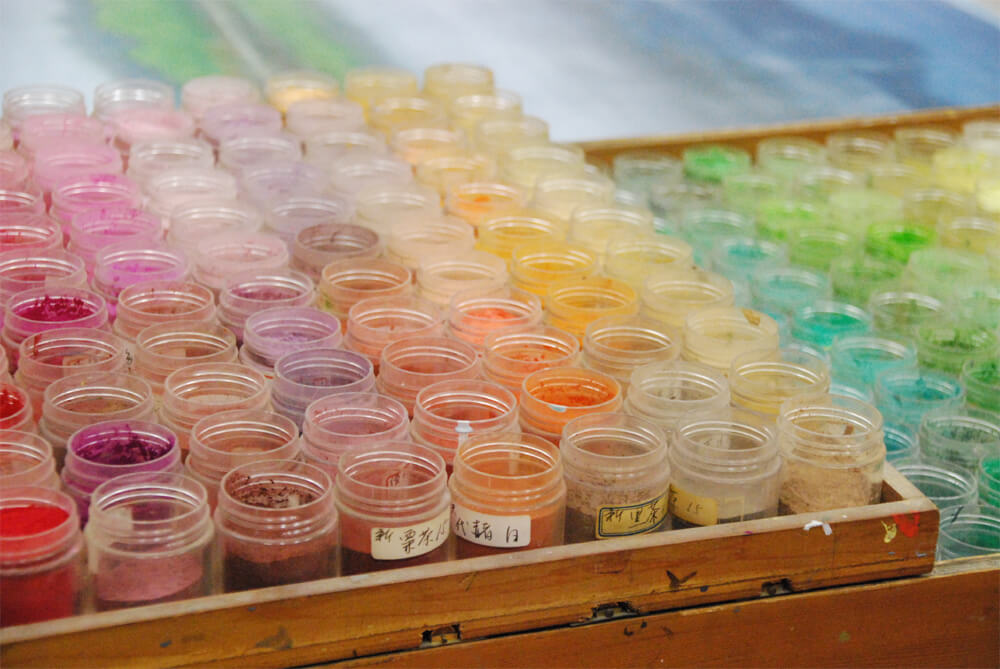 "Tennen iwa-enogu" (natural mineral pigments) are pigments derived from natural ingredients: minerals, shells, corals and even semi-precious stones like malachite, azurite and cinnabar. The raw materials are powdered into about 16 gradations from fine to sandy grain textures. A hide glue solution, called "nikawa," is used as a binder for these powdered pigments.
Paintings made for framing are often different from ones made for kakejiku, in how the artist applies iwa-enogu (mineral pigments). Iwa-enogu are often applied heavily to paintings for framing, so they can't be mounted in kakejiku. This is because they may be damaged if we roll them up. Recently, a "futomaki" (roller clamp) is sometimes used to prevent it. It is a large roller rod used to cover the already-attached roller rod, when rolling a kakejiku. By making the diameter of the roller rod bigger, creasing, distortion, and other forms of tension on the main work can be prevented. However, there is a limit to the effect of a futomaki, so the pigments in kakejiku paintings are usually applied lightly.
Gofun (Powdered Calcium Carbonate)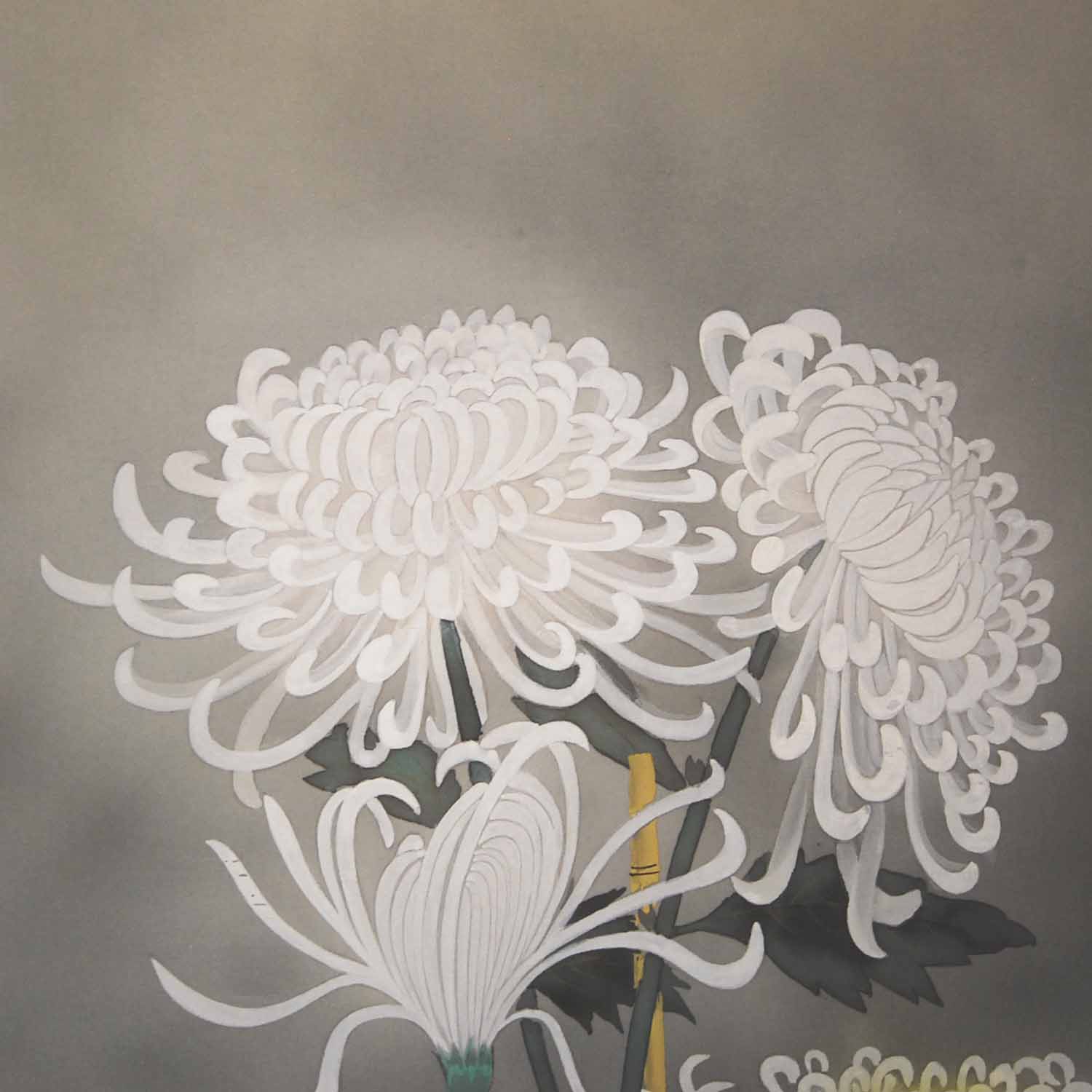 "Gofun" (powdered calcium carbonate that is made from cured oyster, clam or scallop shells) is an important material used in nihonga. Different kinds of gofun are utilized as a background for under-painting, and as a fine white top color.
Metals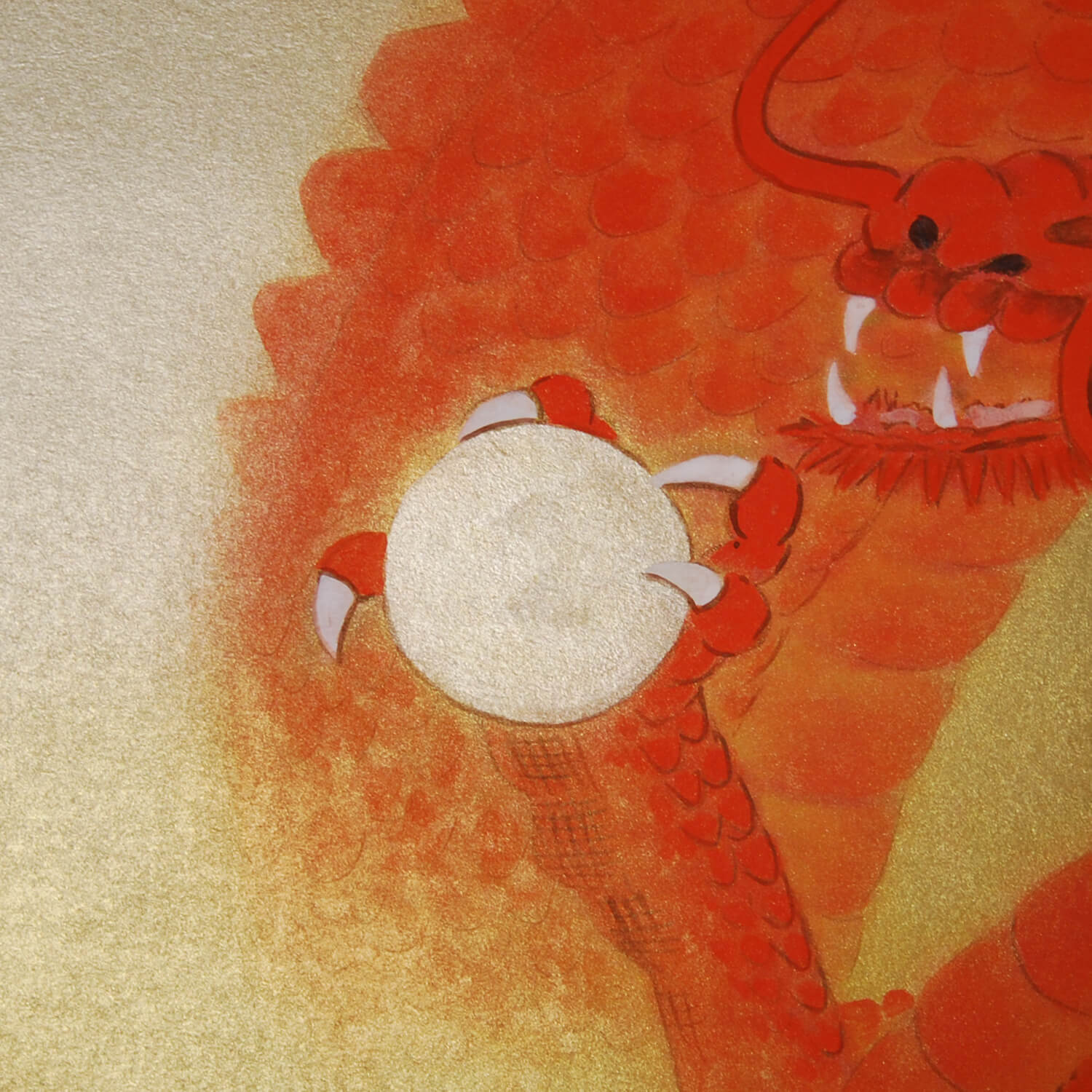 Metals, such as gold and silver in the form of leaf and "dei" (powder manufactured from leaf), have also been used as Japanese painting materials. The diverse methods of expression in which metals are used may be considered as a characteristic of Japanese painting. Today, various metals other than gold and silver, such as platinum,copper, and aluminum, are also used in the form of leaf, or dei.
Tools / Preparation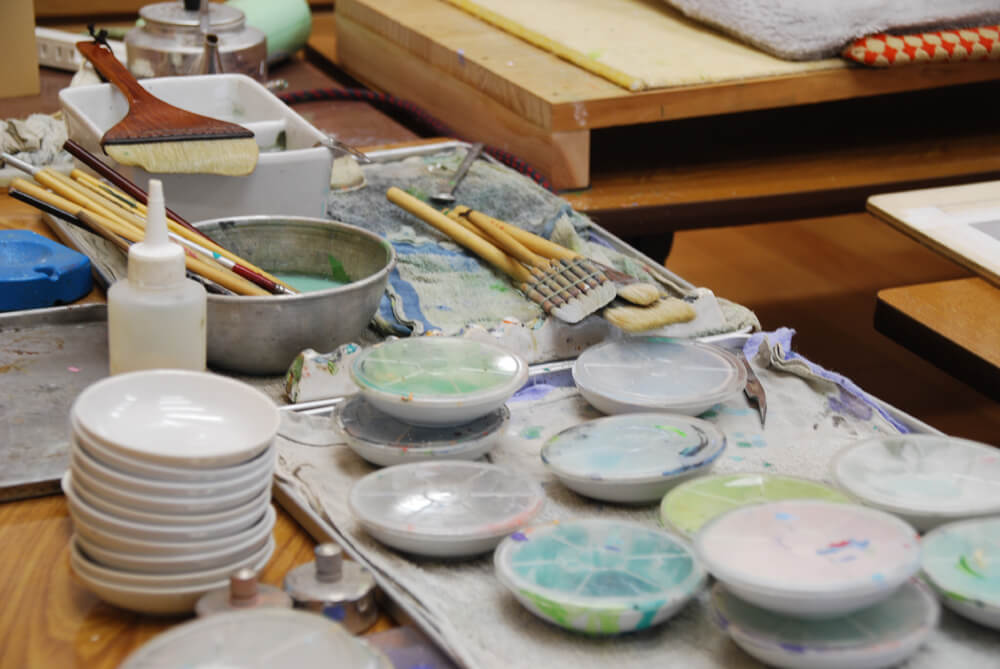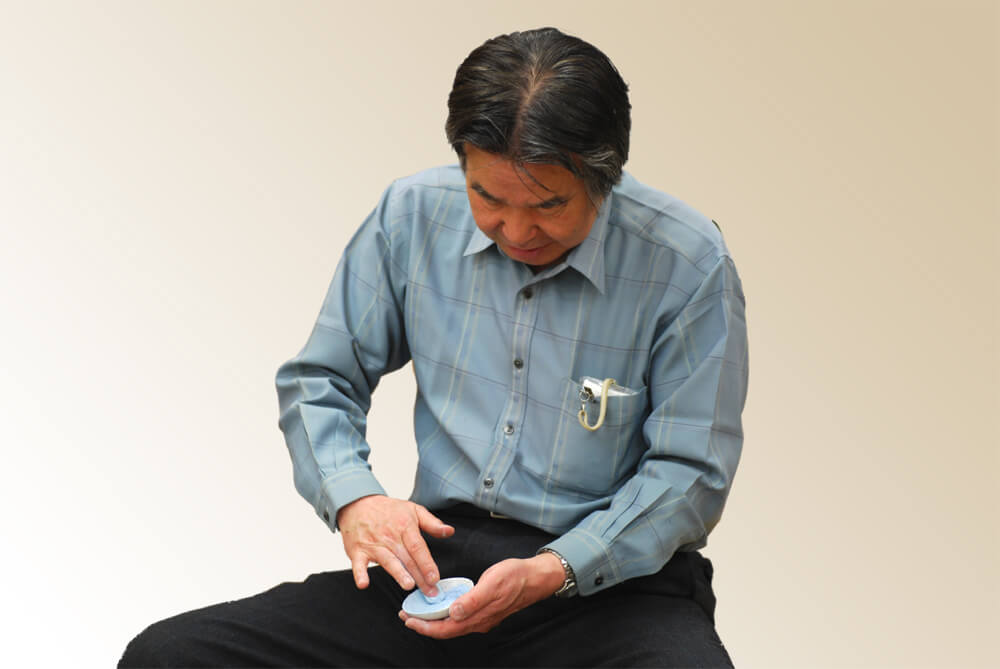 Preparation for using materials