Reproduction and Mounting of Calligraphy Work by Soyu Matsuoka Roshi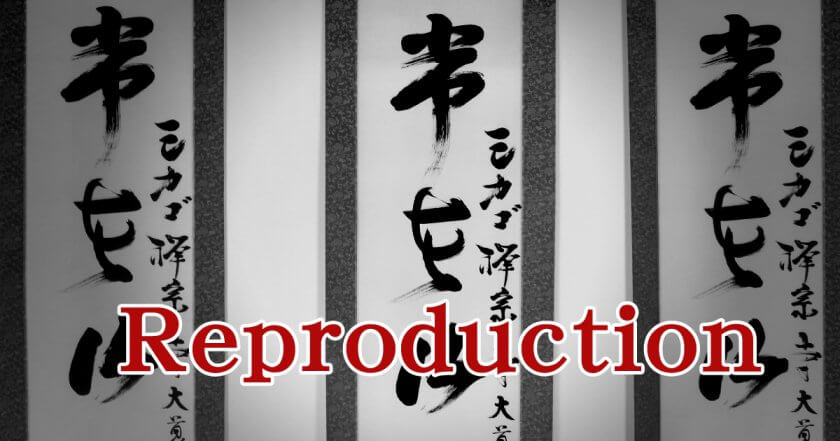 Have you ever in your life had thought about making a reproduction of your precious hanging scroll/kakejiku?
For example, some people want to reduce the frequency of displaying a hanging scroll and display its reproduction instead so as not to damage the original. Others want to make reproduction and give it to their friend as a gift. At occasions like this, reproduction would be handy.
Today, we would like to talk about our work of mounting and making reproductions of calligraphy requested by Mr. Kanzan John Slattery from the USA (hereinafter referred to as "John-san").
Soyu Matsuoka Calligraphy
The above is calligraphy before mounting and is 171.5cm long. It's super long! The usual length of an artwork is within 135cm in most cases so we don't get to see such a long artwork.
We were informed from John-san that the calligraphy work was by a Zen priest, Soyu Matsuoka. You may have already noticed the honorific title attached to John-san's name. Yes, John-san himself is a priest and has a close connection with Soyu Matsuoka.
Please read on to a short biography of Soyu Matsuoka Roshi.
Soyu Matsuoka

---

Zengaku Soyu Matsuoka-roshi is an important historical figure in the propagation of Soto Zen in the United States. Matsuoka-roshi was born in Japan, in Yamaguchi Prefecture near Hiroshima on November 25, 1912, into a family which had a history of Zen priests dating back six centuries. He attended Komazawa University in Tokyo, where he graduated with a bachelor's degree. From there, he studied and practiced Zen a Sojiji Zen Monastery. After several years at Sojiji, he was given an assignment to establish a Zen Temple in northern Japan, on Karafuto (Sakhalin) Island. Prior to his coming to America, Matsuoka-roshi earned a Ph.D. in philosophy, from Political Science University in Tokyo.

In 1939, Soto Zen Headquarters asked him to travel to the United States, where he first became an assistant minister at the Los Angeles Zen Buddhist Temple, and later the Superintendent of the San Francisco Zen Buddhist Temple. After serving as a Zen Priest on the West Coast of the U.S., he attended Columbia University in New York, where he undertook further graduate study under the guidance of Dr. Daisetsu Suzuki.

Immediately following these studies, he moved to Chicago, where he founded the Zen Buddhist Temple of Chicago. In addition to teaching meditation (zazen), Matsuoka-roshi extended his activities beyond the temple. He lectured extensively to local high schools and colleges, and served as an instructor of zazen for the Chicago Judo-Karate School, and later as a special instructor at the Colorado State University and Chicago Central YMCA College. Beginning in 1968, he made a yearly tour of Japan. His initial tour was sponsored by the U.S. Embassy to Japan, during which he lectured on the topic of "Unknown America" in order to promote cultural understanding. In 1971, he established the Long Beach Zen Buddhist Temple. His life was dedicated to establishing Soto Zen in America.

He frequently quoted a saying: 'Moku-rai.' It means 'silence is thunder.'

Much of what one learned from Sensei ('teacher'), as his disciples called him, was not from preaching, but from his manner, the way he expressed himself through his attitude and actions. His Zen dharma was transferred silently, naturally, through his presence. The core of his teachings is the practice of zazen, Zen meditation, and the realization of its power in daily life. His disciples lead temples around the USA and Canada, under the Silent Thunder Order. Matsuoka-roshi died on November 20, 1997.

Many of Matsuoka-roshi's teachings have been collected into two volumes of easily readable and wonderfully insightful talks: "The Kyosaku" and "Mokurai." Click here for more information and link to purchase them from Lulu.com.
The Arrival of Artwork and Confirming Details
In the first place, John-san and we were talking about mounting the calligraphy on a hanging scroll. Now, he came up with another idea, which was to make 2 reproductions at the same time.
The cost of reproduction varies depending on to what extent a client would request for its quality. We suggested making a sample print copy with the least expensive method once we receive the original calligraphy and send it to John-san so that he can check the quality of a sample print. Then we will confirm further details.
He agreed with our suggestion and here came the calligraphy from the USA! We love this moment before opening the package. It's so exciting.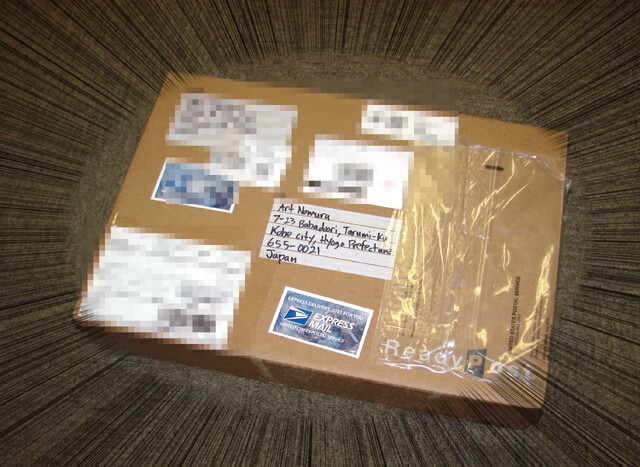 Please have a look at the calligraphy. The calligraphy reads "常在仏心光明中(常に仏心の光明の中に在り)". In English, it means "I am always in the light of the enlightenment."
After checking the calligraphy, there were some matters we wanted to confirm with John-san. (Please see below.) From here, John-san's sensei(teacher), Mr. Zenku Jerry Smyers, who is also a priest, joined the discussion (hereinafter referred to as "Zenku-sensei").
Possibility of color bleed
The artist name on the left is written by a calligraphy(felt-tip) pen. The pen does not contain much animal glue and is very weak to water so the writing will likely to bleed when wet. We did an easy check and it did bleed with a wet cotton bud. We can use a special chemical to fix the color. Please note that an additional charge for a special chemical is JPY-,—. We will do everything to keep it from bleeding but there remains a possibility of color bleeding. We hope to have your kind understanding in advance on this issue.
The right side is very close to the edge
The characters on the right side are very close to the edge. Usually, we cut all the edges to make a perfect right angle since a sheet of paper shrinks after being applied the 1st backing paper. To save all characters, we will not make the right angle this time because we know Matsuoka Roshi's calligraphy is very precious. This method can save the characters, but the scroll may look a bit tilted. Please confirm if this is acceptable for you.
Dirt and tear in the lower-left area
We found dirt and tear in the lower-left area. They locate in a blank margin and do not affect the calligraphy at all. We usually cut these areas off for better appearance. Is this fine with you? or would you like to keep the original length?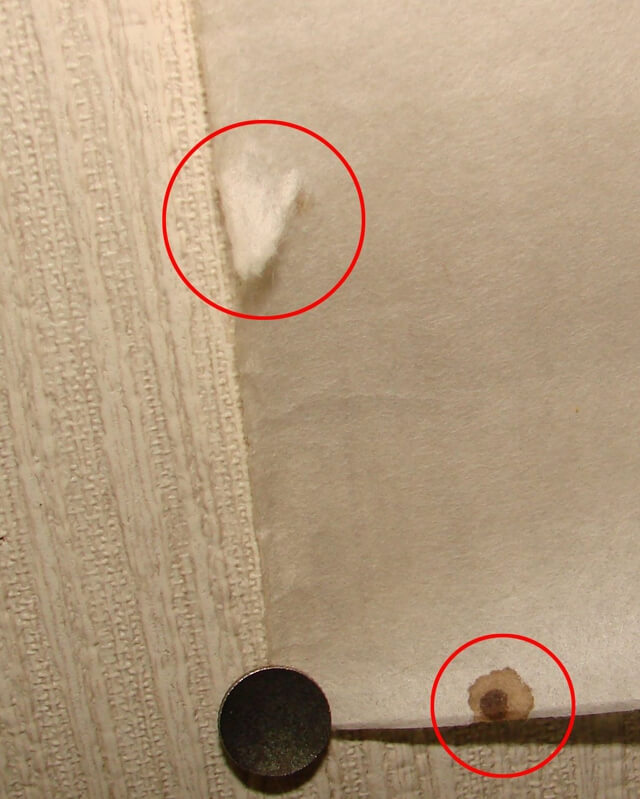 John-san and Zenku-sensei confirmed these matters and replied to us, citing our comments asf;
Possibility of color bleed (For the mounted original calligraphy only.)

---

→Please be advised there will be additional charge of JPY-,— for color fixing.

Understood. Please proceed with this treatment.

The right side is very close to the edge (For the mounted original calligraphy only.)

---

→ We will try not to cut the right side as much as possible because we want to secure all Chinese characters. Kindly be noted that the mounted calligraphy (scroll) may look a bit tilted due to being unable to create right angles. 

We understand that you will do the best possible alignment based on the condition of the original calligraphy.

Dirt and tear in the lower-left area

---

→ Please confirm if it is acceptable for you if we cut areas of dirt and tear in the bottom left.
Yes. Please trim this off the original calligraphy.
Selecting Mount Fabrics
Here are 8 mount fabric-patterns we proposed to John-san and Zenku-sensei.
They talked over details about the mount samples and the ideal size of the scroll, then decided to go for the pattern no. 001.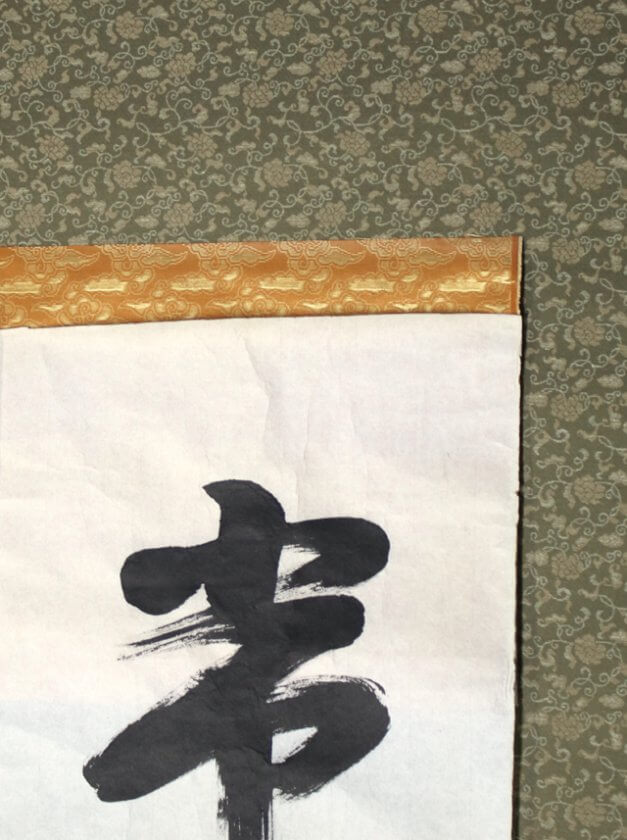 We sent them an A4 photocopy of the calligraphy so that they could check the quality of Japanese washi paper and the print density. We enclosed fabrics cut pieces of No. 001 too. John-san and Zenku-sensei found both fine.
Final Quotation
After spending a long time to discuss the details, we finally confirmed specifications for mounting & reproduction as per the following:
Mounting Soyu Matsusoka Roshi's Calligraphy

 

1. Mounting Original Calligraphy

 

Basic mounting :  JPY –,000

Ichimonji-otoshi : JPY   -,000

Color fixing :         JPY   -,000

——————————————

Total amount :      JPY –,000

 

 

2. Reproduction of Original Calligraphy

 

Basic mounting :  JPY –,000

Reproduction    :  JPY –,000

Ichimonji-otoshi : JPY  -,000

——————————————

Total amount :      JPY –,000

 

Grand total amount  : JPY —,000

 

---

 

 

1. Reproduction of Original Calligraphy

 

Basic mounting :   JPY –,000

Reproduction    :   JPY –,000

Ichimonji-otoshi :  JPY  -,000

——————————————

Total amount :     JPY –,000

 

 

---

 

<Common Terms and Conditions>

 

Mounting style : Maru mounting in the manner of ichimonji-otoshi

 

Fabric: No. 001 

Length : 200cm

 

Incl. : 1 paulownia wooden box per scroll/ Shipping charge with insurance by EMS (Japan mail post)

 

---

 

 

: The mounted calligraphy (scroll) may look a bit tilted due to being unable to create right angles.

 

: We cut areas of dirt and tear in the bottom left.
Reproduction Completed
For making reproductions, we chose fine-quality Japanese paper as print material. They are inkjet paper specially coated and suitably thin for scrolls, yet faithfully retain the unique texture of Japanese washi paper, so they meet all the requirements for scrolls. Normally, Japanese washi paper (that is used for calligraphy and paintings) is not suitable for digital print since they absorb ink very well and easily get blurry. Also, ink colors become less bright so the printed result can be quite disappointing. Therefore, we did not want to use this kind of paper for the reproductions of Matsuoka Roshi's calligraphy.
Mounting Completed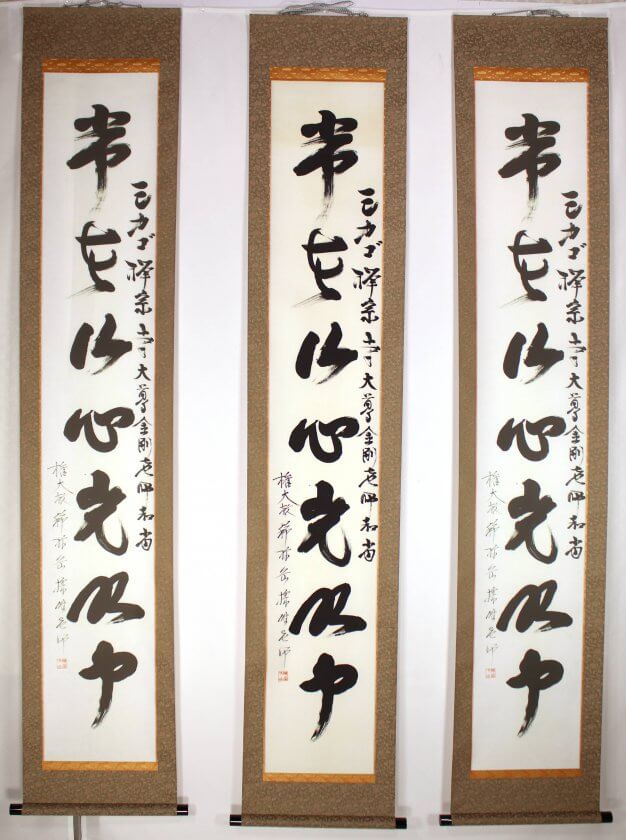 All the scrolls are finally finished. We managed to handle the calligraphy which was written with a felt-tip pen. No bleeding! Dealing with the paper was a little bit tricky because it was very thin but we are confident that we achieved the best result.
In the middle : the original calligraphy by Soyu Matsuoka Roshi
Both sides : Reproductions
We were requested by John-san if we could translate the inscription going down the right side (14 characters) of the calligraphy. The detail can be summarized as follows;
After reading our translation, John-san told us that Kongo Langlois Roshi was Matsuoka Roshi's Dharma heir who was based at this temple in Chicago. So, it was the calligraphy Matsuoka Roshi wrote for Kongo Langlois Roshi. We first thought the inscription on the right was about different title Matsuoka Roshi used for himself and would not recognize this without John-san's explanation. Wow, a new fact has come to light! We were glad to be of help regarding this translation.
Received a Letter of Appreciation!!
After a while we shipped out all the scrolls to John-san and Zenku-sensei, we were surprised to receive a thank you letter from them!!
"We would like to express our deep appreciation for the excellent work and kind service that we have received from you and everyone at your establishment. The kakejiku are simply exquisite and represent Matsuoka Roshi and Zen teaching in the faithful manner. We are most fortunate to have found Art Nomura to carry out this project."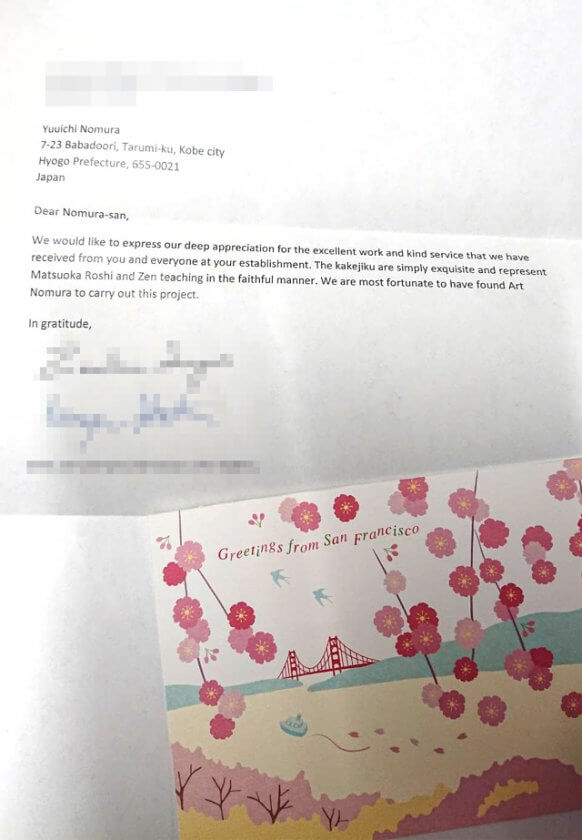 Words cannot describe our happiness back then. We often receive client's feedback e-mails but it was our very first time to receive it in the form of a letter. Thank you very much! Also, we would like to take this opportunity to thank John-san and Zenku-sensei for their cooperation and assistance in writing this article. They have written the biography of Soyu Matsuoka Roshi (which we have introduced in the beginning) and kindly provided it for us. Thank you once again and we feel honored to take part in this reproduction project.
The original calligraphy kakejiku presented at the seat of US Buddhist community in the Matsuoka Roshi lineage, in Atlanta, Georgia. It's located in the meditation hall.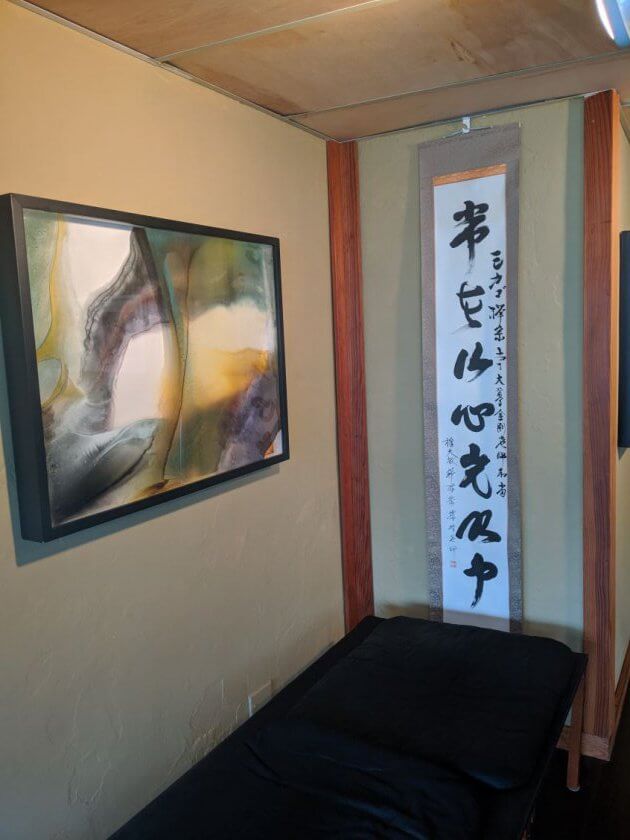 This is a picture of Mr. Kanzan John Slattery & Mr. Zenku Jerry Smyers (right in attached photo). Please click on the following link for more information about Zenku-sensei. http://missionmountainzen.org/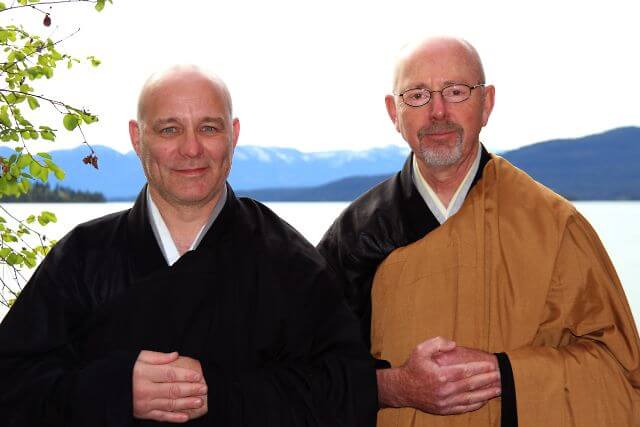 If you are considering making a reproduction of your hanging scroll, please feel free to contact us. Let us help you find the best solution for your artwork.
Thank you for reading.