Order for a Futomaki & Nijūbako from USA to Preserve Matsuda Kyotei Scroll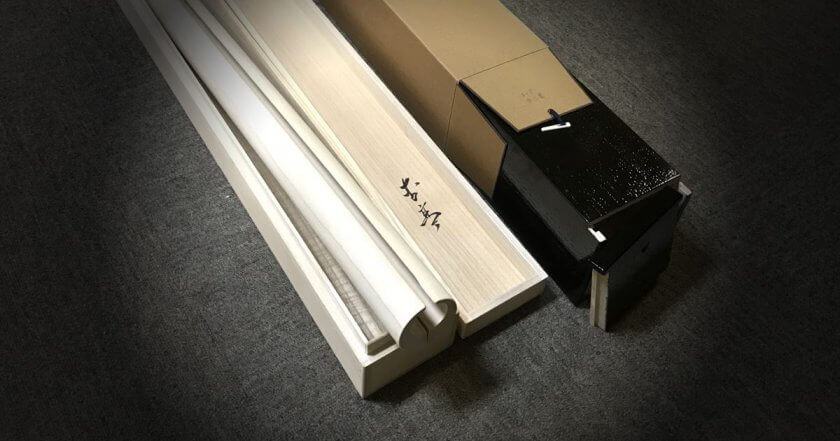 Some Useful Tools for Proper Handling of Kakejiku
A Kakejiku/hanging scroll is an artwork made of paper and fabrics. Yes, it is brittle. We unroll it for display and roll it up when we put it away. Due to its materials, kakejiku gets easily damaged, depending on how it is handled. To prevent any damage from occurring, we ask you to handle it carefully. We have mentioned some useful tools for proper handling of kakejiku before but let us summarize them one more time!
Futomaki / Wooden Roller Clamp
---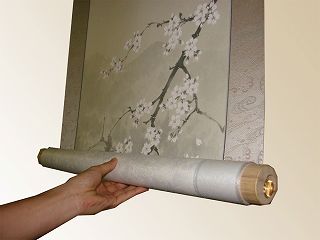 A kakejiku gets a fold line or crease quite easily due to frequent rolling and unrolling. A Futomaki is a large wooden roller cramp used to cover the already attached roller rod when rolling a hanging scroll. By making the diameter of the roller rod bigger, creasing, distortion, and other forms of tension on the main paper can be prevented. Futomaki offers perfect support for your precious kakejiku.
Nijūbako / Double-Structured Paulownia Wooden Box
---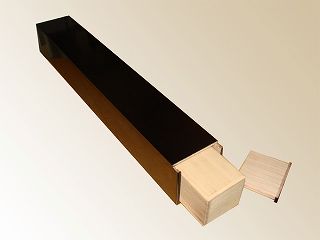 Normally, a kakejiku is put in a wooden paulownia box so that it can be stored best without being affected by outer temperature. If you are searching for the greatest benefit and security of a paulownia wooden box, nijūbako is your choice. Nijūbako is a nested paulownia wooden box (a set of two), graduated in size so that the first one fits into the larger one. This will make storage condition twice as effective and safe. The outer box is coated with Japanese lacquer, urushi. Urushi has an effect of anti-corrosion and insect proofing.
Nijūbako is a relatively recent invention by modern Japanese people. It appeared from around the Shōwa period since we have rarely seen nijūbako from the Meiji to the Taishō period.
Received an Order from the USA for Futomaki & Nijūbako
Nowadays, inquiries from overseas for futomaki and nijūbako are increasing. Slow but steady. Many Kakejiku owners are looking for better tools to store their Kakejiku collection and a way that will guarantee their longevity and safety. We do recommend these two items for your valuable kakejiku. When making a kakejiku, a hyōgushi (mounters) takes remounting into consideration that it will be done every hundred years. By using futomaki and nijūbako, you can lengthen this restoration cycle. Also, the better the condition, the less the restoration costs will be in the future.
Today, we would like to talk about a recent order from the USA for futomaki and nijūbako. The client possesses a kakejiku by Matsuda Kyotei and wants to store it in very good condition.
Matsuda Kyotei was a Japanese painter who was active from the Meiji to the early Shōwa period, noted for his detailed depiction of Koi fish (carp). This painting depicts fish and seafood so lively and attractively.
According to the customer, the sea creatures are as below from top to bottom:
1. Tiger prawn
2. Sea Raven fish (Bokke)
3. Cuttlefish (otaku) eating a crab
4. Oysters
5. Bonito fish (Katsuo)
6. Red Sea Bream fish (Tai)
7. Clams
8. Spiny Lobster
9. Pacific Chub Mackerel fish (Saba)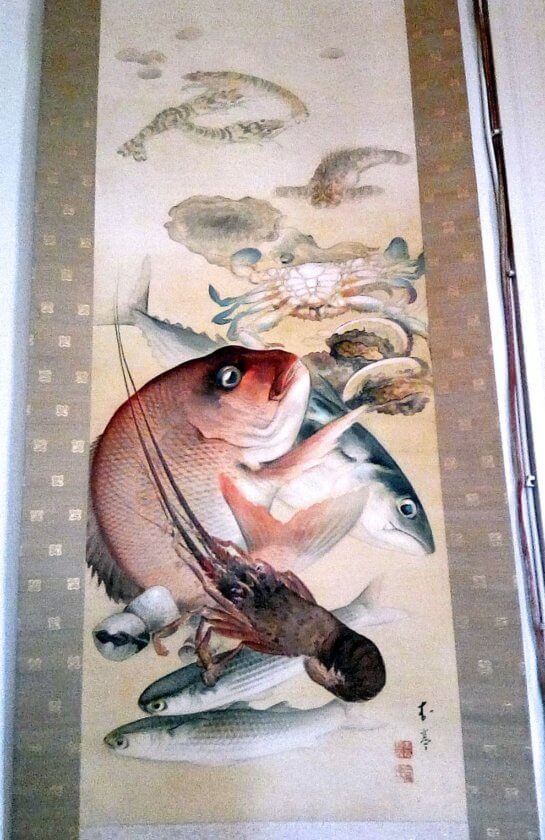 They look very fresh and adorable too. Look at their expressive faces!
Life of Matsuda Kyotei
---
Matsuda Kyotei, a Japanese Nihonga painter, was born in 1887. Although he tried various art motifs, different techniques and was good at drawing birds and flowers, what made his name was the works of Koi fish/carp. His realistic koi fish touched the heart of many people.
Matsuda Kyotei was from Aichi prefecture. His real name was Jōtarō. Young Jōtarō dreamed about success as a painter and worked for it. He first visited Oda Kyōsai to learn Nanga (a school of Chinese painting). Jōtarō and Kyōsai were both from the same town. At that time Kyōsai was one of the prominent figures supporting Nagoya art society. Kyōsai taught Jōtarō the technique of delicate brush paintings in addition to both the Southern(南宗画・文人画) and the Northern school(北宗画) of Chinese painting. Jōtarō moved to Tokyo to improve his skills more under Ikegami Shūho. Oda and Ikegami were well known for their great scenes of the Southern and the Northern landscapes and also, birds and flowers.
Kyotei and Koi Fish
---
Kyotei's intense fascination with the Koi fish grew while learning the basics from his masters. Its beauty made him decide to draw it throughout his life. He produced a vast collection of Koi fish works and became well-known as the master of Koi fish. Kyotei was very particular about the details, even about the scales of Koi fish. His composition and the use of color give his works authentic and lively feel and connect the viewer to a Koi fish pond as if he/she is standing in front of it.
Kyotei spent a lot of time with his artist friends such as Oda Kyōistu (the third child of Oda Kyōsai), Hatano Ichigaku, and Kanō Baisai. Hanging out with them brought him the opportunity to make wonderful connections with other cultured people and to join an art society in the Nagoya area. It helped him build his resume and earn recognition as an artist. He became an iconic artist in Nagoya later in life. His great achievement in modern Japanese art history will never be forgotten.
Made to Order Futomaki & Nijūbako
To perfectly fit the Kyotei scroll in a futomaki and nijūbako, we needed to know the exact measurements of the hanging scroll. The first is the width of the bottom dowel, from the left roller end (jikusaki) to the right roller end. The second is the diameter of a roller end (jikusaki). The client explained to us the measurements of the scroll clearly in detail, so we were able to grasp it soon.
These are the finished futomaki and nijūbako.
One more thing, the client asked us if we could put Kyotei's signature and his artist chop on the back of the box lid. Of course, Matsuda Kyotei is already gone so it's impossible to ask him for it. Instead, we can inscribe the lid on behalf of an artist to add information about the scroll. We have done a box lid inscription before. (It was not about writing a signature(rakkan) though.)
The client sent us an enlarged signature and artist chop of Matsuda Kyotei and requested something very similar to them. We had our calligrapher to write a signature almost the same as Kyotei. Please see the below picture. Regarding the artist chop, we told the client that unfortunately we could not make it and he has pleasantly agreed. (*Making a chop takes time and costs a lot of money.)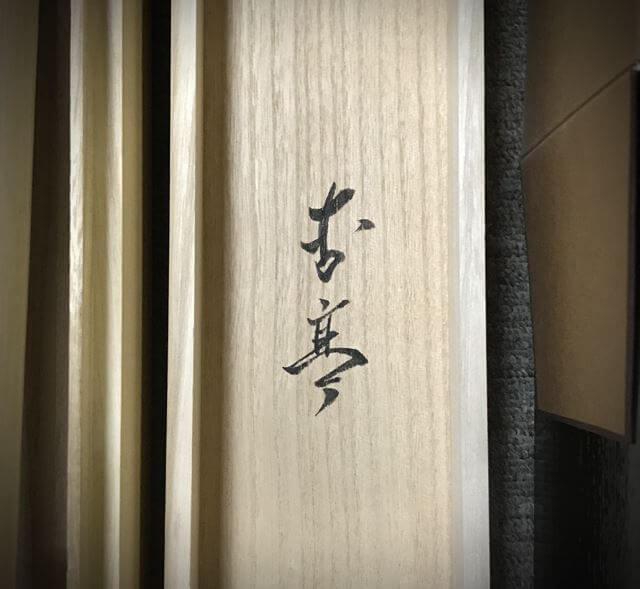 After placing the official order, the client told us his thoughts on this purchase.
"Now it will have a futomaki and nijūbako and I have fulfilled my obligation to this beautiful work of art."
From his words, we understood how much the scroll meant to him.
Tools for Better Handling of a Kakejiku
After receiving futomaki and nijūbako, the client got interested in a few scroll accessories and bought items listed below. Thank you for the additional order.
Yahazu/Bamboo Nock Stick for Hanging a Scroll
---
Yahazu is a tool for displaying and rolling a hanging scroll. It is a bamboo stick with a metal nock(hook) at the end of the stick. Yahazu ensures stable movement of your body while hanging and rolling the scroll. The full length of the scroll is around 200cm. The hanging hook (in a tokonoma alcove) is set almost at the ceiling so Yahazu is helpful when lifting the scroll to high places and putting it back down.
How to Use:
---
Gently hold the scroll with the left hand, insert the bamboo stick under the middle of the hanging cord, and lift the scroll to the hook on the wall.
Jizaigake / Adjustable Height Stick for Displaying a Scroll
---
If you have more than one scroll, don't you think it's a pain if you need to adjust the height of the hook on the wall every time you change the display? Even if that is for displaying your scroll in the perfect position? Under a situation like this, a clever little gadget called Jizaigake will keep you stress-free. With this, you can adjust the height of your scroll as you like it.
How to Use:
---
Push the metal piece (not the hook) to move and slide it to any hole where you want to set it.
Bouchuukou / Natural Insect Repellent
---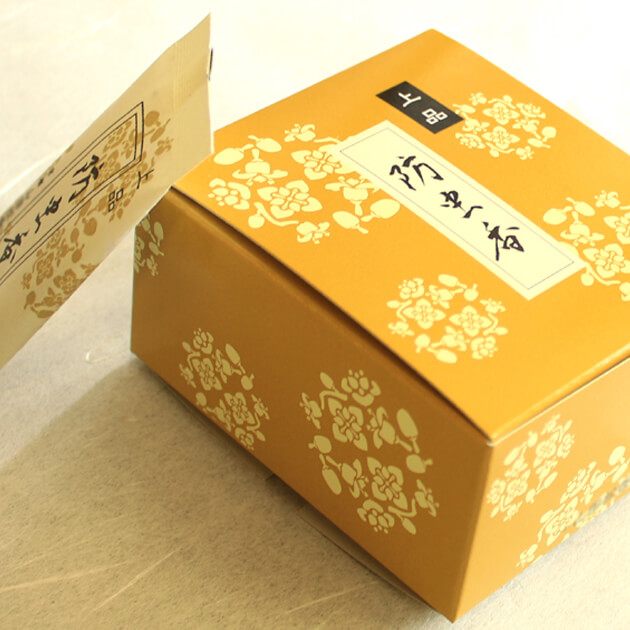 Japan is generally a rainy country with high humidity, especially in Summer so Japanese people care about scroll damage due to climate change such as worm-eaten/moth holes. This insect-related trouble happens when the scroll is kept in a humid place for a long time.
Kakejiku is made of materials such as paper, silk, wood, and paste which are favorable food items for insects. An effective way to help prevent an infestation of kakejiku-eating insects is putting one piece of Bouchuukou/natural insect repellent in a paulownia wooden box. We often see Naphthalene and camphor tablets for Japanese Kimono in the box. But these insecticides contain oil and toxic gas and they are too powerful to be used for hanging scrolls. They may cause stains on the artwork and melt roller ends that are attached to a lower roller rod. It is highly recommended to use insect repellent that is made for kakejiku use only, to prevent any trouble that can be caused by chemical insecticides. Bouchuukou contains camphor but much less than camphor tablets so as not to damage kakejiku. So far, we received orders for bouchuukou from the Netherlands and the USA.
Click the link below to read an article about it:
Lastly
Did you enjoy this post? Hopefully, you can avoid improper handling and inadequate storage by using the above items. They can significantly extend the life of kakejiku, maintain the market value of your collection, and achieve costs savings for remounting that the kakejiku needs in the future. If simple handling and useful tools can help to achieve this, then it is essential that we do it as a priority. Please contact us if you are interested in these tools.