Moth and Insect Repellent / Bouchuukou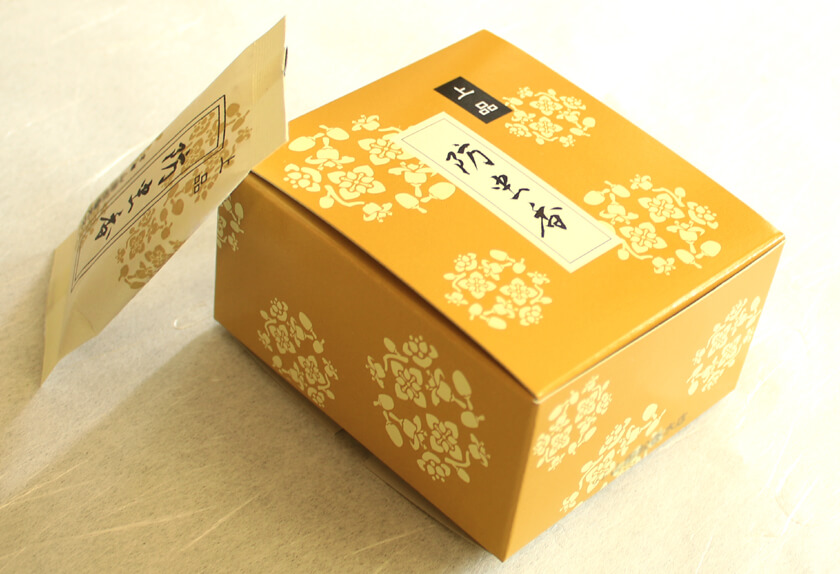 Today we would like to talk about "bouchuukou", a tool that is used for protecting hanging scrolls.
Hanging scrolls are mainly made of paper and fabrics. These materials are the things that certain insects love to eat.
For the protection of your precious scrolls from the annoying insects, we highly recommend the use of a bouchuukou.
For more info about insects that are harmful to the hanging scrolls, please see below :
https://en.wikipedia.org/wiki/Thysanura
https://en.wikipedia.org/wiki/Anobiidae

What is a bouchuukou?
Bouchuukou is a natural insect repellent that helps protect the hanging scrolls from moths and insects.
A mix of chopped fragrant wood and other spices are put inside a paper sachet.
It scents at a room temperature so there is no need to use a fire.
Since a bouchuukou is made from naturally occurring sources, it simply discourages insects by its fragrance and send them flying or crawling away. It is only repellent so it does not act as insecticides.
The reason that we highly recommend a "natural" insect repellent.
For the protection of the hanging scrolls, please avoid using the chemical repellents such as Naphthalene & Paradichlorobenzene. This is because they are more likely to damage the hanging scrolls for following reasons :
– Negative Effects of Chemical Repellents –
+ May cause a chemical reaction and deform the materials.
(For example, end of roller rods sometimes gets melted with Naphthalene.)
+ Can be a cause of stains or damage to silk and pigment.
+ Wrong combination of repellents produces oily ring stains due to chemicals' melting.
+ Naphthalene gives off an acrid smell inside a paulownia box, eventually a hanging scroll absorbs it.
Every manufacturer has their own secret recipe for bouchuukou. Thus, each bouchuukou has a unique scent. There is not much difference in the effect of repellent so you can choose one with the scent that you like most.
Ingredients for Bouchuukou
Fragrant wood and spices are the main ingredients for making a bouchuukou. These naturally have insect-repelling effects. Read on to see some examples :
Sandalwood
---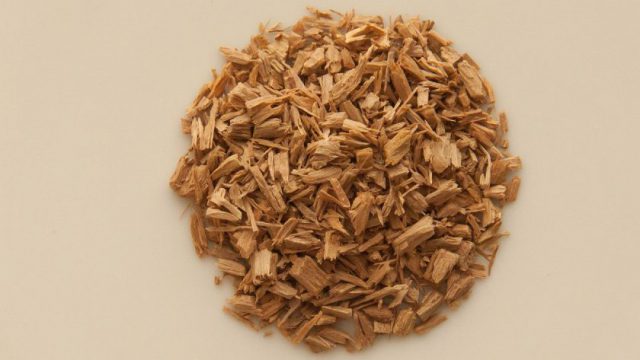 Effect : insect-repelling, preservative
A prominent base ingredient for making bouchuukou.
It has a heavenly scent and often described as woodsy sweet smell like ceder, musk or vanilla.
It has been long treasured as one of the precious fragrant woods in Japan since ancient times due to its strong connection to Buddhism.
Borneol
---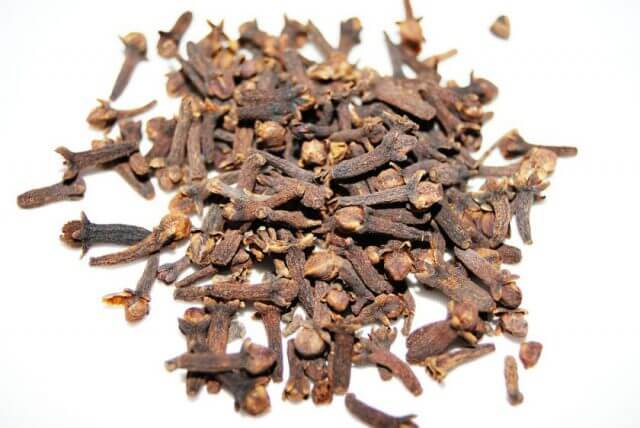 Effect : insect-repelling, preservative, anti-inflammatory
Whitish crystals that are derived from the borneo tree.
A strong, sharp but smooth cleansing and uplifting fragrance so they are often put in throat lozenge and eye drop for clearing both the nasal pathways and the mind.
It is also known as the primary ingredient of Japanese "sumi" ink, which consists of black soot and animal glue.
Borneol is added to sumi ink in order to remove the foul smell of the animal glue.
You will find the smell of sumi ink unique. That is the smell of borneol.
Clove
---
Effect : insect-repelling, mold prevention, anti-inflammatory
Cloves are the aromatic dried flower buds of a tree in the family Myrtaceae, Syzsygium aromaticum. They are used as a spice in cuisines all over the world and widely appreciated for hot and savory aroma. They also are used for medication of stomachache in Japan. Cloves contain oils so do not put them directly onto the hanging scroll in order to avoid oil stains.
Now, let us show you two types of bouchuukou that we have in our store.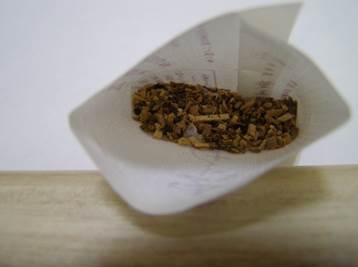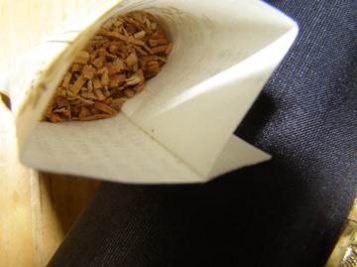 *Please note:  We opened the paper sachet just for your reference. Please place the UNOPENED sachet in actual use.
The left one has a very sweet and strong oriental fragrance.
The right one has a fresh woodsy scent, made by two ingredients only (sandalwood and borneol).
I personally like the right one but my colleague prefers the left. It is interesting that tastes differ.
Please try and find your favorite smell.
For protecting a hanging scroll, just lay one sachet of bouchuukou in a paulownia box.
You can also enjoy a lingering scent on a hanging scroll when you take it out from the box.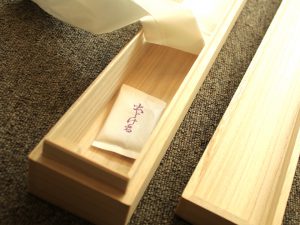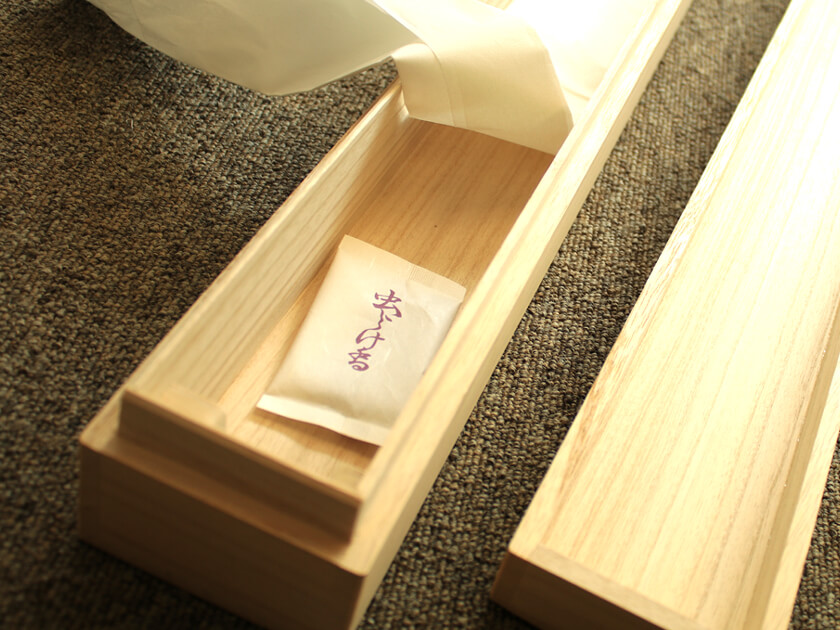 Please do not put a bouchuukou directly onto/under your hanging scroll to avoid any trouble that may arise.
One sheet of paper/cloth between the hanging scroll and the bouchuukou would be perfect as shown in the above picture.
Of course you can lay them wherever you want a wonderful scent.
It can repel insects effectively while you can smell its fragrance so the best time to re-apply is when the fragrance completely disappears.
If you have any questions for the bouchuukou, please feel free to contact us.
Click Here to Order
LINK