Five-Clawed Red Dragon Painting by Katō Tomo
Five-Clawed Red Dragon
Dragons have been worshipped since ancient times because they are believed to be an incarnation of god and Buddha. There are various types of dragons but a five-clawed dragon is exceptional among them all. It represents power and authority. In ancient China, the dragon became the symbol of the imperial ruler. Only the emperor could use five-clawed dragon motif. The sacred orb, which is in the strong grip of the dragon, is said to make any dreams come true and bring you good luck. The fierce dragon is believed to swipe away the pain and suffering.
New Work by Katō Tomo 

"

Five-Clawed Red Dragon"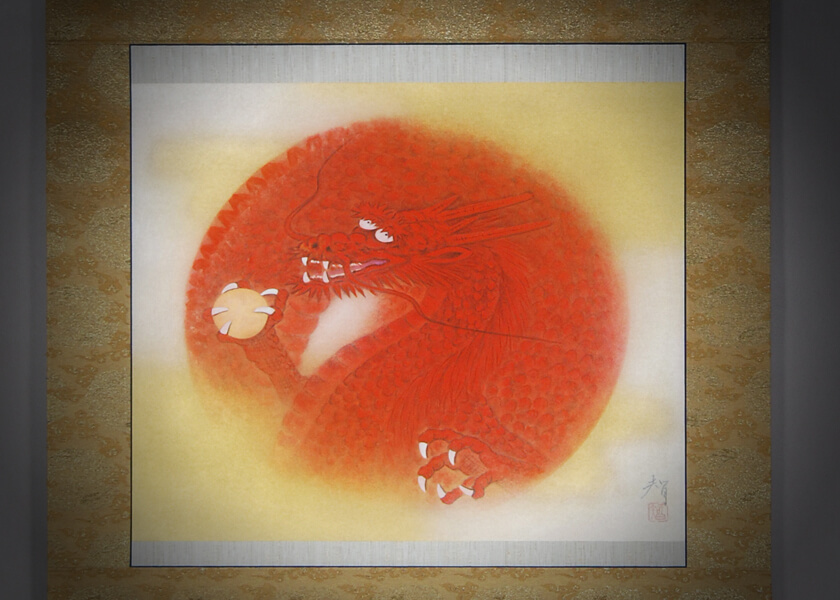 This is the "Five-Clawed Red Dragon" by Katō Tomo, who had joined the panel of the Nitten Exhibition several times. One of his master, Gensou Okuda (1912-2003)was one of the most renowned Japanese-style painters in the Showa Era. He was skilled at using the red pigment and it was called "Gensou Red" after his name while Kaii Higashiyama (1908-1999), a contemporary of Gensou, was renowned for "Higashiyama Blue". There are strong ties between Katō Tomo and Gensou Okuda.
In the beginning, they were both disciples of Kibou Kodama(1898-1971). Gensou was the first disciple and Tomo was the last. After early death of Kibou, Gensou paid much attention to Tomo and took really good care of him instead of the master.
Originally, Red Dragon was a representative painting of Tomo's master, Gensou and there is a remarkable story about this work. Now,"Red Dragon" by Gensou is on a ceiling in the Daishouin Temple, Yokohama City, Kanagawa Prefecture. This work is dedicated to Gensou's first wife, Tatsuko (literally "dragon's child") who had passed away before Gensou. Inspired by her name, he painted the Red Dragon for the 7th memorial of her death in 1981 and gave it as an offering to Buddha to Mr. Washio, who was the chief priest of the Daishouin at the time. Tatsuko was a great-aunt of Mr. Washio. That is why the painting was set in this temple.
Around the Red Dragon, Gensou's disciples painted flowers together. Katō Tomo was one of them and he depicted the peony, poppy and white magnolia. Katō Tomo still has a strong attachment to the Red Dragon due to his close relationship with Gensou Okuda.
The Great East Japan Earthquake occurred in 2011 and the dark mood descended all over Japan.
The coming year, 2012 was the year of the Dragon in Chinese astrology, which was the first year of the Dragon after Gensou Okuda's death. (In Japan, we use 12 animal signs of Chinese astrology on a daily basis. e.g. I was born in the year of the Dog.) Katō Tomo determined to paint a red dragon like Gensou's, praying that his red dragon will ward off depressed mood and anxiety in Japan with its fiery red color.
First presentation of his "Red Dragon" at the exhibition. (2012)
Afterwards, Red Dragon became his favorite art motif and now it has become a masterpiece. What makes this new art work special is that the dragon depicted here has five claws. This artwork is unique and rare since Katō Tomo usually depicts the four-clawed dragons. We do not often see five clawed dragons in Japan. Tomo is always challenging himself for something new and better and that never stops.
For more information on this artwork, please refer to the following page :
---