A Request from France for the Calligraphic Work Mounted to a Kakejiku! With the Minute Advance Arrangements, Let the Calligraphic Work Sparkle Itself!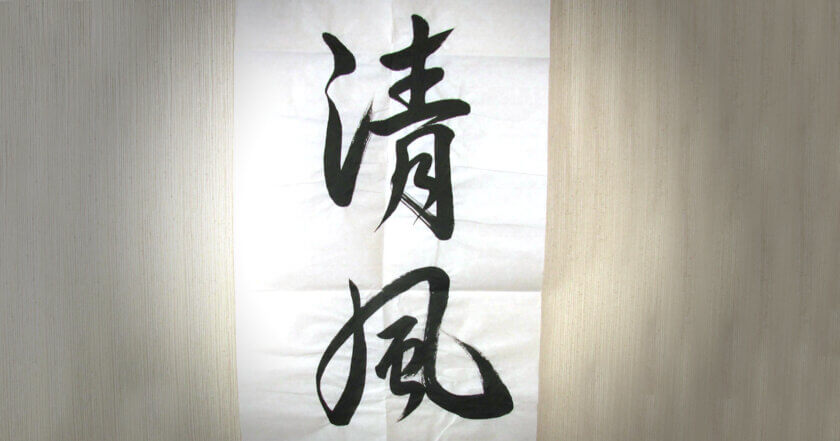 We receive kakejiku-related orders in Japan and beyond.
We do appreciate that every month, we receive orders from somewhere in the globe.
The episode we introduce this time is about an order for mounting a calligraphic work into a kakejiku from a customer living in France.
The customer previously purchased kakejikus with a calligraphic work from us, one of those was drawn by Kobayashi Taigen the priest of Ōbai-in, Daitoku-ji Temple and another one
was done by Takada Ryōshin the128th chief priest of Hōryūji Temple/5th chief abbot of the Shōtoku sect.
Find out more about these orders by visiting the links below.
The customer requested us to have a calligraphic work given by his calligraphy teacher mounted this time. Here is the artwork.

It can be easily imagined that the teacher who is a foreigner might've put a lot of effort into drawing calligraphy in kanji. Nevertheless, the freely running brushwork looking ever so stunning denies the speculation.
Having made a detailed consultation with the customer, we proposed a fabric and mounting style in harmony with the artwork.
The completed piece.

The customer took quite a fancy to the kakejiku mounted with a green fabric that was worth suggesting.
The following is the feedback from him.
It is very nice indeed and the green color was definitely a good pick.

Thank you for your excellent work.
We congratulated ourselves on what we've done, another success in conveying the attractiveness of hanging scrolls to the world.
If you have any concerns over kakejiku, please do not hesitate to contact us.