Recommended 2 Tools That Be Utilized for Storing Kakejiku
Being made with paper or silk, kakejikus need extra care when they are stored.
A tight winding action to kakejikus causes creases and wrinkles and storage in a damp setting results in the occurrence of stains on them.
Our recommended tools that will let you steer clear of the hitches are the futomaki/wooden roller clamp and nijūbako / double-structured paulownia wooden box.
Futomaki is utilized as a preventative tool against wrinkles and creases by enlarging the diameter of a roller rod so that it reduces the load on a kakejiku.
Nijūbako is a set of paulownia wooden boxes. A larger lacquered paulownia box is designed to hold a regular paulownia wood box that contains a kakejiku.
Lacquer is suitable for keeping kakejiku free from stains with its antiseptic and insect repellence effects thanks to its heat and moisture‐resistant nature which is formed once it's cured.
With the triple moisture-proof actions of an inner and outer paulownia box and the lacquer coating in addition, nijūbako couldn't be more perfect as a damp-proofing tool.
Order of futomaki and nijūbako is taken for either a single item or a set item and due to their effectiveness, we've been receiving repeated requests from customers across the globe.
We received one of these orders and this time, from Singapore.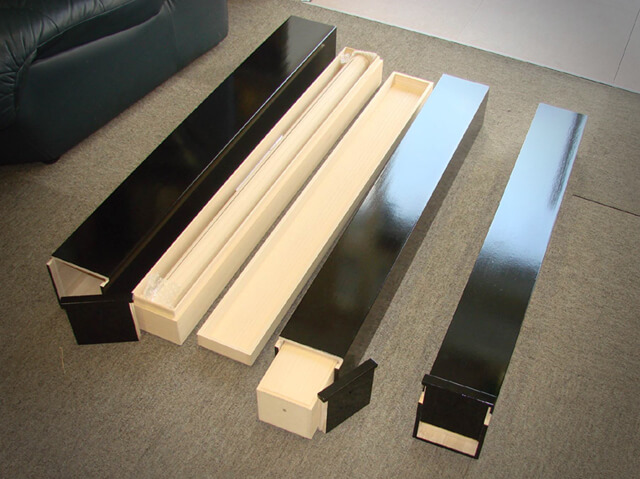 A few sets of futomaki and nijūbako for 3 pieces of large-sized kakejikus. Being placed side by side, they look magnificent, aren't they?
We had a thorough discussion with the customer since futomaki should be formed in a shape that fits in a roller knob of kakejiku and also the size of the paulownia box has to be in proportion to the size of kakejiku.
Here is a thank you message we received from the delighted customer.
Hello Yuuichi-san,

Thank you very much for your products. I have received all 3 items. I opened up the first box and managed to fit in my scroll painting. I am very pleased and happy with the product. They are so nice and elegant. I am very impressed with the craftsmanship and I am happy to make the right choice.

Should I need more boxes in future. I will look for you.

Meanwhile, please take care and keep safe. May I wish you good health and prosperity.
We are ever so happy to know he admires Japan's craftsmanship capable of creating the paulownia wooden box.
We create futomaki and nijūbako according to the size of your kakejiku. Please don't hesitate to contact us should you have any of the requirements.