Request for Making Kakejikus to Be Displayed at Bonsai Exhibition | Spain
We are pleased about the fact that we've been receiving the orders from more and more repeating customers from abroad.
This article is about another order for tanzaku-gake placed by a repeating customer from Spain.
If you're curious, here is the episode of his previous order.
The bonsai lover customer who has previously ordered a kakejiku to display at a bonsai exhibition reordered the kakejikus for one of those exhibitions again.
How wonderful, our kakejikus have been increasingly making their presence at exhibitions abroad.
3 designs x 2 = 6 pieces of tanzaku-gake were requested this time.
The picture below shows the completed 6 pieces of tanzaku-gake.
スライドショーには JavaScript が必要です。
The schedule was rather tight. Even so, we made it and dispatched the finished kakejikus by DHL instead of the apparently time-consuming Japan Post service.
They seemed to have arrived in time for the exhibition and we received the following message from the delighted customer.
Hola buenas tardes desde España.

Ya llegaron los Tanzakus.

Muchas gracias.

Hello, good afternoon from Spain.

The Tanzakus have arrived.

Thank you very much.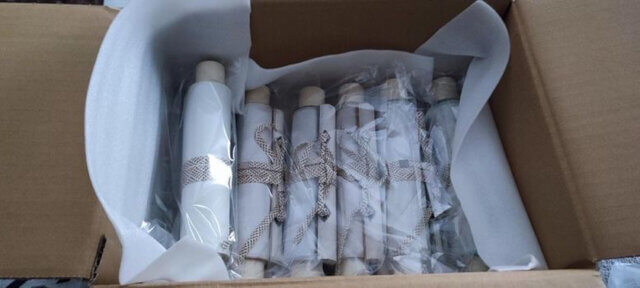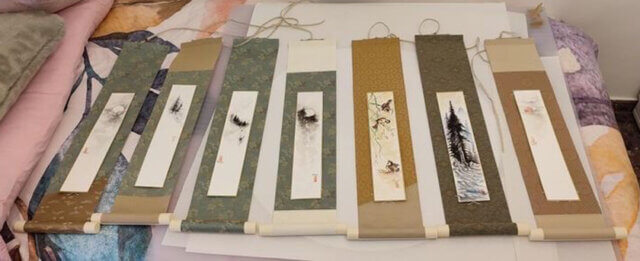 We couldn't be happier by receiving his gratitude.
We take orders of tanzaku-gake and shikishi-gake to be displayed at the bonsai exhibition. Please don't hesitate to contact us if you have any requests for these types of kakejiku.