Tanzaku-Gake Made Its Debut at Bonsai Exhibition in Spain!
Bonsai, as a pastime, is firmly favored globally. We know by experience that receiving inquiries about kakejiku from overseas bonsai lovers have been rather common.
See the following articles for those kakejiku orders.
Some of those enthusiasts even enter their bonsai in a bonsai exhibition.
This episode is about our tanzaku-gake's debut at one of those exhibitions.
Spanish gentleman who was to exhibit his bonsai as well as his tanzaku, painted by himself, serving as a foil, at an exhibition contacted us regarding made-to-order tanzaku-gake.
Through his accompanying tanzaku artwork which adds extra imagination to the miniature universe existing in his bonsai, he was aiming to amuse and inspire the appreciators.
That's rooted in Japan's aesthetic sense called 'yūgen'.
The order was a single bespoke one which we can carry out. Presumably, we are the only firm internationally taking a request of bespoke tanzaku-gake from a unit of one.
We confirmed his desired image and size of the piece with the illustration.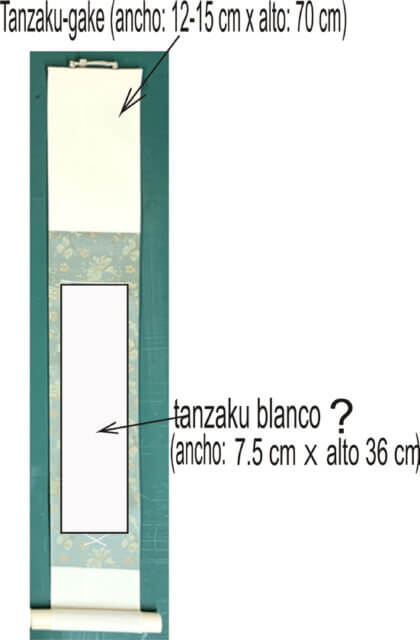 Once we learnt the graphic image, he selected his favorite fabric among 4 choices.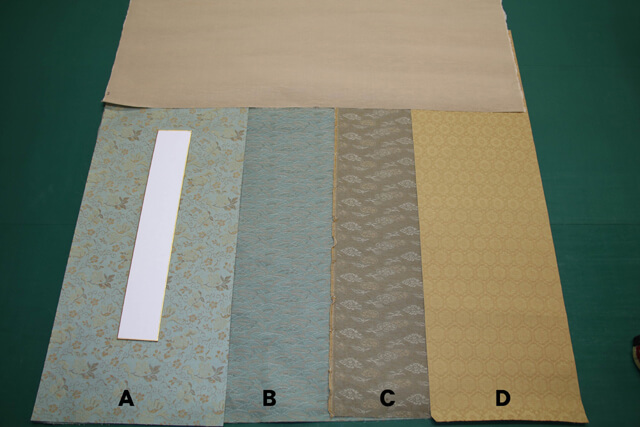 The order was undertaken with his favorite fabric A. The following is the finished tanzaku-gake.

We dispatched the piece to him immediately after completion and were notified that it arrived with no problem.
We hear that he has been enjoying the piece with the centerpieces painted by him while switching the one to another.
スライドショーには JavaScript が必要です。
Impressive paintings, aren't they. The landscapes that appear to be foreign are producing a fresh ambient and enjoyable look.
According to plan, he displayed his bonsai at the bonsai exhibition held in Spain where our tanzaku-gake accompanying the bonsai also played its role perfectly.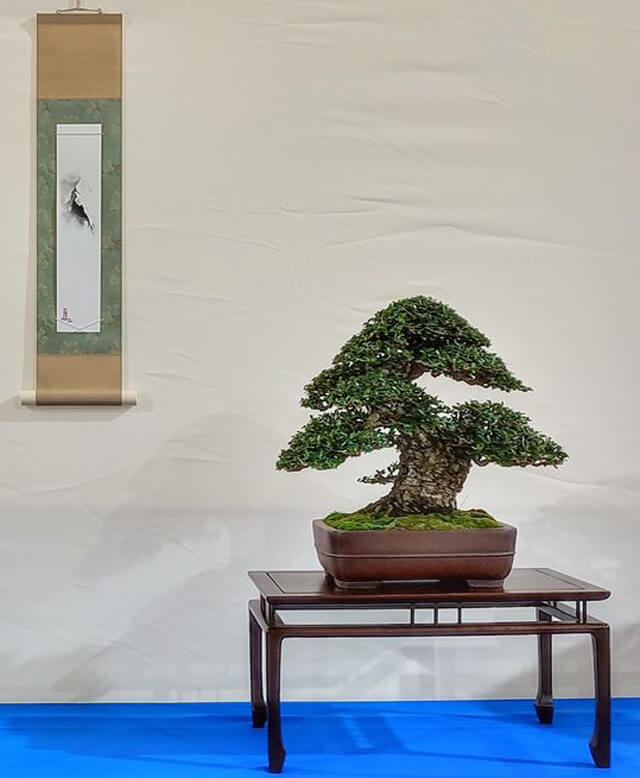 Not surprisingly, the bonsai and kakejiku very much enhance each other. The kakejiku seems to adequately set off the bonsai.
As you see in this episode, we take international orders of tanzaku-gake which will be the perfect setoff of bonsai from a unit of one so please feel free to contact us should you have any inquiries about this type of kakejiku.