13 Buddhas / Hiroki Usui - Juusanbutsu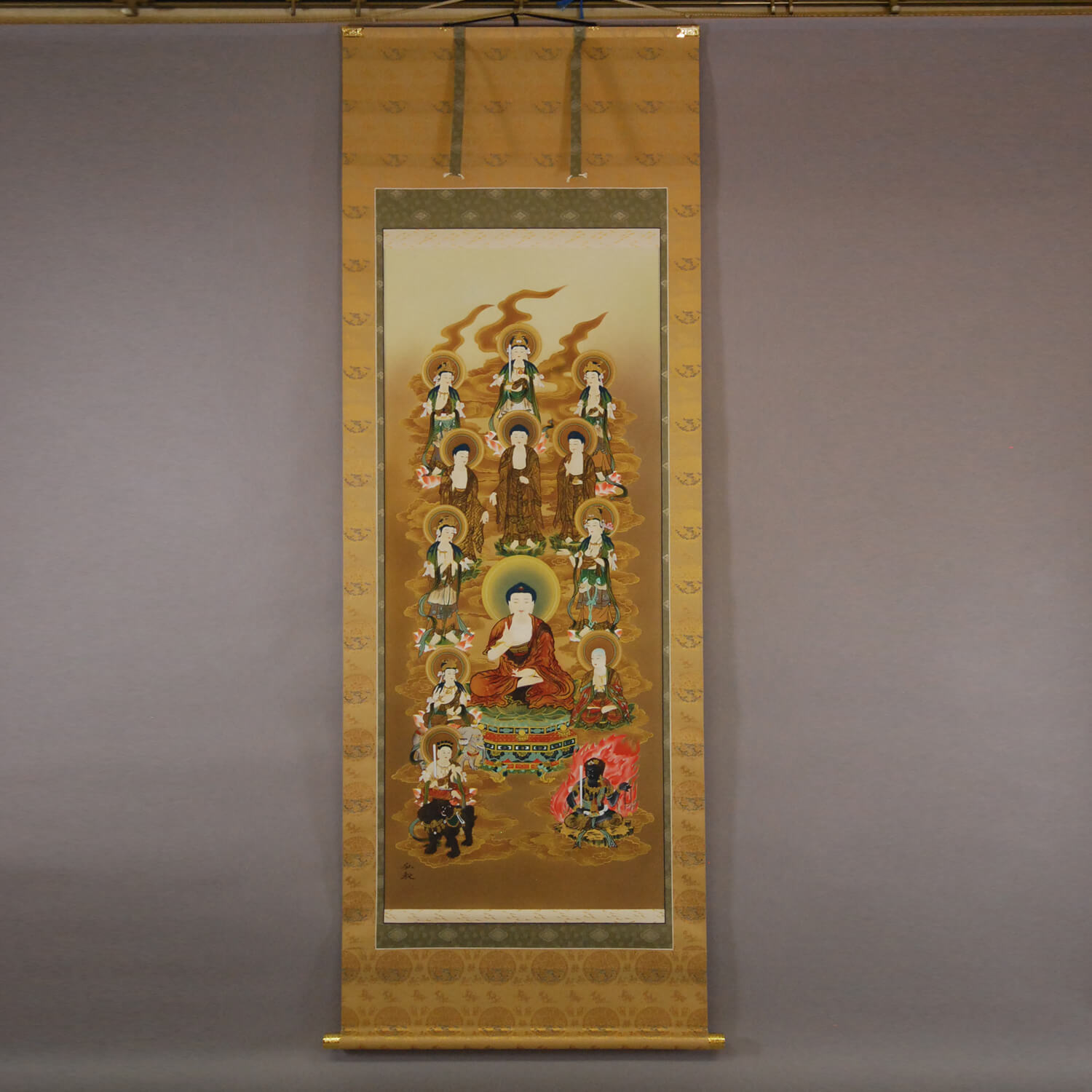 Product ID

0141

Name

Hiroki Usui

Profile

?-
A Japanese-style painter

Size

728mm x 1970mm

Roller End Material

Golden metal

Material of the Work

Silk

Stock Condition

In stock
Description

"Juu-ou-shinkou" spread in Japan during the 11th century and after.
The "Juu-ou", ten kings, are regarded as an awesome existence because they decide whether the dead should be sent to "jigoku" (Hell, one of the posthumous realms advocated by Buddhism) and preside over the "Rokudou-rinne" (transmigration in the six posthumous realms advocated by Buddhism) in light of the seriousness of the karma belonging to the dead. In Juu-ou-shinkou, the faithful beg for the mercy from the ten judges, who decide to which realm the dead would go.

In the Kamakura period, the Japanese believed that each one of Juu-ou corresponded with each of "Juu-butsu" (10 Buddhas); the number grew as time went by, and in the Edo period, "Juusan-butsu-shinkou" (the13 Buddhas belief) was born.

Buddhist memorial services were customarily held seven times every seven days, because the bereaved family could pray to the Juu-ou to seek commutation for the dead person at every trial, while additional memorial services were held in line with the additional three trials that supposedly functioned to save all dead persons.

The juusan-butsu painting kakejiku (hanging scroll) is often displayed in Buddhist memorial services.
This is a painting of juusan-butsu by Hiroki Usui. The depiction of 13 Buddhas is very elaborate and gold paint of the piece is very gorgeous. The solemn dignity of the 13 Buddhas is expressed very well, and the gold paint makes the piece gorgeous.