Tokonoma Album 009: Tachibina, Namu-Daishi-Henjō-Kongō, etc
Tokonoma & Kakejiku Scroll: Tachibina Doll in a Standing Pose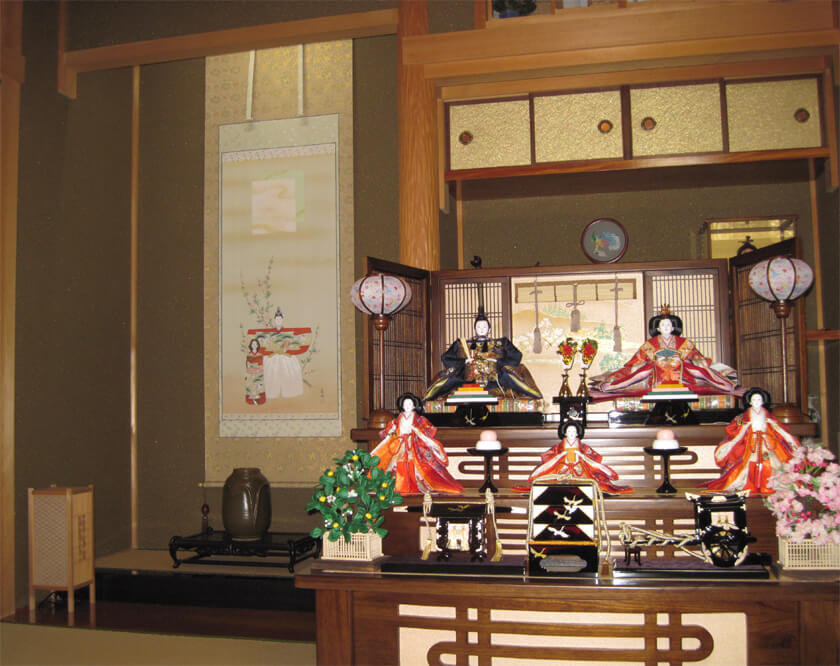 In China, there was a custom of purifying the body by the water, holding a fest and exorcise at the "Joshi Festival" on March 3rd. Eventually in Japan, a unique version of "Joshi Festival" was born by the mixture of China's custom, and Japan's ancient thought about exorcism called "Misogi-harai" and a tradition of letting dolls (called "Hitogata") made by plants and paper in the river.
Meanwhile, activities using paper dolls were popular among girls of aristocracy. This was called "Hiina (dolls) Asobi (game) ". It is thought that the game was linked to the tradition of letting dolls in the river, and the "*Nagashi-bina"event was born.
In the Edo period, since the art of making dolls was improved, Hina dolls became gorgeous. Consequently, the dolls were considered as decorations for home like today's "Hinadan-kazari" (Hina dolls display).
---
*Nagashi-bina: paper dolls floated downriver
Tokonoma & Kakejiku Scroll: Namu-Daishi-Henjō-Kongō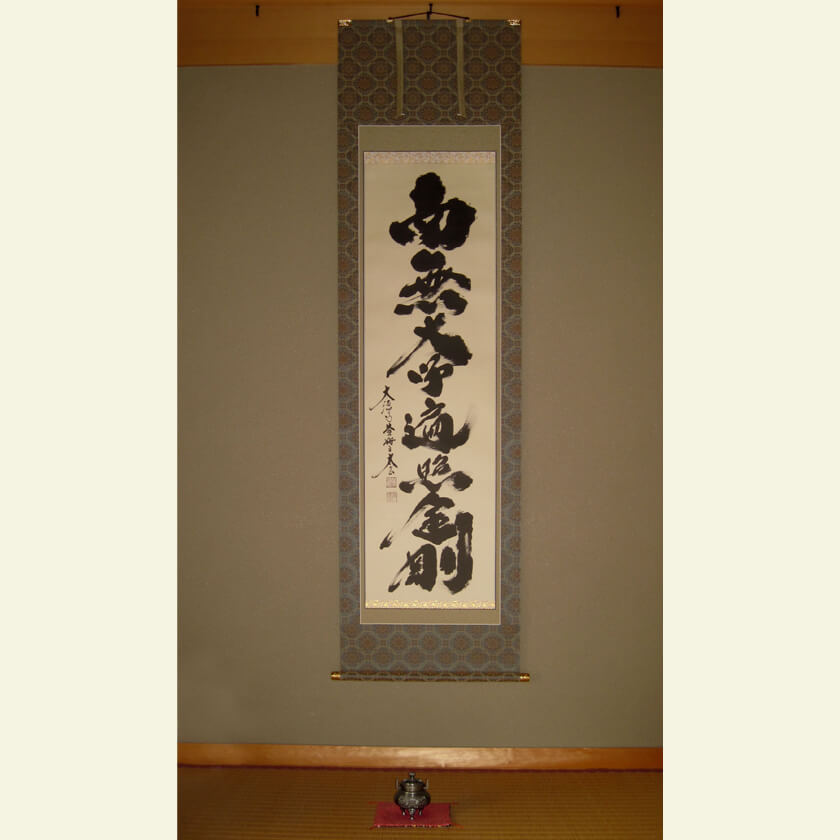 "Namu-Daishi-Henjō-Kongō" is an 8 kanji (Chinese characters) phrase, meaning "to believe in Vairocana and to respect Koubou-Daishi (a famous Japanese monk)." "Namu" means "I have faith in you." "Daishi" means Koubou-Daishi. "Henjou" means "the sacred light of Buddha shines all over the world." "Kongou" means an indestructible substance. This is why "Henjou-Kongou" means Vairocana.
The kakejiku (hanging scroll) with the script of Namu-Daishi-Henjō-Kongō is used in the Buddhist memorial service of the "Shingon-shū" sect. This Namu-Daishi-Henjō-Kongō was written by Taigen Kobayashi, the chief priest of the Ôbai-in subtemple of the Daitoku-ji temple, located in Kyôto.
Tokonoma & Kakejiku Scroll: Mandarin Duck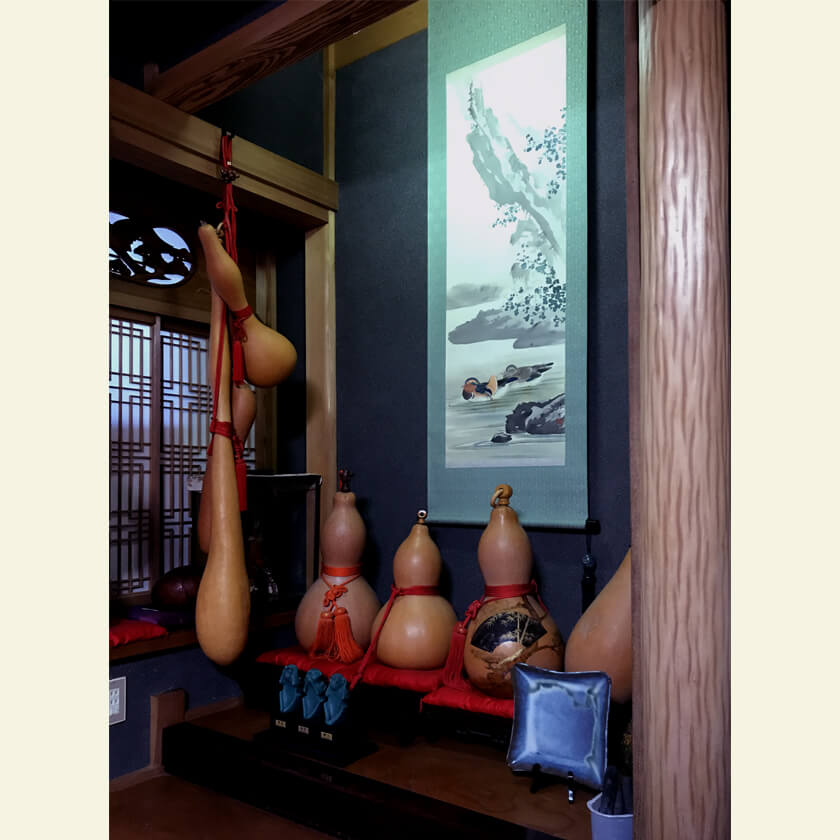 In Japan, the loving married couples are called "Oshidori Fufu (happily married couple)", but it is considered that the origin of that is the Chinese historical allusion, "Enou no Chigiri (having a happy and harmonious relationship of a husband and wife)".
Once upon a time in the Age of the Warring States in China.
King Kang of Song took Kanghyo, his vassal's beautiful wife by authority.
Kanghyo killed himself because of too much strong indignation, but his wife also, left a will saying
"I want to be buried with my husband"
and followed him and killed herself.

People deeply sympathized with the two, but King Kang angered for this and built their graves facing each other on purpose and declared
"If you want to combine the graves into one, you can just try it."

It was an irony foreseeing that "such a thing cannot be done".

On the contrary, trees of catalpa suddenly came out for one night from each grave.
In addition, after 10 days, the branches of the two trees connected and their roots were intertwined into one. By the trees of catalpa, their two graves were combined into one.

And it is said that on the branch of this tree, a couple of mandarin ducks (Oshidori) settled down and sadly chirped all day.

This is the origin of "Oshidori Fufu".

Tadashi Mukaidani: quoted from the Origin of "Oshidori Fufu"
Tokonoma & Kakejiku Scroll: Akafuji, Red Mt. Fuji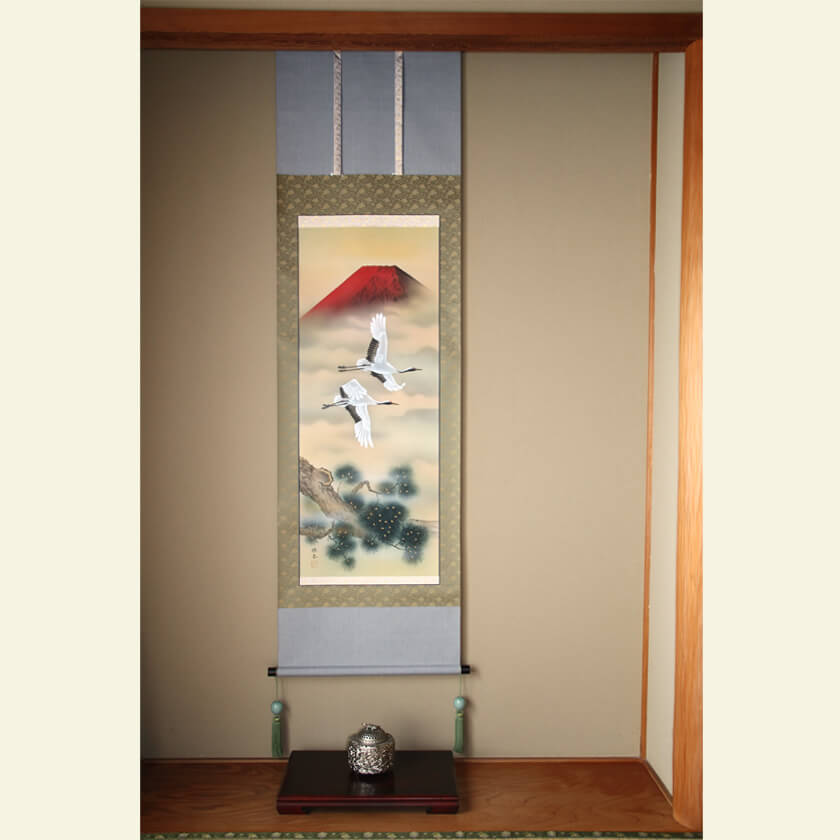 Mt. Fuji has, since ancient times, long inspired many painters, because its magnificent image has long been worshipped all over Japan. When Mt. Fuji is tinted red by the sun's rays, the image is called "Aka-Fuji" (Red Mt. Fuji). This superb view, which is rarely seen by most people, has long been considered a very lucky symbol. This is why a kakejiku of Aka-fuji is often displayed for New Year holidays as well as ordinary days, while other usual kakejiku are rarely displayed. (Most Japanese people want to have a happy New Year).
Tokonoma & Kakejiku Scroll: Buddhas Painting