Significance of the Kakejiku: Why Is the Kakejiku Changed?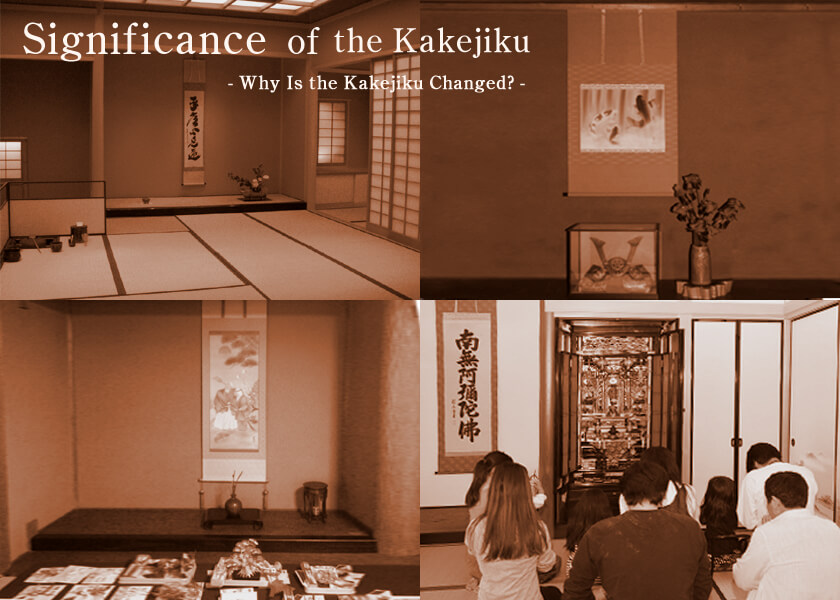 Why Is the Kakejiku Replaced?
Why is the "kakejiku" (hanging scroll) replaced? The spirit of the tea ceremony, a traditional Japanese art, affects this Japanese custom deeply. There is a heart of hospitality called "omotenashi" in a tea ceremony. When Japanese people think about the mood of a tea ceremony, they take a lot into consideration. More specifically, they think about the various techniques they could use to make the mood the best. The kakejiku is displayed to express respect for guests indirectly, and is considered the most important tool in a tea ceremony. Therefore, the kakejiku is replaced depending on the occasions or seasons. The omotenashi heart makes them change the kakejiku.
The kakejiku developed during the Muromachi era (1336-1573) along with the development of tea ceremonies. As a result, people began to think that it was important to express the formality of the occasions to guests by displaying various kinds of kakejiku. Many customs of the kakejiku were derived from this type of thought in Japan.
Of course, many owners have their kakejiku for the purpose of enjoying themselves, and it is also part of fun to show their lovable kakejiku to their guests.